Archive: October, 2012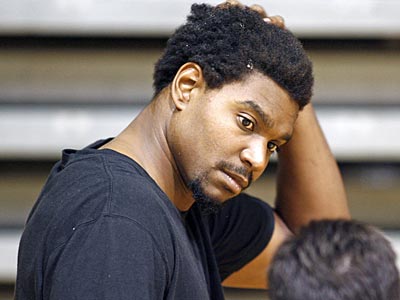 When the mechanical curtain retracts some 30 feet above the 76ers' practice court at Philadelphia College of Osteopathic Medicine on Wednesday, reporters, cameramen and other interested news gathers will hustle like Pavlovian dogs to the window for a glimpse of what the entire area has been dying to see.
Sixers center Andrew Bynum finally practicing with his mates.
The Sixers have targeted Wednesday, Oct. 24 as the day for Bynum to hit the floor and finally join the Sixers for a series of practices that hopefully leads to him being available for the team's season-opener Oct. 31 against beloved ex-Sixer Andre Iguoudala and his Denver Nuggets at Wells Fargo Center.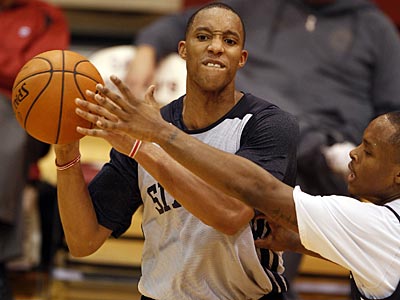 In Friday's preseason game at Brooklyn against the Nets, 76ers coach Doug Collins said that he will be giving Evan Turner the night off.
Collins has been giving his regulars a game off and said it's likely Jrue Holiday will get one of the last two preseason games off.
Kwame Brown, who missed Wednesday's 113-99 preseason win over the visiting Cleveland Cavaliers with a left calf strain, won' t play Friday.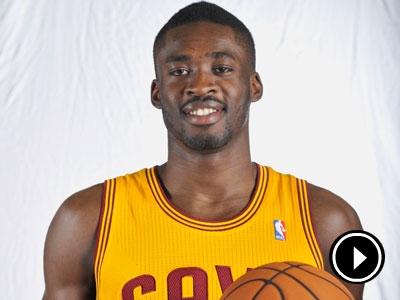 Video: Former Temple Owl and current Cleveland Cavaliers rookie forward Micheal Eric talks about adjusting to life in the NBA and coming home to Philly.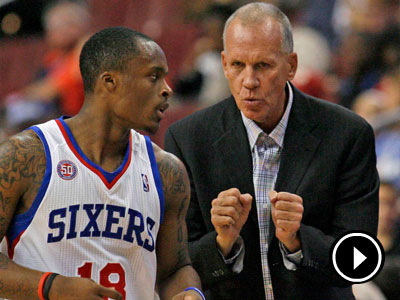 The Inquirer's Marc Narducci breaks down the surprising contributions that Villanova and Roman Catholic High product Maalik Wayns has made for the 76ers so far in the preseason.
Before tonight's preseason game with the visiting Cleveland Cavaliers, 76ers coach Doug Collins said that guard Jason Richardson won't play. Earlier today the team announced that center Kwame Brown won't play due to a left calf strain.
Collins is giving Richardson rest after the team had off from practice on Tuesday.
"JRich has a little tendinitis in his knee and with yesterday off, hopefully he will be ready to go," Collins said before the game. "He wants to play the last two back-to-back games."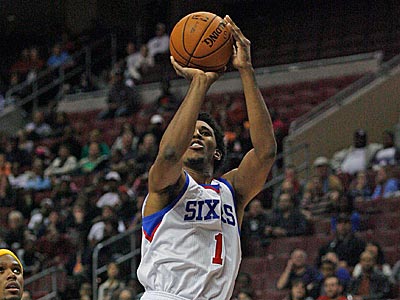 Nick Young says he is still adjusting to his new team and a new offense with the 76ers, which begs the question – what's going to happen when the 6-foot-7 shooting guard gets totally comfortable?
Young will never make anybody's all-defensive team, but he can truly fill it up.
"I am getting more comfortable every day," said Young after scoring 19 points in Wednesday's 113-99 preseason win over the Cleveland Cavaliers at the Wells Fargo Center.
Tony Dutt, the agent for Jrue Holiday, was in Wells Fargo Center on Monday night doing his due-diligence for his client, who is in line for a possible contract extension before the start of the season.
I don't know how the discussions went or how they are progressing, but I don't think that Holiday, who has said that he wants to be a "max-contract player," is going to see a deal get done before the Oct. 31 deadline.
I don't have a firm idea of what is going to happen, but I have talked with enough people around the league to think that they are not going to get a deal done and Holiday will reach next summer as a restricted free agent. If that is the case, the Sixers will be in position to offer Holiday a larger contract than any other team.
Turns out that the injections that Andrew Bynum will have in his knees in the coming days are the same injections he's been having every year for the past "three or four years," according to his agent, and there is no need to be worried.
"He's been getting them for quite some time now," agent David Lee, reached Sunday afternoon, said. "Look at it as being nothing more than, like, a WD-40 for his knees."
Bynum will receive injections of Synvisc-One, or SYNVISC, Lee said.