Archive: October, 2011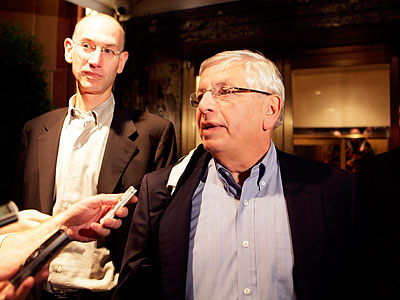 Sometime today, the NBA is expected to officially announce the cancelation of two more weeks of regular season games. After last week's bargaining-session meltdown (you can read that info here: NBA Lockout), additional cancelations were only a matter of time, with most nationwide NBA writers pointing toward early this week for the announcement. The NY Daily News wrote on Monday that the cancelation announcement would come today. On Oct. 10, NBA commissioner David Stern announced the cancelation of the first two weeks of the regular season, which amounted to 100 games canceled from Nov. 1 to Nov. 14. This second announcement will cancel an additional 102 games, from Nov. 14 to Nov. 28. Each week of cancelation is costing the league approximately $100 million in revenue.
For the 76ers, these four weeks of games means the following games will be canceled: at the Toronto Raptors on Nov. 2; vs. the Minnesota Timberwolves on Nov. 4; at the Orlando Magic on Nov. 6; vs. the Houston Rockets on Nov. 9; vs. the Milwaukee Bucks on Nov. 11; at the Los Angeles Clippers on Nov. 13; at the Portland Trail Blazers on Nov. 14; at the Golden State Warriors on Nov. 16; vs. the Charlotte Bobcats on Nov. 18; at the Miami Heat on Nov. 20; at the Dallas Mavericks on Nov. 22; at the Atlanta Hawks on Nov. 24; and vs. the New York Knicks on Nov. 26. That's 13 regular season games gone. Although it's unlikely, there is still the possibility -- if a resolution is reached soon -- that the NBA could rejigger the schedule and pack in an 82-game season. To do that, the schedule would include more back-to-backs. It's getting late in the game for a full 82-game season to be crammed into the league's timeframe, but it's still possible. Very soon, that possibility will disappear. And the NBA has not confirmed it would even attempt to do such a thing even if the two sides came to an agreement in a timely fashion.
The way it stands right now, the NBA owners and the union have no meetings scheduled. The two sides seem to have stepped away from one another, perhaps cooling down after last week's frustrations, perhaps taking a breath of fresh air in hopes of producing a fresh approach. On Monday, union chief Billy Hunter spoke with ESPN's Bill Simmons in an hour-long podcast. Hunter said the following: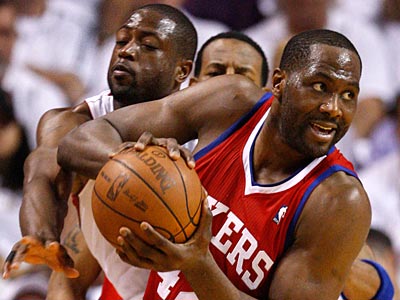 As we wait for the NBA owners and union to cool off after last week's implosion. As we wait for the two sides to realize each passing day is like lighting money on fire and they should probably return -- immediately -- to the bargaining table, let's tackle one specific question that keeps popping into my inbox.
The Sixers' front office (Rod Thorn, Tony DiLeo, Courtney Witte, etc) is preparing for the college scouting season. So in that singular way, it's life as usual for them. The front office still must continue its overseas scouting operation as well as its college recruiting operation. In addition, Thorn has to be thoroughly prepared for the moment the NBA hits the "play" button again. Because, very likely, when the NBA does come to a resolution, there will be an abbreviated free-agent/trade season. A lot of the leg work must be done in advance. As we talked about last week, new chief executive officer Adam Aron is probably working 100-hour weeks right now. At last week's press conference, he unveiled a heck of a lot of change within the franchise, which also created a heck of a lot of work for himself. He made promises (changes to in-game, changes to branding, changes to communication) and now he's working to follow-through on those promises. For anyone who missed Sunday's Inside the Sixers addressing a couple of crucial changes the new ownership needs to make, here's the link: Inside the Sixers.
Here we go, the go-to question the last couple of weeks:
The NBA lockout continues with this afternoon's mediated bargaining session in New York. For the third consecutive day, the owners and union will sit down with federal mediator George Cohen in an attempt to bridge the gap on any number of issues.
The two sides have spent around 22 hours at the bargaining table over the previous two days and today's session could go well into the night. If you want to follow the very exciting stakeout via Twitter, you can do that here: Deep Sixer. If you want to read yesterday's blog post about the new 76ers' owners, you can do that here: Staying Relevant.
More later.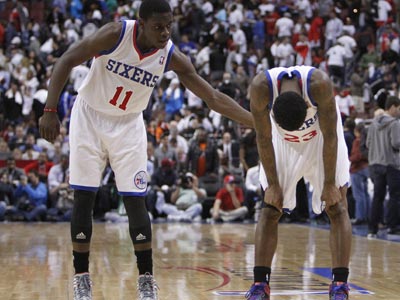 Join the Inquirer's Kate Fagan as she takes your Sixers and NBA lockout questions in a live chat, beginning Friday at 1 p.m.
On a mobile phone? Click HERE to join the chat!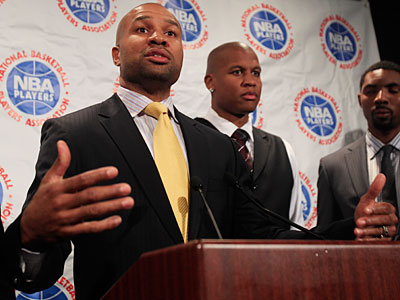 To follow Live from NYC, click here: Deep Sixer.
The NBA and the union have ended their bargaining session here in New York after making very little progress. Federal mediators were involved in the talks, but after about 5 1/2 hours of negotiating today (and about 30 hours over the last three days), the two sides became stuck on the split of revenue and decided they were going nowhere.
Each side had a very different perspective on what happened inside this New York hotel. And it's very possible that tonight -- the rhetoric and anger -- has set this bargaining process back an indefinite length of time and money.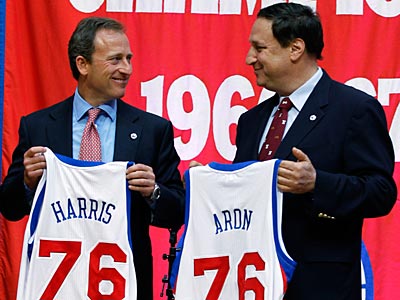 Tuesday's press conference at The Palestra produced more 76ers' news than the previous three months combined. I know the diehard Sixers' fans would rather be discussing trade moves and roster upgrades, but we'll work with what we've got.
Fellow Inquirer reporter Marc Narducci camped out at a New York hotel yesterday -- 15-plus hours total! -- waiting for the end of the NBA's mediated bargaining session. The result? The mediator requested both sides refrain from commenting. Both the owners and the union turned right around and returned to the bargaining table this morning at 10. A few news outlets, Yahoo!Sports and CBS, reported that their sources inside the meeting said that little progress was being made and that the two sides are still far apart. These monitored sessions are crucial, because commissioner David Stern has already said that more regular season games could be cancelled this week if these bargaining sessions failed. If you want to know these updates instantly, you can follow on Twitter: Deep Sixer or Marc Narducci.
Leaving Tuesday's availability at The Palestra, a few things struck me about this ownership group. Much apathy exists around the Sixers (one must only read the comment section below to come to this realization), but there is still a section of dedicated fans that cares very deeply about how this new ownership group will run the team. The current lockout and labor dispute isn't doing the league or Sixers any favors, knocking away any loosely attached fans who might have enjoyed last season's improvement, but who aren't attached enough to wait out months of bargaining sessions.
NEW YORK -- The marathon NBA labor negotiations ended shortly after 2 a.m. on Wednesday, approximately 16 hours after they began.
Federal mediator George Cohen presided over the meeting between full bargaining committees of the National Basketball Players Association and owners a day after he met with both sides individually at their New York offices.
After the negotiating session Cohen requested that neither side make any public comment. The two sides will return to the same New York hotel to resume talks at 10 a.m.
(UPDATE: It's about 2:15 a.m. and we are getting indications that negotiations are concluding)
NEW YORK – What a scene.
We came to cover the NBA labor negotiations and ended up at a slumber party.