Archive: October, 2009
This morning, the 76ers waived shooting guard Dionte Christmas and forward Brandon Bowman.
Bowman's dismissal was expected, but Christmas, the former Temple star, looked to -- possibly -- have a shot at making the team. Here was Christmas' line during the pre-season: 4 games played (of 7 possible). 7.5 minutes a game, 12.5 percent shooting from the field, 33.3 percent from three, 66.7 percent from the line, 1.8 points a game.
Just left Sixers practice at PCOM. Sixers GM Ed Stefanski spoke about the decision to cut Christmas. He said Christmas might be someone they look at down the line, but that right now they'd prefer to go with 13 and have a possible spot available for someone more able to immediately contribute.
Just finished at 76ers shootaround, they play the Washington Wizards tonight at the Wachovia Center. When the curtain first lifted this morning at the Philadelphia College of Osteopathic Medicine, it looked like Rodney Carney might be 100 percent back: He was on the second team, running through some sets. Alas, upon talking with Sixers PR, Carney still won't suit up tonight. If you want such information quicker, feel free to follow Deep Sixer on Twitter. Click here: Deep Sixer.
It's been about a week since we were back on Sixers here. First, the Sixers went to Phoenix and then Mexico. Next, I spent a couple of days at Citizen's Bank Park covering the National League Championship Series. Now, we're back. I don't believe I'll be leaving Sixers/Deep Sixer again, so we'll try to get this blog going like we did last year.
Obviously, I'm a little behind on how the Sixers looked in their last two games. The box score really doesn't help too much in that regard. But there's 8 days left before the season opener and two games: Tonight's and Friday night's against the New Jersey Nets in Queens, NY. If you're going to tonight's game, or following it, here's some storylines: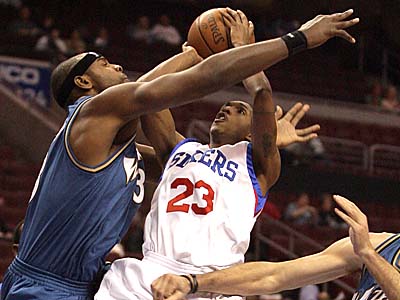 The 76ers lost tonight, 90-89, when replacement referees called a three-shot foul with 0.3 seconds left on Willie Green. Green had just made 1 of 2 free throws to give the Sixers a 89-88 lead with 1.0 seconds left.
The Wizards called a timeout then inbounded the ball on the sideline. Wizards guard Mike James heaved a three at the buzzer, which fell short. The game appeared to be over, the Sixers PR staff even dropped the streamers they save only for victories. But, within James' final attempt, one of the referees saw a foul on Green -- who appeared to be far away from James -- and blew his whistle. Multiple replays seemed to show James went untouched, but I was squinting at the little TV box on press row, looking at the Comcast broadcast. The closest Sixer to James appeared to be Jason Smith.
After the game, we talked to Green about the call. He was very forgiving. In the video player at the right, you can check out the video of Green in the Sixers locker room post-game. In his post-game press conference, Eddie Jordan said, with a little smile on his face, "It's the pre-season, we're all a little bit rusty."
Two of the Washington Wizards best players, Gilbert Arenas and Mike Miller, are out of tonight's pre-season game with "flu-like symptoms."
The probable Wizards starters: DeShawn Stevenson, Randy Foye, Caron Butler, Andray Blatche, and Brendan Haywood.
Sixers will start the same five they've been starting: Lou Williams, Andre Iguodala, Thaddeus Young, Elton Brand, and Samuel Dalembert.
76ers rookie Jrue Holiday received a DNP-Coach's Decision last night against the New York Knicks. He was the only player suited up that didn't get in the game. After today's practice, Sixers coach Eddie Jordan talked about not playing Holiday. He said he felt bad he didn't get him in the game. His reasoning was that New York's guards -- Chris Duhon, Nate Robinson, etc. -- were playing at a high, intense level. Higher than is usual for a pre-season game. Jordan said he didn't feel comfortable tossing Holiday into that situation. It sounded like he was uncomfortable with it not because of potential mistakes/turnovers, but moreso to preserve Holiday's psyche.
Jordan said before today's practice he addressed some "behavior" issues from last night's game. Some "exhibited frustration" by his players. Jordan said that as the team's leader he thought it important to quickly talk about some of these things ... early in the season. On this point, I have to agree with him. It seemed in the second quarter -- when things really weren't going well -- that some unnamed Sixers were having less than positive energy. In fact, that's a term Jordan used: don't bring negative energy to the court. On one play, I believe it was the second quarter, Willie Green and Andre Iguodala went up for the same rebound. Iguodala snatched it from Green -- barely -- but when he came down, he glared at Green then stole a look to the Sixers bench as if to say, "what's he doing trying to take that rebound from me?" (That's how the interaction looked from press row, about 10 yards away.) I'm assuming these are the types of interactions that Jordan would want to eliminate. Awesome that he's addressing them so early.
Overall, Jordan said he took a lot of good things from Tuesday night's game: how the team responded in the second half, how the big players stepped up and got things done, how Lou responded to a poor start shooting, how Brand played. Sure enough, it's the pre-season, you gotta find the good things to take away, but having actually seen the game, and not actually being paid to coach the Sixers: it wasn't very good. Although a lot of the poor play belonged to the Knicks.
Just left 76ers shootaround at Madison Square Garden. If you want to check out the videos from that shootaround, they should be in the video player on the right. There's one in the hallways of MSG and one of the Sixers taking half court shots after shootaround. If you want to follow Deep Sixer on Twitter, click here: Deep Sixer.
We'll be holding a Live Chat this afternoon at 3 p.m. If you have a minute to join, click here: Sixers Chat.
Sixers are playing the Knicks tonight in their fourth pre-season game. Game tips off at 7:30 at MSG. We'll blog after the game ...
Starting this blog post in the third quarter of the 76ers vs. Knicks game at Madison Square Garden.
It was not a pretty second quarter. In the quarter, the Sixers scored 13 points and had 14 turnovers. If this had been a regular-season game, those 14 turnovers would have been a franchise record for most turnovers in a quarter. Besides the turnovers, the Sixers just mostly looked lost. On offense and defense. The Knicks (who are not really very good) scored 28 points and led at halftime, 43-35, after trailing 22-15 after the first quarter.
Tonight, the Sixers just weren't getting great shots out of their offense. There doesn't appear to be as much movement as is necessary. Sixers were looking a little frustrated. Like when power forward Elton Brand, upon getting a rebound, delivered a pretty hard elbow to the side of Jared Jeffries' head. Jeffries was not pleased. He walked away for a second then confronted Brand. You could tell, right when Brand got the rebound, that he was going to be swinging some elbows. After the game, Brand said he was "clearing space." Yes he was.
Kate Fagan takes your questions about the 76ers in a live chat at 3:00 p.m.