Archive: January, 2011
During one week away from the 76ers, I got one email topic more than any other: what happened between Andre Iguodala and Evan Turner during Friday night's win over the Milwaukee Bucks? Not having seen the interaction, but in reading other people's interpretations of it, we're just going to have to agree to move on from that moment to today's game against the Charlotte Bobcats. There are all kinds of dynamics at play right now with the Sixers (does Iguodala's game restrict Turner's? Is Turner's lack of confidence affecting him? etc., etc.), but we'll have to let that one interaction slide until something similar presents itself.
As for this afternoon, it seems like the Sixers have discovered a way to win games they would have lost earlier in the season. The Sixers won in overtime, 96-92. Let's not dwell too long on the fact that this game really should have been a double-digit Sixers' win, because regardless of that fact, they would have lost this game a month ago. There can't be many more sinking feelings for a Sixers' fan than seeing the Sixers, down a three pointer, with the ball, taking it out on the sideline. (OK, maybe being ahead three, watching the other team take the ball out on the sideline and knowing your team is very good at allowing end-of-game three pointers.) This just isn't a situation at which the Sixers usually excel.
But this afternoon they did. And they seem to be doing something different in these situations. In past years, including the early months of this season, the designed play at the end of regulation -- and here we're talking about the one with 5 seconds left when Lou Williams hit the corner three to force overtime -- would have involved bringing Andre Iguodala past the three point line and catching about 30 feet from the hoop. There would have been screens going on around him, but this would have been the heart of the play. Also, there wouldn't have been a shooter on the floor (maybe, occasionally, we would see Jason Kapono on the floor), but tonight there were two shooters. And as the Sixers set up the play, I was wondering for whom the play would be designed, whether Doug Collins would want Kapono to get the three pointer or whether he'd want Jodie Meeks to get the three pointer. If the Sixers had only needed a two, then obviously LouWill would have gotten the nod, but bringing both Kapono and Meeks into the play was a tricky move by Collins. With both of them on the floor, the Bobcats needed to stick tight on almost every screen and be concerned with not just one guy on the floor, but three, plus Iguodala taking the ball out of bounds.
(We interrupt today's blog to include the three words that everybody's been waiting for - Kate returns Monday).
***
Doug Collins has to tread that difficult line of developing a young player while also attemping to win games.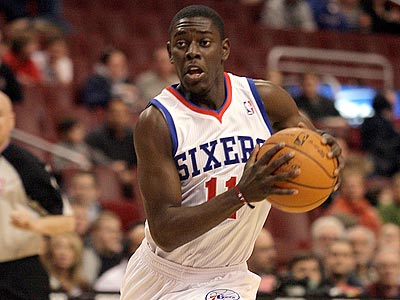 Doug Collins isn't dwelling on the playoff picture, but he is reminding his players how important these next two games are for the 76ers.
Due to the fact that the Eastern Conference is both top and bottom-heavy, with six teams having winning records and the rest sporting losing marks, the Sixers should be in the hunt all season for the seventh and eighth seed.
Even with a 15-23 mark, the Sixers entered Friday ninth in the Eastern Conference. Indiana was seventh at 16-20; Charlotte was eighth at 15-21 and Milwaukee was ninth at 14-22.
It's might seem over-dramatic to call the 39th game of an NBA season a must-win situation, but that pretty much described the 76ers 95-94 victory on Friday over the visiting Milwaukee Bucks.
Not only are the Bucks the third straight potential contender for a lower-tier Eastern Conference playoff berth that the Sixers have met. But the Sixers feel as if they have used their ration of devastating defeats.
Had Earl Boykins' corner three-pointer gone in at the buzzer then the Sixers would have had trouble rebounding from this one.
Video: The Sixers got back in the win column, getting past the Bucks 95-94. The Inquirer's Marc Narducci reports from the Wells Fargo Center.
---
Download our new iPhone/Android app for all of Kate's Sixers coverage, plus app-exclusive analysis and videos.

He is a streaky shooter, providing instant offense at time and instant agida at others. What is consistent about Lou Williams is that he never shies away from the big moment.
Few players embrace the chance to take the big shot when the game is on the line. You have to love the attitude if not always the results.
So it's not surprising that Williams has long forgotten missing both free throws with 6.2, sconds left in the fourth quarter and the Sixers up by three against Detroit last week. We all know how that one ended, with Detroit tying it in regulation and then winning it in OT, 112-109.

Doug Collins brought the 76ers into the Philadelphia College of Osteopathic Medicine for a film session on Wednesday of the 111-103 loss to the Indiana Pacers the night before.

Make all the cracks about it being a horror film because from a Sixers' perspective it was pretty gruesome.

Collins pointed out an interesting fact - that Indiana took a 57-49 halftime lead without shooting one single free throw.

"To me that tells me that we weren't aggressive," Collins said. The Pacers had lost six of their previous seven games, so they didn't exactly enter the Wells Fargo Center on a roll.

"Early in the game we were flat and we didn't have a great effort," Collins said. "That wasn't our trademark."

Collins admitted that had Andres Nocioni been healthy, that he might not have played Andre Iguodala.

Nocioni played just 2 minutes and 48 seconds and wasn't able to do much due to a fractured and dislocated middle finger.

Iguodala played 33 minutes, shot 0 for 7 and had just one point in his first game back after missing seven due to right Achilles tendinitis. His only basketball related activity since his last game on Dec. 26 was Monday's practice and Tuesday's shoot-around.

"I know hindsight is 20-20 but had Noch been healthy maybe we'd have Dre get a few practices under his belt before he played," Collins said.

So there were mistakes made all around. It happens in the NBA, but if the Sixers want to fight for a playoff spot, they can't have games where they are flat.

The lack of aggressiveness that Collins talked about was a lack of hustle.

Indiana had gone nine consecutive games scoring 95 or fewer points. All of a sudden they turned into the Lakers.

The Sixers played in spurts, but they aren't talented enough to do that. The team prides itself on an unending work ethic. When that effort is missing, the results are both predictable and a little difficult to watch either live or on tape.

Andre Iguodala wouldn't say for sure whether he would suit up for the 76ers in tonight's game against Indiana at the Wells Fargo Center, but it sure seems like he will try to compete.
Iguodala last played on Dec. 26 at Denver and didn't had any basketball activity until Monday's practice.
He is listed as a game-time decision due to Achillies tendinitis, which has kept him out of seven consecutive games and 12 overall. Forward Andres Nocioni is also a game-time decision with a dislocated finger.