Archive: April, 2009
I think Lou Williams said it best when he said, after tonight's season-ending 114-89 "game" against the Orlando Magic, "Personally, I was embarrassed."
The 76ers should be embarrassed after what happened tonight. We could probably spend 2,000 words and hours discussing what happened tonight (Rashard Lewis torching Thad, Redick and Gortat outplaying Green and Dalembert, Iguodala not dominating like he needs to) but Andre Miller offered a simple perspective with, "They played good basketball, we played bad basketball."
It was bad, ugly, frustrating, uninspiring, and I don't think many folks are booting up their computers to dish out money for some 2009-2010 season tickets. Okay, now that that's behind us, let's try to look forward.
After the game, Iguodala kept saying interesting things about how "the little things" throughout the season caught up with them. He said "inner turmoil." It seemed like he was saying that they had too many dramas throughout the season, within the locker room. He said "mental things" and "small things" that distracted them. Iguodala also said he would sit down with Ed Stefanski and talk about "all the things that are holding us back, try to get rid of."
Hmmmm ... could "things" mean "people"? Iguodala said to get this team where it needed to be "you make moves. It's going to be a busy summer."
There are a number of outstanding issues: Will Tony DiLeo be back? Will Andre Miller re-sign? From where will that shooter come? Are Willie Green and Samuel Dalembert winning pieces?
It would be ambitious to think we could answer those now, but here were the responses (to the first two) from tonight:
Tony said he needed time and space to even decide if he wanted the gig next year. He said he and Stefanski would sit and talk about what is best for the team.
Miller said he didn't expect to address his situation until "after the draft." It sounded like he wanted to see what the Sixers would do in the draft.
As for the holes in the Sixers. We already know that Dalembert asked for a trade during this season. All signs point toward Dalembert playing for another team next season and considering the strained relationship right now between Dalembert, the organization, the fans, that seems to be the best decision for the franchise. But his salary is increasing the next two seasons, so the Sixers need to find the right situation (euphemism for "He's not easy to trade").
The Sixers are having a team meeting tomorrow at noon at the Philadelphia College of Osteopathic Medicine. Afterward, you would think they would go their separate ways. There are plenty of questions, not a lot of answers just yet, but an off season that will at least find us some.
--Kate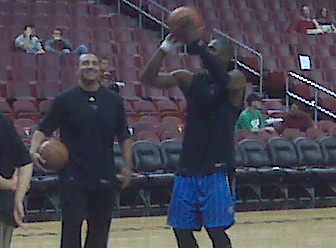 There are a lot of people who are already talking about Saturday's Game 7. No Dwight Howard. No Courtney Lee. That should equal an easy 76ers victory tonight, shouldn't it? Two starters gone from Orlando's lineup, 36 points per game, 18 rebounds. It's an interesting position for the Sixers. Through five playoff games, they've been the underdog, not expected to win a game. Now, after a couple of Howard elbows, they are presented with this: A should-win game, an elimination game that, if Orlando wins, would be quite an embarrassing way to end this season.
For the first time in this series, there is all kinds of pressure on the Sixers and none on the Magic.
There seem to be two options at each position for the Magic. To replace Lee, either J.J. Redick or Mickael Pietrus. To replace Howard, either Tony Battie or Marcin Gortat. *Update: Redick and Gortat will start.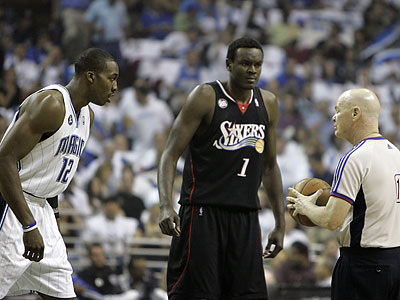 The Orlando Magic will be without Dwight Howard for tomorrow night's Game 6 at the Wachovia Center. The NBA just announced a one-game suspension for the elbow Howard delivered in the first quarter of last night's Orlando victory.
The incident occurred a few minutes into the first quarter when Howard, tangled with Sixers center Samuel Dalembert, elbowed Dalembert as the two were separating. Last night, Howard was only hit with a technical foul for the incident, but immediately after the game Sixers coach Tony DiLeo said the team had already contacted the NBA about further action.
Today at Sixers practice at the Philadelphia College of Osteopathic Medicine, most of the Sixers said the politically correct thing that they had "no comment" and, at this point, the matter was "in the NBA's hands."
The only player to say how he felt was Dalembert, who said that if he had delivered the elbow, he would probably be shipped back to his native Haiti already. Dalembert said his "blood was boiling" about the incident.
Orlando will also be without starting guard Courtney Lee, who suffered a fractured sinus in the first quarter of last night's game. Lee, who was (this time inadvertently) also elbowed by Howard did not return to last night's game and his status for any further games remains unclear.
--Kate
For the first time in this series, the 76ers and Orlando Magic brought the game off the court, too. Tonight, after Orlando's 91-78 Game 5 victory, all kinds of things blew up.
Here's a quick outline: 1.) The Sixers believe Dwight Howard should be getting called for 3-second violations, but isn't. 2.) The Sixers have contacted the NBA about the elbow Howard delivered to the chin of Sixers center Samuel Dalembert. The elbow occured early in the first quarter. Referees hit Howard with a technical foul.
Here's how it unfolded tonight.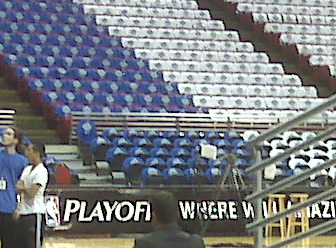 The most recent image of this nip-and-tuck series is Hedo Turkoglu's game-winning three-pointer with 1.1 seconds left on Sunday night. With that made shot, the Orlando Magic tied this series, 2-2. But what else did that shot ignite? By now, the play-by-play, and each team's thought process before and during, has been discussed. Here's the Cliff Notes:
Orlando Magic coach Stan Van Gundy told his two guys -- Rashard Lewis and Hedo Turkoglu -- that whomever ended up with Thaddeus Young guarding them would shoot the last shot. We know what happened, the question now is: Will that motivate Thaddeus Young? I have to think at this point in the season, with this game as important as it is, this story line will play zero factor in tonight's game. If Young holds Lewis to an 0 for 12 night, perhaps we'll discuss it again. (Okay, of course we'll discuss it again.) But for the most part, I think each team should have enough motivation for tonight.
This series has been, perhaps, the best of the first-round series. Although Boston vs. Chicago, depending on your allegiances, has also been darn fine. But if you're a Sixer or Magic fan, this series has been an adrenaline rush. What has also been interesting to watch is the slight changes each team has made -- especially the slight changes the Magic made for Game 4.
We saw this a year ago: A 2-1 series lead, a home game to bust it open, a challenge against a much higher seed.
But, somehow, this series feels different. Should it? Will it? The 76ers have said they have not talked about last season's first-round loss to the Detroit Pistons. They said this Sixers team is a completely different team from last year's, especially with the veteran, experienced presence of Theo Ratliff and Donyell Marshall.
We'll find out tonight. To this point, the Orlando Magic have looked little like a 59-win team. They have looked average, perhaps even worse than average. Tonight is the game where the Magic will either show up, knock down 12-15 three-pointers and dominate offensively, or the Sixers will keep doing what they're doing and make this their series with a 3-1 lead. A few things to watch:
Tonight might be the clearest indication of where this series is heading. Are the Orlando Magic going to continue to miss shots? Can the 76ers avoid falling behind by 18? Can they avoid falling behind at all?
In a seven-game series, so many story lines seem to develop. So many topics are rehashed, night after night. Here are a few crucial ones.
1.) The Orlando Magic's outside shooting. I really believe this will determine the series. Through two games they have choked from the outside. They have left 2-3 made three-pointers on the table -- outside shots they made for 82 games in the regular season -- in each of the first two games. That additional scoring, or lack thereof, has cost them. Yes, I think the Sixers have influenced some of those shots. They've flown out at Turkoglu and Rashard Lewis when they have been open. But some of Orlando's shooters are just missing. Considering the Magic aren't a seasoned postseason team, you can think the first two games were a fluke. But if they continue to miss shots tonight, we could be looking at a series where they struggle from the perimeter, where they've gone cold. But if the Magic find their outside stroke, I think it will be difficult for the Sixers to put up enough points to match an Orlando team clicking on all levels.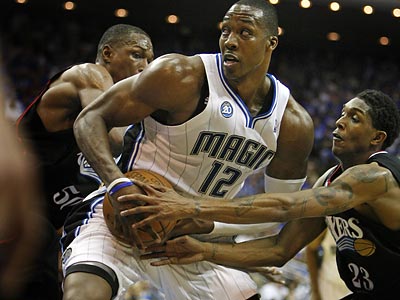 Winning Game 2, undoubtedly, will be much more difficult than winning Game 1. In the last three days, we've seen the Dallas Mavericks, in their bid to go up 2-0, lose badly to San Antonio. We've seen the Chicago Bulls, despite an amazing performance from Ben Gordon, lose their bid to go up 2-0 on the Boston Celtics. The task of winning two games on a top seed's home floor is daunting. And that's what the 76ers face tonight against the Orlando Magic.
If we take a look at Sunday's result, we can find a number of areas with solid execution. And areas with subpar execution -- for both teams.
For the Magic, the good: Free throw shooting. Dwight Howard was 9 for 12, that's about three more free throws than he makes on average. Low-post scoring from Howard. We all know he is amazing on the boards and blocking shots, but he doesn't always provide an efficient low-post scoring option in terms of giving him the ball and letting him execute a low-post move. On Sunday, he was 11 for 13, including a number of difficult shots. Scoring from Courtney Lee and Anthony Johnson. Those two average a combined 13.7 points per game. On Sunday they combined for 27. Orlando also had 15 second-chance points.