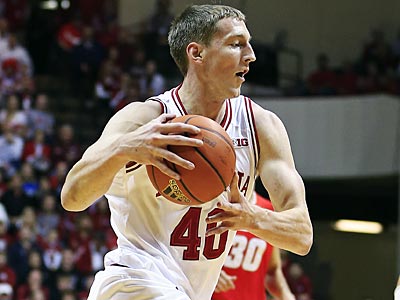 CHICAGO -- Former Indiana forward Cody Zeller said his interview with the 76ers went well.
"I think I'll fit in well there," said Zeller, who met with the Sixers' brass on Thursday at the NBA draft combine.
The Sixers will likely get the 11th pick in next month's draft. ESPN's Chad Ford predicts the franchise will use it on Zeller in his updated mock draft.
CHICAGO – Duke power forward Mason Plumlee says he's paid close attention to the 76ers the past two seasons.
A lot of it had to do with former Sixers coach Doug Collins, whose son Chris was Duke's associate head coach before nabbing the head job at Northwestern in March.
"I like Doug Collins a lot," Plumlee said Thursday here at the NBA draft combine. "I was friends with him."
CHICAGO – Syracuse point guard Michael Carter-Williams thinks the Sixers could be on the rise.
That's a good thing for the NBA draft prospect if you agree with bleacherreport.com's mock draft. The Sixers are likely to get the 11th pick in the June draft. And the website has them using it on the 6-foot-6 point guard.
Carter-Williams believes he has an interview scheduled with the franchise while here at the NBA draft combine.
CHICAGO – Jeff Withey is projected to be a mid-first-round draft pick. That means there's a good chance the 76ers won't select him in next month's NBA Draft.
The Kansas center, however, is still keyed up about Friday's interview with the Sixers, who will likely get the 11th pick.
"I'm extremely excited," Withey said Thursday at the NBA Draft Combine here at Harrison Street Gym. "I know a couple of guys on the team. Jrue Holiday, I played with him way back when. … And I'm excited to go meet with them and go talk with them. Obviously, I haven't done it yet. So I'm just trying to prepare myself for it mentally."
John Mitchell, Inquirer Staff Writer
The 76ers have received permission to interview Houston assistant Kelvin Sampson. However, if they are going to talk to him they had better do it quickly as Sampson has already drawn a lot of interests from other teams.
Charlotte and Milwaukee have already interviewed Sampson. Considering that those teams already have started interviewing candidates (as has Detroit as well), it's safe to say that those teams are probably further along in the process than the Sixers, who finally made some offseason news on Tuesday when they introduced former Houston assistant general manager as president of basketball operations and general manager.
Hinkie didn't say how he felt about Sampson as a coach. However, I spoke with some people in Houston who cover the Rockets and the consensus is that Hinkie thinks highly of Sampson and will probably have him in quickly for an interview.
John Mitchell, Inquirer Staff Writer
A radio report that 76ers CEO Adam Aron was no longer part of the basketball operations wasn't exactly on the mark.
During an interview with former Sixers general manager John Nash, Nash said that Aron had been 'extracted' from the basketball operations department.
John Mitchell, Inquirer Staff Writer
So, Andrew Bynum is back on his feet and flamenco dancing in Spain these days, huh?
What's next, Dancing with the (rehabbing) Stars?
John Mitchell, Inquirer Staff Writer
The 76ers are set to announce the acquisition of an NBA Developmental League team on Saturday.
Sixers majority owner Joshua Harris, who not long ago said the Sixers were very close to announcing the acquisition of a team, will be joined at the University of Delaware along with NBA Development League president Dan Reed and a pair of senators from Delaware to make the announcement Saturday afternoon. .
John Mitchell, Inquirer Staff Writer
While the hunt for a coach for the 76ers has taken center stage, the question mark at general manager - which this struggling club addressed (or at least bandaged) before last season – also hangs over the franchisel.
Majority owner Josh Harris made it a point to say that he and general manger Tony DiLeo would be the driving forces behind the team's search for Doug Collins' replacement. However, DiLeo's contract expires in less than two months, most likely long after Collins' replacement has been named.
This is interesting because if DiLeo does not receive and extension from the team, the new general manager could come into a situation where the coach is not his guy.
John Mitchell, Inquirer Staff Writer
Doug Collins and the 76ers have reached agreement on a deal that will install Collins as special consultant to the team. The final stages of the deal are being hammered out between Collins' lawyers John B. Langel, the chairman of law firm Ballard Spahr's litigation department.
The deal will allow Collins, who will coach his final game for the team Wednesday at Indiana (49-31), to receive the remainder of the final year on his contract.