Archive: July, 2012
David Hiltbrand, Inquirer TV Critic
MTV announced the field for the Video Music Awards to be telecast live (take that, Olympics!) on Thursday, Sept. 6. The most prestigious category of course is Video of the Year.
I'm going out on a limb here to say this is the strongest most consistent field the VMAs has ever seen. Check this fab five out. Tell us what you think. Vote here for your favorite. And don't forget to vote at MTV.com
1) Drake ft. Rihanna "Take Care" Is this the video that sparked a bottle throwing fracas in a New York nightclub? Drake finds himself on the horns of a dilemma. Or something.
David Hiltbrand, Inquirer TV Critic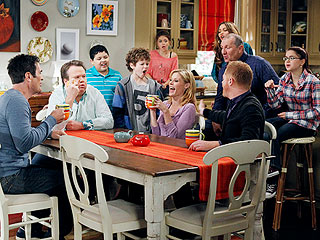 Collective bargaining does work.
After holding out for more money, the core cast members of ABC's hot sitcom, Modern Family, got a substantial raise and will reportedly return to the studio today to begin work on season four.
David Hiltbrand, Inquirer TV Critic
It was supposed to be a simple appearance to plug a project: Will Ferrell and Zach Galifianakis on The Daily Show last night to promote their soon-to-open movie, The Campaign.
Then things got out of hand.
The two guests objected to the total lack of imagination in host Jon Stewart's questions. Feeling picked on, Stewart determined to go "Hamm" on them, bringing out Jon Hamm in a matching suit and tie to even the odds.
David Hiltbrand, Inquirer TV Critic
Fred Willard has long been one of TV's most dependable comic utility men. So it's probably no surprise that when he made his first televised appearance since his recent arrest for lewd conduct in a Los Angeles adult movie theater, he tried to laugh it off.
On Late Night with Jimmy Fallon, Willard and Fallon turned the incident into schtick.
David Hiltbrand, Inquirer TV Critic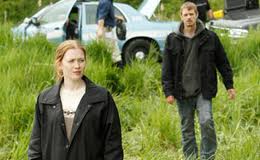 It seemed to take forever to find out who killed Rosie Larsen. And maybe that's why we didn't have to wait to find out who killed The Killing. AMC did.
The cable channel issued a statement this afternoon announcing: "After much deliberation, we've come to the difficult decision not to renew The Killing for a third season."
David Hiltbrand, Inquirer TV Critic
Michael Phelps' is a couple of pool lengths from Olympic history. If the lanky natator takes three medals of any ore in London, he will be the most decorated Olympian in any sport.
So how is he preparing for his swim with destiny? As he explained to Ryan Seacrest in an interview on Today, mostly by watching TV shows. "I started The Wire and I'm touching up on Breaking Bad."
David Hiltbrand, Inquirer TV Critic
Okay, we'll concede that Carrie Mathison was both hyper and obsessive about Sgt. Brody not being the returning war hero he seemed to be at the end of the first season of Showtime's gripping Homeland. The thing is, as crazy as Claire Danes' CIA operative character acted, she was also right about the P.O.W. played by Damian Lewis. (Both actors have received Emmy nominations for their performances, deservedly so.)
You may recall that when we last saw her, Carrie had gone so far off the deep end that she was being administered shock therapy. Now she's been held on a psychiatric ward for six months.
And roll film…
David Hiltbrand, Inquirer TV Critic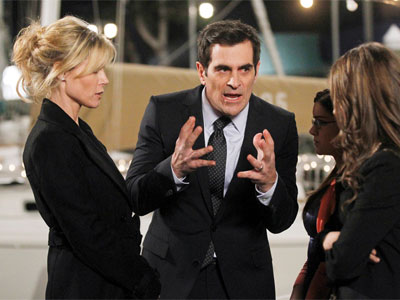 So much for Family togetherness. The adult members of ABC's smart comedy, Modern Family, have taken their contract dispute to the next level. Eric Stonestreet, Julie Bowen, Sofia Vergara, Jesse Tyler Ferguson and Ty Burrell, who have been negotiating together, are suing the show's production studio, 20th Century Fox, to have their contracts voided.
The five actors have been seeking a substantial bump in salary, to $200,000 each per episode for the fourth season. Reportedly they earned $65,000 each for season three. The first table read for season four was cancelled today when talks reached an impasse.
Ed O'Neill is not involved in the suit. Already the highest paid actor in the cast, he too is negotiating for a raise.