Archive: June, 2013
David Hiltbrand

, Inquirer TV Critic
White House Down, the action movie starring Channing Tatum and Jamie Foxx opens in a couple of hours. But Hollywood is already projecting that the film about an attack on the Oval Office will do gangbusters at the box office. So much so, the studio, Columbia, has already made a sequel.
Want to see the trailer?
Here it is, courtesy of Jimmy Kimmel Live.
David Hiltbrand

, Inquirer TV Critic

Tough jury. Don West, the criminal attorney for George Zimmerman, found that out the hard way during the opening of his client's trial. He tried to break the ice with a time-tested legal strategy: the knock-knock joke.

We leave it to a professional comedian, John Oliver on last night's Daily Show, to critique the lawyer's delivery.

Warning: There's a good deal of bleeped-out profanity in this clip, mitigated by some funny material, including references to Kanye and Adam West and a priceless reenactment of the crime by HLN's Jane Velez Mitchell.
David Hiltbrand

, Inquirer TV Critic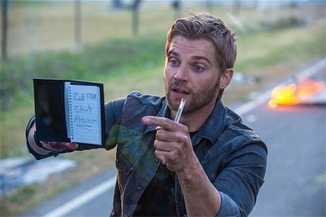 Under the Dome, the CBS series based on a Stephen King novel, opened last night with ratings fireworks. The thriller drew more viewers – 13.14 million -- than any series debuting in summer since 2007.
The last time a network show did that well in hot weather was six years ago: The Singing Bee on NBC. For CBS, it was the best summer showing in 13 years – since Big Brother. (OK, the debut of that reality series drew 22.29, but you have to adjust for deflation.)
Oddly enough, though CBS handily won Monday night in overall viewers, NBC's coverage of the Black Hawks' clinching Stanley Cup win took the adult crown with a 3.2 rating in the 18-49 year old demographic.
---
David Hiltbrand

, Inquirer TV Critic
Kevin Hart, the Pride of Philadelphia, has some explaining to do. Particularly when it comes to this surreal trailer for his new stand-up film Let Me Explain. Caution: This clip contains profanity, nudity and imaginary animals.
So what is going on here exactly? Kevin, clad only in green track shoes, jumps off a bus and sprints down a highway in his birthday suit.
Has he gone all Martin Lawrence on us? No, he's actually fleeing a…what is that creature? A deerbra? We'll take your word for it, Kev.
David Hiltbrand

, Inquirer TV Critic

Our little Hannah Montana is all grown up. Gulp!

The mature, punky and rebellious side of tabloid party girl Miley Cyrus has found its full expression in the video of her new single, "We Can't Stop".

It may be a transparent effort to borrow Rihanna's aura, but people are dgging it. In just a few days, "We Can't Stop" has been downloaded nearly 30 million times. And that number is rising fast.
David Hiltbrand

, Inquirer TV Critic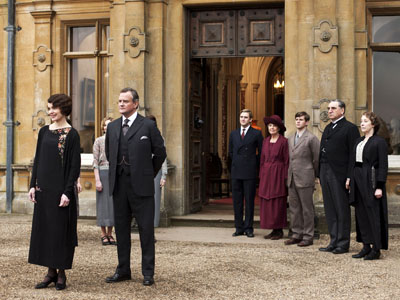 The casting rumors have been flying about season four of Downton Abbey. The reports have ranged from the sublime (Henry Cavill to play the widowed Lady Mary's new love interest?) to the ridiculous (P. Diddy as a '20s musician? We're pretty sure Diddy started that one himself.)
But one has been confirmed and it's something of a shocker: Paul Giamatti will appear in the season finale (as is traditional, a Christmas episode) according to TV Line.
Giamatti (HBO's John Adams) will play Harold, the American brother (naturally) of Lady Cora (Elizabeth McGovern). This wild Jazz Era playboy will show up at the Abbey to accompany his and Cora's mother, Martha. Throw another banger on the stove: Shirley MacLaine is back!
David Hiltbrand

, Inquirer TV Critic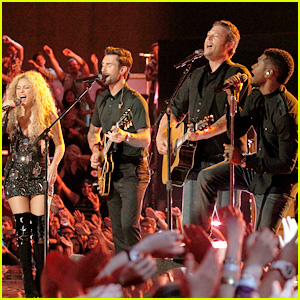 Tonight the winner of The Voice will be crowned in a live two-hour finale to the NBC singing contest's fourth season. Pros including Bruno Mars, once (and future?) Voice coach Christina Aguilera, Nelly, Cher and Florida Georgia Line are scheduled to perform.
Last night was the last opportunity for the three finalists to make their vocal cases to America. After the coaches collaborated on a stirring version of "With a Little Help from My Friends" that was more Joe Cocker than Beatles, each act got a chance to sing three songs: a duet with their coach, a reprise of their "defining moment" and a new offering.
Adam and Shakira, who don't have dogs in tonight's race, got to sit this one out.
Next Michelle Chamuel with an intriguing if overproduced rendition of "Why" originally recorded by Annie Lennox. (Chamuel earlier reprised Taylor Swift's "I Knew You Were Trouble".)
Finishing off the night was young Danielle Bradbery, soaring on Sara Evans' "Born to Fly". (She first revisited "Maybe It Was Memphis", a hit for Pam Tillis.)
Who do you like to win tonight? It's a tough call but I'm going with the Swons.
David Hiltbrand

, Inquirer TV Critic
Welcome to the Internet universe, Miss Utah.
Marissa Powell, 21, became a sensation after she developed a brain cramp during the question portion of Sunday's Miss USA contest. More people (6 million +) watched the video of her verbal meltdown than watched the pageant on HLN.(4.56 million).
Powell, a former volleyball star, froze up when judge Nene Leakes asked for her thoughts on gender and salary disparity. "…how we are continuing to try to strive," said Powell before stalling completely.
Visit NBCNews.com for breaking news, world news, and news about the economy