Archive: April, 2013
David Hiltbrand

, Inquirer TV Critic
After sparking headlines all across the country as the first active player in a major sport to come out as gay, NBA center Jason Collins seemed, well, relieved during his interview with George Stephanopoulos on Good Morning America.
"There's nothing more beautiful…than allowing yourself to really be happy and be comfortable in your own skin," Collins said. He also recounted the supportive phone call he got from President Obama.
Collins acknowledged that his uniform number, 98, was a quiet pledge to gay solidarity. He says his family and friends understood it was a tribute to Matthew Shepard, the gay college student who was tortured and killed in a hate crime in Wyoming in 1998.
David Hiltbrand

, Inquirer TV Critic

Ryan Seasick promised us a bold new twist last night, one that would make it a night of high drama. Actually it was a night of …no drama.

Here are your results, ladies and Germans:

Yes, Amber and Candice may not have been the Bottom Two you might have picked (Kree Harrison to the white courtesy phone please) but to almost no one's surprise, in the end, no one was sent home. When you have an extra week built into the schedule with a month to go, there has to be a stay of execution at some point.
David Hiltbrand

, Inquirer TV Critic
It's time to get real. Or at least audition to be real.
If it's always been your ambition to be one of the hot -- and hot under the collar -- roommates on MTV's Real World (28 seasons and counting), you got good weather for it.
The producers of the show are holding an open casting call on Saturday (April 27) at McFadden's on North 3rd in Northern Liberties. The operative hours are 10 AM to 5 PM, but you may want to arrive on the earlier side because when The Real World opens its doors in Philly, it gets zooish. The line usually wraps around the corner a few times.
David Hiltbrand

, Inquirer TV Critic
You know that episode of Hannibal that got pulled last week because of sensitivity to real-world events in Boston?
Now you can see it – or at least the portions that Hannibal executive producer Bryan Fuller feels are essential. The episode "Ceuf" has been divided into six discreet webisodes, all under four minutes.
David Hiltbrand

, Inquirer TV Critic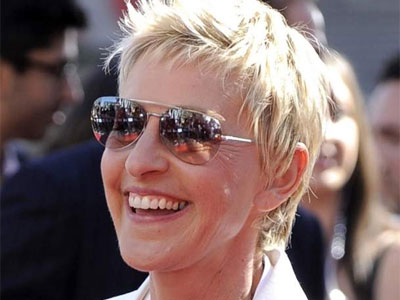 Yesterday's Ellen featured funny lady Kate McKinnon. Among the bits McKinnon does on Saturday Night Live is a devastating impersonation of – did you peek? – daytime's most casually dressed talk show host.
Ellen even outfits her in a suitably funky outfit. Then watch these dancing fools go at it.
At the end of the show DeGeneres waved her partner Portia de Rossi into camera range. Is it just us, or does Portia seem more attracted to the ersatz Ellen?
De Rossi returns at the end of the month as Lindsay in the revival of Arrested Development on Netflix.
---
Read more Dave on Demand or follow him on Twitter @DaveOnDemand_TV
David Hiltbrand

, Inquirer TV Critic
Just when you think reality TV can no longer shock you (Pregnant and Dating?), it comes up with a new wrinkle.
Try this one on: Vanilla Ice Goes Amish. That's right, tattooed '80s rapper Vanilla Ice who gave us "Ice Ice Baby" and not much more, is going to live in an Amish community in Ohio to learn their construction techniques.
His indoctrination will form the basis for a series on the DIY channel later this year.
David Hiltbrand

, Inquirer TV Critic

Some ad campaigns are just misbegotten from the very start. In fact, they push you away from the product.

The one that is driving me batty lately is the DirecTV pitch for their DVR Genie. You know, the one with the invariable set-up line, "Cable is more annoying than…". You then see some hideous completely unbelievable scenario – a man who has his finger snapped down on by a giant tortoise; a lady whose lap dog is snatched from her front porch by a predatory bird.

You know the ad? Here's the latest incarnation.
David Hiltbrand

, Inquirer TV Critic
How many tuned in to Dancing with the Stars last night for Stevie Wonder and stayed for the shirtless wonders?
I bow to no dancer in my love for Mr. Wonder, but musically that was rather disappointing. Mostly what you got was the DWTS band doing awful covers of Stevie's songs. And when Stevie did perform, whose genius idea was it to have him duet with country squirt, Hunter Hayes?
Bad music, but good dancing. Two couples drew 29s from the judges. First Zendaya and Val doing the Cha Cha to "Do I Do".