Archive: January, 2013
David Hiltbrand

, Inquirer TV Critic
If the mind can imagine it, there's already a video devoted to it.
How about this kooky spoof, "Downton Arby's"? All your favorite characters are there – except they're behind the counter or manning the drive-thru window.
David Hiltbrand

, Inquirer TV Critic
30 Rock went out last night the same way it came in: deliriously.
Tina Fey's surreal sitcom had "quick cancellation" written all over it. So we all owe NBC a huge debt of thanks for keeping it on the air for seven years. Especially since 30 Rock made a point of mercilessly mocking the network at least once in every episode.
Last night was no exception. Jack Donaghy (Alec Baldwin), recently ascended to head of NBC's corporate owner Kabletown, took a homeless man sleeping on the sidewalk and installed him as Savannah Guthrie's new Today co-host.
David Hiltbrand

, Inquirer TV Critic
Sexual shibboleths are falling left and right.
The Boy Scouts are preparing to end their ban on gays. And our military has just decreed that women can take combat roles.
Of course, this set off a howl of righteous objections. And that knee-jerk reflex was irresistible to The Daily Show.
David Hiltbrand

, Inquirer TV Critic
After years of insults and rejection, Matt Damon turned the tables last night on his tormentor. He trussed up the host of Jimmy Kimmel Live! and assumed control of the show himself. Man, what an improvement this was!
First he made a few changes in the staff. Out with Kimmel sidekick Guillermo and in with…well, watch it for yourself.
David Hiltbrand

, Inquirer TV Critic
It was the American Idol performance that brought Randy Jackson and Mariah Carey to their feet to applaud. Nicki Minaj didn't struggle out of her chair but she did humbly allow, "I'm not even worthy to critique you." She was also moved to remark "I want to skin you and wear you".
What? That's a little too Silence of the Lambs for our taste.
David Hiltbrand

, Inquirer TV Critic
It's one of the longest running gags on television. For a decade, Jimmy Kimmel has been announcing Matt Damon as a guest, and then declaring at the end of the show that they ran out of time and will have Damon on soon.
This went on for years, with Damon acting as if he was furious at the discourtesy of the continuous snub. Well, last night, Kimmel, ensconced in his new time slot, declared that Thursday would be the historic night when Damon actually would get some couch time. Here's a teaser of what tonight will bring. Isn't that an evil laugh Damon has?
David Hiltbrand

, Inquirer TV Critic
The mortality rate for sitcoms, particularly Tuesday night bottom dwellers, is alarming this week. Yesterday, ABC abruptly pulled Don't Trust the B---- in Apt. 23. Today Fox took the ax to Ben and Kate, the first-year comedy starring Nat Faxon and Dakota Johnson as adult siblings.
Actually the "c" word (cancellation) was not used by either network. That's not unusual. Show almost always get pulled months before their demise is officially announced. You can expect the episodes that are in the can to be burned off after the season is over.
Ben and Kate will be replaced for now on Tuesdays with double showings of Raising Hope. Don't Trust the B---- will have its Tuesday slot taken over by an additional airing of Happy Endings.
David Hiltbrand

, Inquirer TV Critic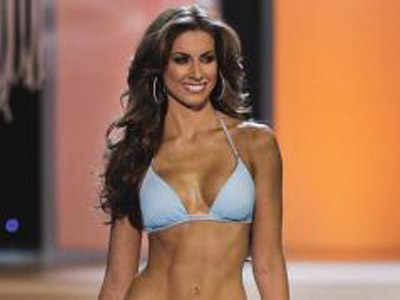 File this under Weird TV News. Did you know ABC has an upcoming reality show called Celebrity Diving?
Yup, and the biggest name signed so far is Miss Alabama Katherine Webb, the beauty queen who gained instant fame just for sitting in the stands at the BSC Championship.Bowl.
Gossip conglomerate TMZ smuggled a photographer onto the set yesterday during the first day of shooting and captured the photo you see above of Webb and NFL bad boy Ndamukong Suh of the Detroit Lions. Now there's two people we never thought we'd see in the same frame.