Archive: September, 2012
This just in: home security tapes from Jennifer Aniston leaked on the internet. You'll see a shocking side of the star you never imagined! How do we know this footage is genuine?
Because it's in black and white and because it's introduced by Ryan Seacrest, the Walter Cronkite of the E! channel. Prepare for a revelation:
Oh, it's on -- "O'Reilly v Stewart 2012: The Rumble in the Air-Conditioned Auditorium" as Fox News pundit Bill O'Reilly and Comedy Central snipe Jon Stewart roll up their sleeves for a political debate.
The two have faced off before on each other's shows and the exchanges, while respectful, were pointed. This time the three knockdown rule will be in effect.
Here's the website for the event, which will take place October 6 on the campus of George Washington University. You can livestream it on your computer for $4.95 with half the proceeds designated for charity.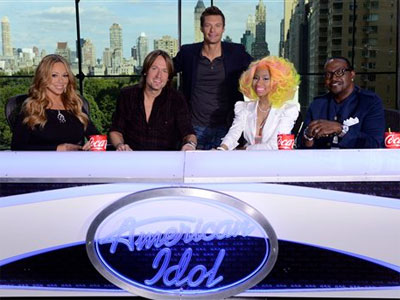 After endless speculation and negotiations, American Idol finally set its official judging panel over the weekend. As expected Mariah Carey will be the queen bee. As rumored Nicki Minaj and country star Keith Urban will be joining her. And good ol' Randy Jackson will round out the table.
And he may be forced to referee. The judges got down to their first day of work yesterday at auditions in New York and according to insiders on the set, Mariah and Nicki were going at it BIG time. TMZ reports that when Minaj sought to comment on a singer, Carey would dismissively break in.
Saturday Night Live kicked off season 38 (schmikey!) this weekend with Seth McFarland hosting. They got right into the political stuff with Jay Pharoah replacing Fred Armisen as the show's President Obama fill-in. OK, it still needs some work but Pharoah is still an improvement over Armisen, who was doing more of an impression than an impersonation.
Jason Sudeikis returned to the fold, for which we can all be grateful, because SNL wasn't going to get a better Mitt Romney. And Taran Killam took on Paul Ryan. Eh, what can we say? He got the hair almost right.

Last night was the big throwdown: NBC's The Voice going head-to-head with the relaunch of Fox's The X Factor.
Despite The X Factor's much-hyped addition of Britney Spears as judge, The Voice prevailed with 10.66 million viewers tuning in to see singers like Vermont's Nicolle Nelson belt out "Hallelujah" in the blind audition round.
ESPN has always done some of the most amusing spots on TV when promoting its own brand. But we can now say, without fear of contradiction, that the channel has exceeded itself. This spot, focusing on buttoned-down NFL expert John Clayton es en fuego!
This is how you throw a party, y'all.
The Video Music Awards show on MTV last night was crazy fun. Host Kevin Hart provided the laughs; there were surprises (hello, Gabby Douglas); a little shilling (an extended clip from the final Twilight Saga film) and a series of unbelievable performances.
The night kicked off with Rihanna on stage, followed by Pink, Frank Ocean, One Direction, 2 Chainz with Lil Wayne, Alicia Keys and many more. It was like Made in America, all in two hours and you didn't have to use a porta potty.
Say hello to Lorenzo LaValle. We have a feeling you'll be seeing a lot of this young buck. Like on the cover of People Magazine that comes out Friday. And then every other square inch of available publication surface after that.
Lorenzo is the son, born Aug. 26, to Nicole "Snooki" Polizzi and Jionni LaValle. He has been dubbed the first Jersey Shore baby. But after five seasons of watching the Situation and his Neanderthals prowl the bars of Seaside Heights, we find that an unlikely prospect. Maybe the first to make the cover of People.
MTV published the first photo today to promote tomorrow's Video Music Awards which will be preceeded at 6 p.m. by a 1 hour Jersery Shore retrospective special. If that seems early to you, well it is.