Archive: May, 2011
David Hiltbrand, Inquirer TV Critic
That was some ludicrous bold fashion statement that Princess Beatrice made at the Royal Wedding. The 22-year-old daughter of Prince Andrew and Sarah Ferguson sported a silk bow headdress that had people doing triple takes.
There were many flamboyant hats worn at the wedding (so many that it looked like the Kentucky Derby) but Beatrice's stole the show.
On Sunday the hat sold for $131, 648 on eBay with proceeds going to UNICEF and Children in Crisis, a charity founded by Beatrice's mother.
David Hiltbrand, Inquirer TV Critic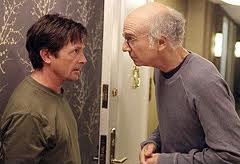 Can't wait for the eighth season of Curb Your Enthusiasm? It doesn't begin until July 10th on HBO. But here's a quick taste (see video below).
You get a marvelous medley of Larry being Larry. He's the self-appointed arbiter of social rules, always sticking his schnozz into other people's business, self-righteously lecturing strangers on their smallest transgressions. And inevitably stirring up passionate resentments in everyone around him.
Watch for a scene of Larry locking horns with the season's new antagonist: Michael J. Fox.
David Hiltbrand, Inquirer TV Critic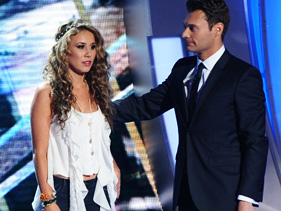 So it all comes down to this: Scotty McCreery, 17, of Garner, N.C. vs. Lauren Alaina, 16, of Rossville, Georgia. Northeners need not apply.
I already know who will come out on top: Scotty. While Idol was busy flogging the new movie Super 8 last night, the film's star Elle Fanning (Dakota's little sister) giddily informed Ryan Seacrest that her six-year-old cousin had predicted right from the audition rounds that Opie Scotty would win.
Did you notice how the 13-year-old Elle towered over Seacrest?
David Hiltbrand, Inquirer TV Critic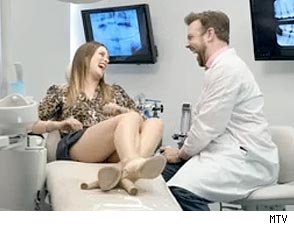 What has Saturday Night Live funnyman Jason Sudeikis, Gossip Girl ingénue Leighton Meester and a tank full of laughing gas?
The dentist office which serves as the setting for the first promo for The MTV Movie Awards (June 5), which Sudeikis will host.
In the bit (see video below) Meester, who is nominated for Best Villain for her role in Roommate, sits in one of those Barcaloungers of Terror that dentists use for their patients.
David Hiltbrand, Inquirer TV Critic
Purely in terms of musical quality, last night may have been the best performance show of the season. The remaining contestants, Scotty, Lauren and Haley, were blessed with good song choices in all three rounds.
Good night for Randy too. He managed to squeeze in self-aggrandizing links to two out of the nine songs. That's better than 20%. Good looking out, Dawg.
My favorite came right away, after Scotty opened things up by covering Lonestar's "Amazed". Detouring from critiquing the performance, Randy boasted, "Great song. I recorded that song – produced it – with Boyz II Men a few years ago."
David Hiltbrand, Inquirer TV Critic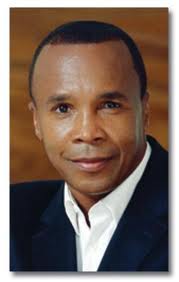 Sugar Ray Leonard's autobiography, The Big Fight: My Life In and Out of the Ring, due out in June, contains a devastating knockout punch.
The five- time champion and boxing Hall of Famer was sexually abused by "a prominent Olympic boxing coach".
The incidents began when Leonard was 15 and culminated with a brazen assault after the boxer had won the Gold Medal at the 1976 Olympics.
David Hiltbrand, Inquirer TV Critic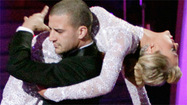 All four terpsichorean teams elevated their games for the Dancing With the Stars semifinals last night. It was exhausting merely to watch Ralph and Karina, Kirstie and Maksim, Chelsea and Mark, and Hines and Kym rehearse and perform three routines each. Imagine how difficult it must have been for the contestants.
Kirstie Alley let us in on her training secret: five meals a day and getting as much sleep as possible.
Whatever the four semifinalists are doing, it's working, because the performances last night were stellar. One highlight: the rumba delivered by Chelsea Kane and Mark Ballas (see video below). It earned them a perfect score.
David Hiltbrand, Inquirer TV Critic
The Real Housewives of New Jersey is no stranger to loud conflict and outraged furniture tossing. But in the season debut last night on Bravo, the clan took hostilities to a whole new level.
It happened at a christening party for the infant son of new cast member Melissa Gorga. Her husband Joe is the brother of Housewives' resident hothead Teresa Giudice.
At a catering hall celebration of the holy sacrament, words are exchanged between Teresa and the Gorgas. Moments later she storms away from the table, throwing up her talons and screaming, "Whatever!"