Archive: March, 2012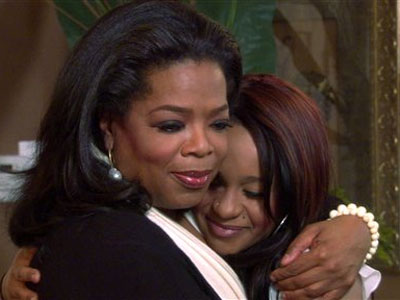 Last night on Oprah's Next Chapter, the once and future queen of talk sat down with Bobbi Kristina, the sole heir of the late Whitney Houston. You can see how nervous the 19-year-old is initially, but she relaxes after a few minutes and it becomes a lovely interview.
It's been a heady ride for actor Jonah Hill from comic foil in silly teen comedies to supporting Brad Pitt in one of the year's best films, Moneyball. Even received an Oscar nomination for that one. So you could maybe understand why he might have gotten a little carried away with himself when it came time to host Saturday Night Live this weekend.
Here's how the opening monologue went.
I'm tempted to gloat. Did Dave on Demand call it or what? But first the climactic moment from last night's live show. When the voting results were revealed after a fluffy hour that included performances by Mary J. Blige and last season's runner-up, Lauren Alaina, your bottom girl was Elise Testone and the bottom guy was Jeremy Rosado.
Here's how the judges ruled.
It struck me last night that American Idol is a lot like The Hunger Games: a savage competition in which young people are dropped into an unfamiliar and cruelly manipulated environment and ruthlessly eliminated until only one survives.
As Seacrest says, "Dim the lights. Let the games begin."
Prime time's big guest star on Tuesday night? Gotta be pop star Katy Perry, right? She got all the airtime and all the attention for turning up on Raising Hope. She was almost unrecognizable in her Little Orphan Annie wig, buck teeth and mustache (you read that right), as a jail guard who is making life miserable for Sabrina. But was she funny? You decide.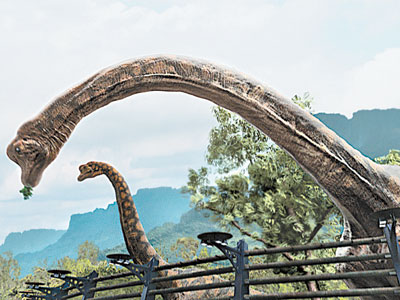 Looks like Terra Nova, the extremely pricey sci-fi series produced by Steven Spielberg, has laid a colossal dinosaur egg. After a troubled, abbreviated and low-rated initial season, Fox pulled the plug late yesterday.
The premise of the show was that the earth had become so hopelessly polluted a century from now that a contingent of humanity was sent back 85 million years into the prehistoric past to start over again. It was Jurassic Park, but without the suspense.
Last night was still early eliminations, the Battle Rounds, when the coaches on The Voice start thinning their teams down to six. But it sure sounded like the finals when Christina Aguilera put Anthony Evans in the ring against Jesse Campbell on Alicia Keys' torch song, "If I Ain't Got You".
Afterwards, the crowd was on its feet, Cee Lo said he was "blown away" and Christina claimed to be "at a loss for words". This may leave you a little speechless too. Check it out.
Well, this was certainly a convenient challenge: design window displays at Lord & Taylor for Ivanka Trump's fashion line. Not only do you get to promote the ice princess's business but the store is only a short stroll down 5th Avenue. Everybody wins.
Whoops. Not everybody. You would think the women's team, headed this week by Dayana Mendoza, would have an obvious advantage in this struggle. In fact, you could argue that the men did a markedly better job. But after two weeks of dismissed ladies, gender balance demanded a gentleman's head.