Archive: March, 2012
David Hiltbrand

, Inquirer TV Critic

Ladies and gentlemen, Tracy Morgan. That's pretty much all you have to say if you're a talk show host. Bring the mercurial comedian out and let him riff. David Letterman knows that better than anyone. Here is Tracy last night on The Late Show.
David Hiltbrand

, Inquirer TV Critic

What a night on American Idol! The judges were jumping up to give the contestants standing ovations so often it looked like the Senate during the State of the Union address. By my count – and J. Lo's – five out of the nine performances brought the judging panel to their feet.

OK, you guys need to get a grip. Seriously. Wow! This is so nuts.
David Hiltbrand

, Inquirer TV Critic

mtvU, the cable channel's campus station, is rolling out a new short-form show: When I was in College.

It pairs up a current student interviewing a famous graduate (or someone who spent time in one of the dorms, anyway).
David Hiltbrand

, Inquirer TV Critic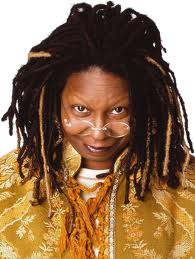 Viewers have speculated that Glee will have a hard time surviving next season following May 22's climax when many of the castmembers and New Directions vocalists ostensibly graduate from McKinley High.
You can stop wondering. The show will be dead long before that. Why? Because Fox has announced Whoopi Goldberg will be joining the cast for a three-episode arc beginning May 1. The grumpy View panelist will play a professor from the prestigious Manhattan drama school Rachel and Kurt have pinned their post-high school dreams on. Whoopi comes to Lima, Ohio to hear their auditions.
David Hiltbrand

, Inquirer TV Critic

And so you've met the field of 12 on Dancing with the Stars. Who do you like? I mean besides William Levy for the obvious reasons, ladies.

Don't worry, you have plenty of time to make up your minds. Tonight is only the first elimination when we cut the weakest from the herd. Who is it going to be? Here's my prediction:
David Hiltbrand

, Inquirer TV Critic

So how did you like Walden Schmidt in his first year? Apparently CBS liked him just fine.
That's the character Ashton Kutcher plays on Two and a Half Men, replacing flameout Charlie Sheen who blew off the best paying job in sitcomery at $1.25 million per episode.
David Hiltbrand

, Inquirer TV Critic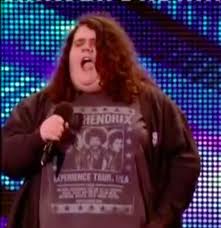 You wouldn't think lightning could strike twice. But it did this weekend on Britain's Got Talent. This is the show you may recall that launched Susan Boyle in 2009. Not exactly a polished performer. In fact she resembled the lady down the block with way too many cats in her house. But when she opened her mouth to sing…
Here we go again. This week 17-year-old Jonathan Antoine auditioned with his 16-year-old partner Charlotte Jaconelli in front of Simon Cowell and the other judges.
David Hiltbrand

, Inquirer TV Critic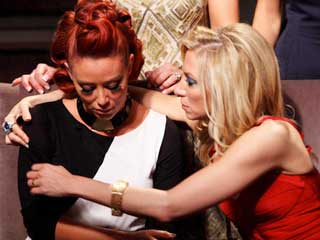 You do not want to go false eyelash to false eyelash with Aubrey O'Day. The woman got her reality show martial arts training in the P Diddy dojo on MTV's Making the Band. Did you see how she wept buckets of tears last night in the boardroom confrontation on Celebrity Apprentice without smearing a molecule of her makeup? She's a stone cold killer.
Although she was the Project Manager on the losing women's team, she still managed to shift the blame elsewhere and get Patricia Velasquez fired.