Archive: January, 2012
David Hiltbrand, Inquirer TV Critic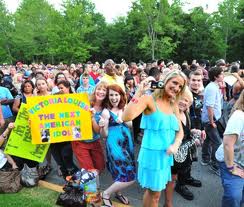 Fox's singing juggernaut, American idol , returned for the start of its 11th season last night with auditions in Savannah, GA. Maybe you weren't aware. The ratings for TV's most popular show saw their biggest year-to-year dip ever.
The series notched a 7.2 rating in the adult (18-49) demographic. That's a 27% drop from 2011. Ouch! Overall viewership for the two-hour roll-out was 21.6 million. Not bad, but still down 18% from last year's kickoff.
David Hiltbrand, Inquirer TV Critic
Leading up to last night's episode of Modern Family, most of the attention was focused on the prospect of little Lily repeatedly hurling the (bleeped-out) f-bomb. That plot turned out to not all that funny, or controversial or even convincing.
Jay's seemingly suicidal dog, Stella, who had to be repeatedly saved from the pool? Not top notch either.
But there was one great scene in the episode, a bit that should be at least considered for inclusion among sitcomery's classics. It involved the overly competitive Claire's run for city council. A poll published in the newspaper indicated that voters found her "angry and unlikable". Which of course made her very angry.
David Hiltbrand, Inquirer TV Critic
There are 18 contestants on the new season of Survivor which begins February 15 on CBS. They range in age from 21 to 64. One is a motorcycle repairman; one is the wife of former NFL quarterback Daunte Culpepper.
But the castaway who is bound to get the most attention, at least initially is 27-year-old Leif Manson. Not because he's a phlebotomist (which is kind of like Dexter – without presumably the Dark Passenger). But because, as Survivor host Jeff Probst points out, Manson is "half the size of anybody else."
David Hiltbrand, Inquirer TV Critic
Southland started out as an NBC series and got a second life on cable. Thank the coaxial Gods because this is the best cop show on TV. Here's a preview of the season four premier which TNT presents tonight at 10 p.m.
David Hiltbrand, Inquirer TV Critic
Did you thrill to the drama and the music of Jersey Boys? Well. You're in for a treat. Albeit a bite-sized one. Because now there's Delaware Fellas.
On last night's Saturday Night Live, guest host Daniel Radcliffe lead a rousing spoof of the musical Jersey Boys which had double-barreled fun with the constantly touring play and with the First State. I apologize for the quality of the video, but the humor doesn't suffer.
David Hiltbrand, Inquirer TV Critic
Stop me if you've heard this one before. Here's Kevin Hart recounting the time as a boy when his father threw him in the deep end of a pool. Parents call it "learning to swim". Kids call it "the most terrifying moment of my childhood." Take the plunge.
David Hiltbrand, Inquirer TV Critic
It's one of those comedy bits that just shouldn't work. And yet it does. In kind of a wild and inspired way.
Talking about Jimmy Fallon's synthesis last night of football, religion and space travel. Fallon resurrected the Ziggy Stardust era David Bowie for a new version of "Space Oddity" to spoof the national fixation with Tim Tebow's faith and football heroics.
David Hiltbrand, Inquirer TV Critic
On last night's Modern Family, Mitchell and Cam found themselves unexpectedly called upon for an impromptu song and dance. Only the precision and the stagecraft with which they rendered the Elton John – Kiki Dee classic "Don't Go Breaking My Heart" made it hard to believe this wasn't rehearsed -- on a cruise ship somewhere.
One thing's for sure: Mitchell and Cam managed to make Sir Elton look positively butch. Check out the girls' choir.