David Hiltbrand, Inquirer TV Critic
Super Bowl ads cost a good chunk of change. Fox is reportedly getting $4 million for a 30 second spot at Sunday's big game in Jersey. So you want to make sure your commercial makes (and leaves) an impression.
Budweiser really grabbed for the heartstrings with this minute-long fable, titled "Puppy Love" which debuted this morning on Today.
It's kind of a sequel to their popular Super Bowl entry from last year, "Brotherhood" in which a trainer raises a Clydesdale from a foal, then goes to see him in a parade, and is surprised when the horse not only remembers him, he bolts away afterwards for a reunion.
David Hiltbrand, Inquirer TV Critic
What do you give the woman who has everything? That's the conundrum you face when you're an FOO (friend of Oprah). Especially when the Empress of all that is Decent is turning 60, as she is today.
Here's a sneak peak at Ellen DeGeneres' solution: a sparkly, graven image of She Who Rules All Realms. But you know how generous the mighty O is. You give her a tacky present like this and you won't believe what you get back. It's going to come as surprise to Keith Urban too. Maybe he already knows. That would explain that odd haircut at the Grammys.
Anyway, watch the clip or see the whole entire show during which Ellen also has a warm interview with Jay Leno at 3 p.m. on NBC10.
David Hiltbrand, Inquirer TV Critic
Someone at MTV decided that the booze and hormone injection that is The Real World simply wasn't volatile enough. So they added a cuckoo ambush element, sure to start a few wars.
First they took seven young people on the rebound from bad breakups. They flew them out to San Francisco and set them up in a beautiful roomy house. And these kids started hooking up almost before they were unpacked.
Here's where it gets interesting: Tomorrow night, as you'll see in this clip, when the original seven get back from a road trip, they find they have seven new roomies who look kinda familiar. Yeah, it's the individuals they just broke it off with back at home. And they're moving in. Surprise!
David Hiltbrand, Inquirer TV Critic
Running an obstacle course in a full suit of armor against Johnny Knoxville would have exhausted most men, but Jimmy Fallon was so excited he could hardly contain himself when he brought out his musical guest on Monday night: Barry Gibb – or as he kept referring to him: "Barry F'in Gibb!"
Jimmy broke out an acoustic guitar for Barry to strum and the two ran through a medley of Everly Brothers duets. Then the piece de funk: Barry and an augmented version of the Roots set "You Should Be Dancing" on high boil.
"Whatcha doin' on your back, aah?"
David Hiltbrand, Inquirer TV Critic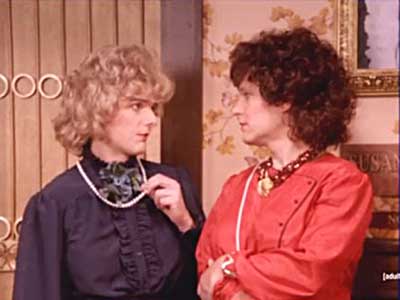 The fact that it's on the Cartoon Network's Adult Swim is indication enough that it's a weird concept, but The Greatest Event in Television History is far more bizarre than most. Last night the channel unveiled the fourth and final chapter in this curiouser and curiouser series.
It is the attempt by Adam Scott (Parks and Recreation) and friends to recreate note-for-note the opening sequence to the 1980 sitcom, Bosom Buddies. That comedy is remembered primarily as a springboard for the career of Tom Hanks. His co-star, roommate and fellow cross-dresser, Peter Scolari is currently playing Hannah's dad on Girls.
Rounding out the tribute cast you have Gillian Jacobs of Community in the Donna Dixon role, Mo Collins as the immortal Holland Taylor and Aidy Bryant as Wendi Jo Sperber. As usual Survivor's Jeff Probst hosts these nonsensical tributes.
David Hiltbrand, Inquirer TV Critic
Is there life on Mars? Is Toronto Mayor Rob Ford Jamaican? The answer to both: of course.
How do we know? Because Shepard Smith of Fox News told us so, and there is no greater scientific authority. He's the Carl Sagan of the new millennium.
Stephen Colbert took the news of life on Mars and ran with it. All the way to his local donut store. He wanted to broker peace between our two species. But then tragedy struck. See for yourself.
The Colbert Report
Get More: Colbert Report Full Episodes,Video Archive
The Colbert Report
Get More: Colbert Report Full Episodes,Video Archive
Having trouble seeing the video below? Click here.
---
Read more Dave on Demand or follow him on Twitter @DaveOnDemand_TV
David Hiltbrand, Inquirer TV Critic
That two-hour finale of Sleepy Hollow on Monday night was crazy. Captain Irving got off light, and he was carted off to jail after confessing to two murders. Everyone else was really in deep trouble. Could you even believe who the Sin Eater Henry Parrish (John Noble) turned out to be? And then the other thing he turned out to be? Holy garbanzos!

It was such a wild, twisty episode and a great way to send season one off a cliff that we're really going to miss this madhouse mashup.

You know who won't miss Ichabod Crane at all? Red Reddington. That's the international figure of intrigue played by James Spader in NBC's The Blacklist. The two shows aren't direct time slot competitors (because Fox doesn't program past ten). But the ratings for Sleepy Hollow were higher than The Blacklist's for the first time since these two Monday series launched in the fall.

Icky and friends rose 5 percent among the 18-49 year-old adult viewership to finish with a 2.4 rating. That was good enough to eclipse Red's rowdies who finished down 8 percent from last week with a 2.3 rating, an all-time low for the show.
David Hiltbrand, Inquirer TV Critic
We might have selected Martha and the Vandellas' "Nowhere to Run" ("I got nowhere to run/Baby, nowhere to hide") to accompany this frantic trailer for the second half season of The Walking Dead which kicks off on AMC on Feb. 9.
The human sanctuary presided over by Rick has been overrun – thank to the mad and now dead Governor – and now everyone is fleeing around the Georgia landscape just trying to stay away from the chompers of those omnipresent walkers. And it doesn't look like the struggle for survival is going too well.
http://www.amctv.com/the-walking-dead/videos/dont-look-back-the-walking-dead