Cha cha for your lives! 'DWTS' shakeup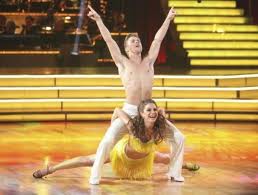 The bottom two engage in a "Dance Duel"
Cha cha for your lives! 'DWTS' shakeup

Another night; another rule twist on another network reality competition show. Just don't muck around with Wheel of Fortune, okay?
The evening started out muy caliente with Maria Menounos and partner Derek Hough reprising their much talked about canary-yellow salsa from Monday night. Yes, Derek's shirt came off, but this time instead of exchanging a sizzling kiss at the end, they ran over and wasted those luscious lips on Carrie Ann and Bruno. (I'll let you figure out who kissed whom.)
Poor Len. Always the eunuch.
Then for the first time ever (drumroll, please) we had a Dance Duel (shocked inhale). The two bottom duos – Jaleel & Kym and Gavin & Karina -- were forced to take the floor simultaneously to dance a cha cha. Loser go home. The envelope please.