Archive: December, 2011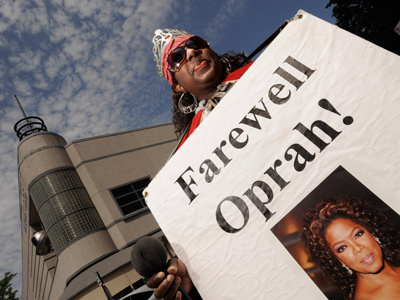 2011 has left us as numb as a Hoarders marathon. Oprah, Larry King, Mary Hart, Andy Rooney, and Regis all turned in their cue cards. It's like TV's Mount Rushmore crumbling to the ground.
David Hiltbrand

, Inquirer TV Critic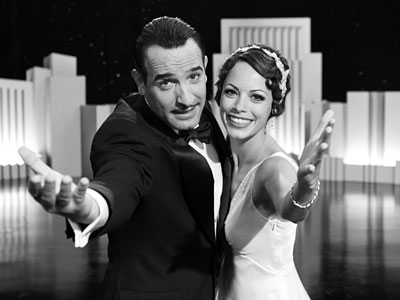 Silence is Golden. The French silent film The Artist was the early favorite this morning with six nods as the Golden Globe nominees were announced. The awards which will air Sunday Jan. 15 on NBC are like the Oscars and Emmys held in the same room – at happy hour.
The notably acerbic Ricky Gervais will return as host for the third consecutive year. Here's a video of his opening monologue from last year:
David Hiltbrand

, Inquirer TV Critic
Sheen's the name; partying's the game.
Well, now the fast times are catching up to Charlie. At least it looked like it last night when he was snapped exiting a Los Angeles restaurant.
David Hiltbrand

, Inquirer TV Critic
The real estate listing for the Los Angeles mansion boasts of its "Tiffany leaded-glass display cases and a museum-quality set of Tiffany glass doors". Wow, that sounds eerily like the sales spiel Connie Britton's character gives to perspective buyers on FX's American Horror Story as she desperately tries to unload the house that is full of malicious and lethal ghosts and phantasms.
There's a good reason for the similarity. It is that very abode, which in the show is referred to as Murder House on a popular ghost tour of the city. Six bedrooms, five baths, evoking "the quality and grandeur of a bygone era". Asking price: $4.5 million. (Or as Mitt Romney refers to it: a side bet.)
Opening the house to potential buyers won't effect production of the show which just ended its first season with the shocking twist that the Harmon's daughter Violet (Taissa Farmiga) passed away weeks ago and is now a ghost herself.
David Hiltbrand

, Inquirer TV Critic

One thing you can say about the host of Jimmy Kimmel Live!: he really watches his reality shows closely. So when he has particpants on as guests he doesn't ask them puffball generic questions. That was apparent last night when he brought on the judging panel from Fox's singing competition, The X Factor.

Kimmel turned up the heat on the Paula Abdul, who is not too stable at the best of times. Here's how she reacted:
David Hiltbrand

, Inquirer TV Critic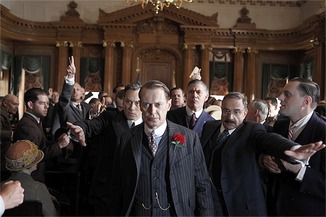 Super spoiler alert! If you have put off watching last night's explosive finale of Boardwalk Empire – either because you want to watch it later this week or you're playing the long game and want to enjoy the whole second season at once, then READ NO FURTHER.
Because it all came down to one of the most jaw-dropping twists of the TV year. The episode ended in the most noir possible gangster tradition with Nucky personally executing his protégé turned rival Jimmy on a dark and rainy night. Say it ain't so! Not Jimmy! Why couldn't Nelson have caught a bullet? We wouldn't have minded losing him.
The hour began just as violently as it ended with Chalky finally getting his sought-after vengenace on the Ku Klux Klan members for their massacre at the warehouse.
David Hiltbrand

, Inquirer TV Critic

You may well have seen New Year's Eve over the weekend. It topped the box office. Even if you didn't, you no doubt have caught the trailers, featuring a galaxy of stars in a pastiche of stories about celebrating Auld Lang Syne in Times Square.

You know -- the same formula from Valentine's Day. And a target too ripe for Saturday Night Live to overlook.
David Hiltbrand

, Inquirer TV Critic

Good Morning America promoted the heck out of its interview this morning with basketball player Kris Humphries, better known as Kim Kardashian's blink-and-you-missed-it husband. The ABC News morning program ran a graphic at the bottom of the screen: "His Life With Kim" as Josh Elliott peppered Humphries and his mother Debra with personal questions.

It was like watching a guy trying to open an oyster with a wooden spoon. The closest Kris came to answering a marriage/annulment/divorce query was, "Certain things happen."

Take a look at the verbal bull fight.