David Hiltbrand, Inquirer TV Critic
If you're like me, you need a daily booster shot of show biz puffery from Billy Bush on Access Hollywood or Mario Lopez on Extra. Well, there's a new herald of vapid entertainment news. It's Guillermo, Jimmy Kimmel's sidekick, and he's kicking it con gusto on MUCHO!
The spoof from Tuesday's show was a nearly note-for-note copy of the infortainment genre: the ridiculously overstated stories with their misleading teasers, the bad wordplay, the endless and meaningless viewer polls, the popping graphics, the empty interviews and the enthusiastic "street" audience.
Is it news? Is it publicity? Is it anything at all? And how could we live without it?
---
David Hiltbrand, Inquirer TV Critic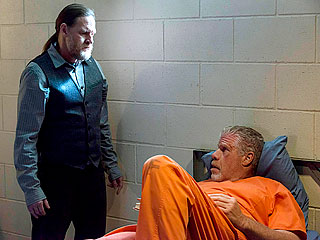 Vroom, vroom. Sons of Anarchy hit the road smoking last night. The season six debut was seen by 5.87 million viewers, up 9 per cent from last year's opener. It was the top rated program on all of television – broadcast or cable – among the audience that counts most, 18-49 year olds.
Presumably some new viewers tuned in to get a good look at Charlie Hunnam. The actor, who on the show plays Jax, Hamlet in a motorcycle jacket, has just been announced as the lead in the film adaptation in 50 Shades of Grey. The SOA newbies may have gotten a lot more than they bargained for.
The episode "Seeds" began with a graphic prison rape and ended with one of the most shocking shootings TV has ever seen. Wow, and this is how they start the season?
---
David Hiltbrand, Inquirer TV Critic
Here we go again: a new season of TV's most twisted and terrifying show, American Horror Story on FX. The channel just released a trailer, entitled "Initiation" that may haunt your dreams for awhile.
Strange surreal imagery surrounding old and new faces in the Ryan Murphy repertory, including Sarah Paulson, Evan Peters, Taissa Farmiga, Jessica Lange, Kathy Bates, Angela Bassett and Gabourey Sidibe. But what is that blanched-out minotaur on the porch?
Lange plays the Supreme of a group of New Orleans witches. (That's like Mother Superior). She has to protect her flock from a series of bizarre and gruesome attacks. The fun begins Oct. 9 at 10 p.m. As the trailer asks, "The doors are open ... dare to come inside?"
David Hiltbrand, Inquirer TV Critic
The world is full of bad news including, as Stephen Colbert pointed out last night, the ending of Breaking Bad.
But like most news anchors, the host of The Colbert Report doesn't want to be a downer, so he finds a happy story, one sure to leave us all with a smile on our faces. Like a waterskiing squirrel. Only in this case, you may be surprised to find out that it's…Well, watch the video.
---
Read more Dave on Demand or follow him on Twitter @DaveOnDemand_TV
David Hiltbrand, Inquirer TV Critic
Let's see. This is Thursday. Who's the Donald raging at today?
Congrats, Jay Leno. It's your turn in the barrel.
A little history: On Tuesday's Tonight Show, Leno had on Bill Maher, who like everyone else, has feuded with Trump in the past. Only in Maher's case, Trump followed up with a $5 million lawsuit because, on his previous appearance on Tonight, the comic demanded proof that Trump wasn't sired by an orangutan. (Based on a certain similarity in hair color.) Suit later dropped.
David Hiltbrand, Inquirer TV Critic
The title of tonight's first episode of Hot In Cleveland (10 P.M. on TV Land) has a familiar ring to it: "Love Is All Around". That's right. It's the name of the theme song from the beloved TV classic, The Mary Tyler Moore Show.
And that makes sense since the installment features a reunion of the distaff cast members from that show. (In other words, no Ted Baxter, no Mr. Grant.)
The video below gives you a taste of what you'll see when the gang is all together again.
David Hiltbrand, Inquirer TV Critic
Did Star Trek into Darkness seem real to you? Apparently the sci-fi seeting for the film, which comes out on Blu-ray next week, convinced even the cast, as this behind-the-scenes video proves.
Simon Pegg is a prankster, not an engineer. Damn it, Jim! The actor, who plays Scotty in J.J. Abrams relaunch of the franchise, involved the crew in an elaborate scheme to trick the stars. Victims included Benedict Cumberbatch who plays the villainous Khan, and some of the officers on the Enterprise, namely Uhura (Zoe Saldana), Bones (Karl Urban) and Sulu (John Cho).
They were made to believe the scene they were shooting in a "neutron" facility would expose them to some dangerous ions. Precautionary measures were advised: dotting their faces with dabs of "neutron cream" and periodically jumping up and down.
David Hiltbrand, Inquirer TV Critic
You read that right: King James of the Miami Heat is executive producing a new sitcom for the pay cable channel Starz. It's called Survivor's Remorse.
OK, that doesn't scream funny. Neither does the premise: two childhood friends who grew up in North Philadelphia make it out and up. But after they hit it big -- Cam Calloway in the NBA, Reggie Vaughn in business -- they find there's still a lot of Philly street in them. And they can't stop thinking about the people they left behind. Mainly because a lot of them are still making demands on their money and time.
James is working on the project with his business partner Maverick Carter, financial advisor Paul Wachter and some seasoned sitcom hands: Tom Werner who brought you The Cosby Show and Roseanne (and is also an owner of the Boston Red Sox) and Mike O'Malley, actor (Glee) turned executive producer.