David Hiltbrand, Inquirer TV Critic
Luke! Luke! If that cry doesn't set your heart pounding, you're probably not a 14-year-old girl. Or a fan of 5 Seconds of Summer – which seems to be the same thing.
The Aussie boy band (Luke Hemming is the lead singer) played a set outside the studio of NBC's Today this morning. Matt Lauer said the fans started camping out last Thursday, and by yesterday, the line extended ten blocks – all the way up to Central Park.
Quick history for the uninitiated: The group formed in Sydney in 2011 and gained popularity by putting up covers of hit songs on YouTube. They share management with One Direction, and have opened for 1D on tour. Their first single "She Looks So Perfect" was the first song by an Aussie artist to hit number one in the U.K. in 14 years. Their eponymous debut album comes out..why, it comes out today. What a coincidence.
David Hiltbrand, Inquirer TV Critic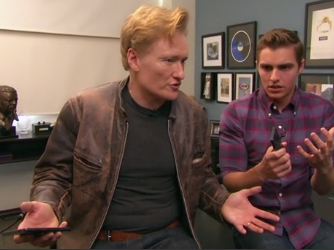 Watch out, ladies. Conan O'Brien is available. Very available.

In this video, a romantic experiment goes terribly wrong, as Conan and Dave Franco (Neighbors) sign up for the hook-up app, Tinder. But first they must create profiles. Conan's Chip Whitley persona, for instance, likes chai lattes and showering.

While Dave is getting match after match, Conan appeals only to a very specific type of woman. And he still can't close the deal.
David Hiltbrand, Inquirer TV Critic
Drake and Blake.
Blake and Drake.
Which do you like better? If the rapper Drake and the NBA star Blake Griffin accomplished their mission in this spoof that showed on last night's ESPY Awards, you won't much like either.
David Hiltbrand, Inquirer TV Critic
Parody is good business. At least it has been for Weird Al Yankovic who has enjoyed a remarkably long and successful career making fun of hit songs from Michael Jackson's "Beat It" to Lady Gaga's "Poker Face". Props to "Amish Paradise", a riotous rip on Coolio's "Gangsta's Paradise". (Hey, Coolio stole it from Stevie Wonder in the first place.)
So what's Weird Al up to now? "Tacky", a spoof of Pharrell's joyous, inescapable "Happy".
Yes, it is a testament to all things of questionable taste, from the opening line ("It might seem crazy wearing stripes with plaid") to the chorus ("Can't nothing bring me shame"). It also features an eclectic group of guest stars, dressed in the most gaudy outfits you've ever seen.
David Hiltbrand, Inquirer TV Critic
Jimmy Fallon's delight in Dana Carvey has always been obvious. It's like the old days of The Tonight Show when Johnny Carson would collapse in laughter whenever Don Adams was on. Notch it up to comedy chemistry.
The lab was open on Thursday night as Carvey lit up the stage. He even got Questlove and the Roots laughing at one point. That's every comedian's dream: to deliver a punchline so hip only the band gets it.
But Jimmy also got Dana to dust off an old favorite from his days on Saturday Night Live. Check it out.
David Hiltbrand, Inquirer TV Critic
How's this for stunt casting? For its seventh and final season, Sons of Anarchy has announced that Courtney Love will be joining the cast.

Love will play a preschool teacher who gets attached to Abel, Jax's son. So much so that Abel's biological mom (Drea de Matteo) finds it objectionable.

Love, who gained notoriety as a member of the L.A. rock group, Hole, and as the wife of the very late Kurt Cobain, will join the previously announced Marilyn Manson, who will play a white supremacist convict.
David Hiltbrand, Inquirer TV Critic
Here's a mashup you won't forget: Neil Young covering Iggy Azalea.
It happened last night on The Tonight Show Starring Jimmy Fallon. Jimmy channeled falsetto folkster Young again (dig those sideburns) doing "Fancy" by Iggy Azalea. ("And I'm still in the Murda Bizness") replete with a wailing harmonica solo.
But that's not all: Young, er, Fallon, was joined for some rousing harmony by his old singing partners, Crosby, Stills and Nash. Now how much would you pay?
David Hiltbrand, Inquirer TV Critic
Whoopi Goldberg called it "a giant neon pink gorilla in the room" this morning. Would two more of The View's panelists – Jenny McCarthy and Sherri Shepherd – be leaving shortly?

Jenny, you're up first. Oh, quick warning: don't believe a word that comes out of her mouth.

You want honesty, you go to Sherri. She gives an emotional, sincere and teary farewell announcement. If I understand it right, her decision was determined by the Bible, the New Testament, which was written when Barbara Walters was a mere slip of a girl.