Archive: November, 2012
Facebook, the popular Internet social networking site, is becoming an ethical consideration for city judges.
Consider Tuesday's hearing for Joshua Scott Albert, the 26-year-old unemployed blogger whose Facebook postings advocated the murder of Philadelphia police officers; Philadelphia District Attorney Seth Williams and John McNesby, president of the Philadelphia chapter of the Fraternal Order of Police.
Albert was held for trial on charges of criminal solicitation to commit murder, terroristic threats and harassment after a preliminary hearing before Municipal Court Judge Teresa Carr Deni.
Philadelphia District Attorney Seth Williams today announced the creation of a "Diversion Courts Unit" to coordinate several pre-trial diversion programs in his office.
Williams said the new unit will be headed by Assistant District Attorney Derek Riker, 38, a city prosecutor for five years.
Williams called changes part of "focusing our resources on violent offenders. By diverting more non-violent offenders into programs that will address their needs, these individuals are less likely to become repeat offenders."
Last Friday's day-long symposium on the phenomenon of false confessions brought the leading experts in the field to speak to lawyers and law students at a forum sponsored by the Temple Law Review and the Temple-based Pennsylvania Innocence Project.
The statistics were sobering: 25 percent of 300 people set free through DNA testing done by the Innocence Project at Benjamin N. Cardozo School of Law in New York City had been convicted in part by their own confessions to crimes they didn't commit.
One of the most compelling experts earned his expertise the hard way: serving 22 years of a life term, most of it in solitary confinement in New Jersey prisons, for a double murder he did not do.
Darryl Lanier, the 16-year-old charged in September's shooting that wounded two teens on a Broad Street Subway car today waived his right to a preliminary hearing before Philadelphia Municipal Court Judge William Austin Meehan Jr.
The decision means Lanier will go to trial in Common Pleas Court as an adult on two counts of attempted murder and related charges in the Sept. 19 shootings at the subway's Susquehanna-Dauphin station in North Philadelphia.
Police said Lanier was one of several teens on the crowded southbound subway train when fights erupted about 2 p.m. Police said subway video cameras showed the train stopped at the station while three boys got off the car. The three walked to the next car and one boy pulled a gun and began firing at the subway car.
David Timbers -- the Mantua man who got national notoriety with his fast food when a security video showed him hurling hot coffee at a doughnut-shop worker in a dispute over the bill -- has pleaded guilty to aggravated assault.
Timbers, 52, entered the guilty plea Tuesday before Philadelphia Common Pleas Court Judge Rayford A. Means. Means set sentencing for Jan. 24 and ordered a presentence report and mental health evaluation for Timbers.
Assistant District Attorney Jennifer Hoffman said Timbers' plea did not include any agreement on a sentence. Hoffman said aggravated assault is a first-degree felony punishable by a prison term of up to 20 years.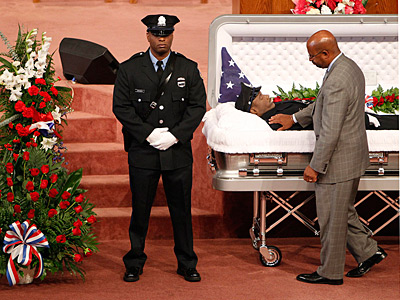 The tragic case of Chanthy Mao – charged with stabbing her two young children to death last summer in the bedroom of their Point Breeze apartment – came to a quiet close Wednesday when Mao pleaded guilty to two counts of third-degree murder and was sentenced to 30 to 60 years in prison.
Mao, 28, pleaded guilty and was sentenced by Philadelphia Common Pleas Court Judge Benjamin Lerner in an agreement reached between the District Attorney's office and Mao's attorney from the city Defender Association.
Mao, whose family said suffered from mental illness and had attempted suicide, was arrested Aug. 31, 2011 after she fatally stabbed daughter Savanna Mao, 12, and son Savann, 8, in the bedroom of the apartment she shared with her parents. Mao then tried to kill herself with the knife and then by taking poison.