When Philadelphia detectives questioned William Hagans last October about two burglaries at St. Gabriel's Convent in South Philadelphia, Hagans denied that he was the figure on surveillance video.
What do you think should happen to the person who would steal $1,850 from nuns who work with the poor? detectives asked.
"They should do the time that they deserve," Hagans replied.
The bureau of Alcohol, Tobacco, Firearms and Explosives has tapped a 20-year veteran to lead its Philadelphia division. The new special agent in charge, Essam Rabadi, started on May 1.
Rabadi comes directly from a stint overseeing the firearms division at the bureau's Washington, D.C. headquarters, but his appointment marks a return to Philadelphia, one of many stops in his career.
A native of Yonkers, N.Y., he first served on the local police department there before joining the U.S. Secret Service in New York in 1989. Three years later, he became an ATF special agent. From 2000 to 2005, he supervised the Philadelphia division's high-intensity drug trafficking task force. Now, as the division's top agent, he'll oversee 14 ATF offices throughout Pennsylvania.
A federal judge says she won't order the state Supreme Court to reinstate a Chester County magistrate judge who was suspended without pay after being charged with fixing tickets at Philadelphia's Traffic Court.
In a ruling handed down Monday, U.S. District Judge Anita Brody turned aside judge Mark Bruno's request for a temporary injunction that would have allowed him to keep getting paid as a district judge in West Chester, a post he has held since first winning election in 1998.
In a lawsuit filed in March, Bruno contended that the state's highest court violated his right to due process by suspending him without a hearing, and questioned the justices' authority to do so. Bruno called himself "an extremely hardworking" and respected jurist who has been unable to pay bills or find work since being removed Feb. 1
The pending racketeering retrial for reputed Philadelphia mob boss Joseph "Uncle Joe" Ligambi looks less and less likely to resemble the seven-defendant, four-month marathon that was its predecessor.
On Thursday, a second codefendant in the case signaled his intention to plead guilty and skip a trial. Robert Ranieri is scheduled to plead guilty on June 13 before U.S. District Judge Eduardo Robreno, court records show. His plea would follow one last month by Anthony "Ant" Staino, a reputed captain who was slated to be retried after a mixed verdict in February that included a deadlock on 11 counts.
That leaves only Ligambi, his nephew and alleged capo, George "Georgie" Borgesi, and reputed soldier Eric Esposito in queue for the Oct. 15 retrial.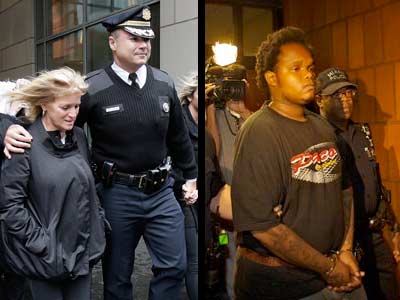 It passed unnoticed on April 24, but Pennsylvania's Supreme Court has affirmed the first-degree murder conviction and death sentence of John "Jordan" Lewis in the Halloween 2007 killing of Philadelphia Police Officer Chuck Cassidy.
The majority opinion written by Justice Seamus P. McCaffery was filed almost four years after Lewis, now 26, was found guilty and sentenced to death by a Philadelphia Common Pleas Court jury and almost two years after the justices of the state's high court heard oral argument in Lewis' appeal.
On Nov. 12, 2009, the first day of his trial, Lewis pleaded guilty to a general charge of murder and six armed robberies, leaving to the jury the tasks of deciding the degree of murder and whether he should live or die for killing Cassidy, 54, during the holdup of a Dunkin' Donuts store at 6620 N. Broad St. in West Oak Lane.
With the murder trial of West Philadelphia abortion doctor Kermit Gosnell likely to go to the jury this week, the leader of Philadelphia's Catholics has weighed in on the side of critics of national media coverage – or the lack thereof – of the trial of the 72-year-old physician.
While commending The Inquirer's coverage of the two-year-old case and the trial, Archbishop Charles J. Chaput wrote on April 26 in his weekly column that "most prestige national media have seemed remarkably eager to ignore the story until shamed into covering it.
"Gosnell is much more than a 'local' story," wrote Chaput. "Forty years after the Supreme Court's Roe v. Wade decision, resistance to permissive abortion remains high. And the vivid details of the Gosnell clinic tragedy have the kind of salacious appeal that few national media would normally avoid - if the issue were anything else. But abortion is too often, and in too many news rooms, exactly the kind of topic that brings on a sudden case of snow blindness."
If the court filings are any indication, Msgr. William J. Lynn's appeal of conviction on a child endangerment count will be as hard-fought as last year's 11-week-long trial where a Philadelphia jury found him guilty for his supervisory role in the child sex-abuse scandal involving the Catholic Archdiocese of Philadelphia.
On Friday, just days after Philadelphia media reported on Common Pleas Court Judge M. Teresa Sarmina's 235-page opinion affirming Lynn's conviction and her handling of the landmark trial, lawyers for Lynn filed their response in Pennsylvania's Superior Court, faulting the judge for virtually every key ruling she made.
The 21-page response by Thomas A. Bergstrom and Allison Khaskelis, Lynn's appellate lawyers, asks the Superior Court to overturn the conviction of the 62-year-old cleric and argues that Sarmina wrongly allowed city prosecutors to charge Lynn under the broader 2007 amended child endangerment statute.
Say what you will about abortion doctor Kermit Gosnell, the man was something of a naturalist.
After four weeks of testimony at the 72-year-old doctor's murder trial, the witnesses' one consistent description of the interior of Gosnell's Women's Medical Society clinic at 3801-05 Lancaster Ave. was lots of plants and animals.
Photos of the four buildings that were combined into the West Philadelphia clinic show plants in almost every free space and countertop. There were one or more cats that had the run of the building and, dominating the waiting room, were huge glass tanks containing Gosnell's collection of angel fish and turtles.