Is the debate about why the United States imprisons so many people having an impact?
Yes, but slowly, although some states have significantly reduced their prison populations over the last decade, according to a report released Wednesday by The Sentencing Project, the Washington, D.C.-based advocate for sentencing and prison reform.
Nationally, the total U.S. prison population of 2.2 million people has dropped 2.4 percent since 2009 – still no threat to the current U.S. title for imprisoning more of its citizens than any other country. A total of about $80 billion a year in taxpayer money is spent on maintaining inmates and the prisons and personnel who hold them.
Maybe it's all the courtroom dramas on TV that make people think they can act as their own lawyer.
It's certainly not the amateurs' long list of acquittals.
We've seen 62-year-old ex-Philadelphia sportscaster Don Tollefson burning calories as he shuttles between witness box and defense table in Bucks County trying to represent himself against charges he ripped off hundreds who purchased sports event tickets, travel and hotel rooms believing it would benefit what prosecutors say were bogus children's charities.
No one will ever associate the word surrender with the name Kermit Barron Gosnell.
What to do if you're 73 and serving three consecutive life sentences for killing infants born alive during illegal late-term abortions? Take your case to the U.S. Supreme Court, of course.
Not Gosnell's convictions for murder after a sensational 2013 trial in Philadelphia Common Pleas Court. After that verdict – staring at a possible death penalty – the former West Philadelphia abortionist quickly reached an agreement to waive his appeal rights and serve the rest of his life in prison if prosecutors did not press for a death sentence.
The alleged killer of Philadelphia Police Officer Moses Walker got a one-week reprieve from the start of a trial that could send him to Pennsylvania's Death Row.
After a closed-door pretrial conference Monday with Philadelphia Common Pleas Court Judge Jeffrey P. Minehart, Assistant District Attorneys Jude Conroy and Brian Zarallo and defense attorney Michael Coard agreed that Rafael Jones' capital trial will begin Monday with jury selection.
Jones, 25, was one of two men charged in the Aug. 18, 2012 robbery and slaying of Walker, 40, a 19-year veteran of the police force. Walker was fatally shot at about 6 a.m. as he walked to a bus stop after finishing his shift as a turnkey in North Philadelphia's 22d Police District.
He fought the charges for more than three years, but suburban lawyer Michael B. Wolf has pleaded guilty to participating in a Philadelphia-based auto insurance fraud scheme.
Wolf, 56, pleaded guilty before Philadelphia Common Pleas Court Judge Jeffrey P. Minehart on Tuesday – one day before the start of his nonjury trial before the judge.
Wolf pleaded guilty to one count of insurance fraud and one count of conspiracy to commit insurance fraud in a deal negotiated by his attorney, Brian J. McMonagle, and Assistant District Attorney Vicki Markovitz. Minehart accepted the plea and sentenced Wolf to the agreed-on two years probation and a $5,000 civil penalty.
Nineteen-year-old Tomayo McDuffy was fingered as a burglar last year when his blind Holmesburg neighbor said she recognized his voice and her guide dog called the cops.
Really.
McDuffy's family and lawyers have consistently maintained that neighbor Maria Colon was mistaken and has a history of making emergency calls to police.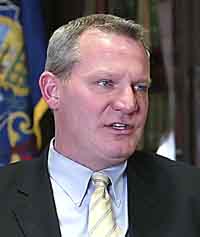 Pennsylvania's Supreme Court made it official Wednesday, naming Philadelphia Common Pleas Court Judge Kevin M. Dougherty administrative judge of the city court's trial division.
Dougherty, 52, the administrative judge of the Family Court since 2005, will succeed the trial division's current administrative judge, John W. Herron, who retires Dec. 1 having reached the state's mandatory judicial retirement age of 70. Herron has been the trial division's administrative judge since November 2011, his second tour of duty in the role.
Dougherty was first elected judge in 2001 and retained by the voters in 2011.
The Pennsylvania Supreme Court on Thursday set Nov. 18 to hear oral argument on the Philadelphia District Attorney's petition to reinstate the child endangerment conviction of Msgr. William J. Lynn, the first Roman Catholic Church official charged in the clergy child sex-abuse scandal.
The high court will hear the appeal in Harrisburg in the court's main courtroom in the Capitol.
At issue before the state's highest court is the contested key legal theory underpinning the landmark 2012 prosecution of Lynn, 63, who as the Archdiocese of Philadelphia's former secretary for clergy was the official responsible for investigating and recommending punishment for priests accused of sexual and other misconduct.