The alleged killer of Philadelphia Police Officer Moses Walker got a one-week reprieve from the start of a trial that could send him to Pennsylvania's Death Row.
After a closed-door pretrial conference Monday with Philadelphia Common Pleas Court Judge Jeffrey P. Minehart, Assistant District Attorneys Jude Conroy and Brian Zarallo and defense attorney Michael Coard agreed that Rafael Jones' capital trial will begin Monday with jury selection.
Jones, 25, was one of two men charged in the Aug. 18, 2012 robbery and slaying of Walker, 40, a 19-year veteran of the police force. Walker was fatally shot at about 6 a.m. as he walked to a bus stop after finishing his shift as a turnkey in North Philadelphia's 22d Police District.
He fought the charges for more than three years, but suburban lawyer Michael B. Wolf has pleaded guilty to participating in a Philadelphia-based auto insurance fraud scheme.
Wolf, 56, pleaded guilty before Philadelphia Common Pleas Court Judge Jeffrey P. Minehart on Tuesday – one day before the start of his nonjury trial before the judge.
Wolf pleaded guilty to one count of insurance fraud and one count of conspiracy to commit insurance fraud in a deal negotiated by his attorney, Brian J. McMonagle, and Assistant District Attorney Vicki Markovitz. Minehart accepted the plea and sentenced Wolf to the agreed-on two years probation and a $5,000 civil penalty.
Nineteen-year-old Tomayo McDuffy was fingered as a burglar last year when his blind Holmesburg neighbor said she recognized his voice and her guide dog called the cops.
Really.
McDuffy's family and lawyers have consistently maintained that neighbor Maria Colon was mistaken and has a history of making emergency calls to police.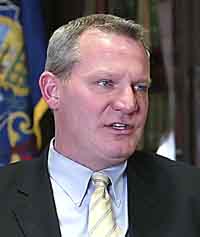 Pennsylvania's Supreme Court made it official Wednesday, naming Philadelphia Common Pleas Court Judge Kevin M. Dougherty administrative judge of the city court's trial division.
Dougherty, 52, the administrative judge of the Family Court since 2005, will succeed the trial division's current administrative judge, John W. Herron, who retires Dec. 1 having reached the state's mandatory judicial retirement age of 70. Herron has been the trial division's administrative judge since November 2011, his second tour of duty in the role.
Dougherty was first elected judge in 2001 and retained by the voters in 2011.
The Pennsylvania Supreme Court on Thursday set Nov. 18 to hear oral argument on the Philadelphia District Attorney's petition to reinstate the child endangerment conviction of Msgr. William J. Lynn, the first Roman Catholic Church official charged in the clergy child sex-abuse scandal.
The high court will hear the appeal in Harrisburg in the court's main courtroom in the Capitol.
At issue before the state's highest court is the contested key legal theory underpinning the landmark 2012 prosecution of Lynn, 63, who as the Archdiocese of Philadelphia's former secretary for clergy was the official responsible for investigating and recommending punishment for priests accused of sexual and other misconduct.
When last we saw Robert Williams – AKA "Meek Mill" – it was Aug. 18 and the up-and-coming Philadelphia-born hip hop artist was in prison duds in a city courtroom as his legal team tried to convince Common Pleas Court Judge Genece E. Brinkley to parole him early from her three- to six-month sentence for violating probation from a 2009 gun and drug conviction.
Brinkley wasn't moved then and not much has changed. On Monday, Brinkley denied another petition for early parole filed by Williams' new lawyer, Tariq K. El-Shabazz, signaling that Williams, 27, will likely stay behind bars at least until his minimum sentence ends on Oct. 11.
El-Shabazz, a veteran Philadelphia lawyer and former city prosecutor, was not immediately available for comment.
Lost in Friday's commotion about the guilty verdict in the kidnap-sex assault trial of West Philadelphia teacher aide Christina Regusters were sentencings in two other cases I've written about:
The sentence was 55 to 110 years but at age 57, career criminal Kevin Green should consider it life.
Green was found guilty by a Philadelphia Common Pleas Court jury on July 10 for the Aug. 10, 2013, home invasion robbery of Jose "Tony" Torres and wife Elizabeth Varela, at their home in the 3500 block of North Fifth Street, on the edge of Kensington.
Louis Hartdegen may yet be judged for the May 6, 2013 murder of his wife of 52 years but it won't be in Philadelphia Common Pleas Court.
On Tuesday, the same day Judge Rose Marie DeFino-Nastasi set Oct. 27 for Hartdegen's nonjury trial, the 76-year-old Northeast man neighbors once dubbed "the mayor of Castor Avenue" died.
Assistant District Attorney Joanne Pescatore confirmed Hartdegen's death and said his lawyers said he had a heart attack. Hartdegen's attorneys, Thurgood M. Matthews and Catherine Berryman, could not be reached for comment.