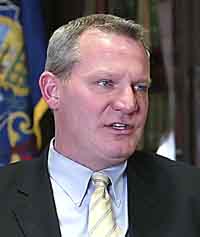 Pennsylvania's Supreme Court made it official Wednesday, naming Philadelphia Common Pleas Court Judge Kevin M. Dougherty administrative judge of the city court's trial division.
Dougherty, 52, the administrative judge of the Family Court since 2005, will succeed the trial division's current administrative judge, John W. Herron, who retires Dec. 1 having reached the state's mandatory judicial retirement age of 70. Herron has been the trial division's administrative judge since November 2011, his second tour of duty in the role.
Dougherty was first elected judge in 2001 and retained by the voters in 2011.
The Pennsylvania Supreme Court on Thursday set Nov. 18 to hear oral argument on the Philadelphia District Attorney's petition to reinstate the child endangerment conviction of Msgr. William J. Lynn, the first Roman Catholic Church official charged in the clergy child sex-abuse scandal.
The high court will hear the appeal in Harrisburg in the court's main courtroom in the Capitol.
At issue before the state's highest court is the contested key legal theory underpinning the landmark 2012 prosecution of Lynn, 63, who as the Archdiocese of Philadelphia's former secretary for clergy was the official responsible for investigating and recommending punishment for priests accused of sexual and other misconduct.
When last we saw Robert Williams – AKA "Meek Mill" – it was Aug. 18 and the up-and-coming Philadelphia-born hip hop artist was in prison duds in a city courtroom as his legal team tried to convince Common Pleas Court Judge Genece E. Brinkley to parole him early from her three- to six-month sentence for violating probation from a 2009 gun and drug conviction.
Brinkley wasn't moved then and not much has changed. On Monday, Brinkley denied another petition for early parole filed by Williams' new lawyer, Tariq K. El-Shabazz, signaling that Williams, 27, will likely stay behind bars at least until his minimum sentence ends on Oct. 11.
El-Shabazz, a veteran Philadelphia lawyer and former city prosecutor, was not immediately available for comment.
Lost in Friday's commotion about the guilty verdict in the kidnap-sex assault trial of West Philadelphia teacher aide Christina Regusters were sentencings in two other cases I've written about:
The sentence was 55 to 110 years but at age 57, career criminal Kevin Green should consider it life.
Green was found guilty by a Philadelphia Common Pleas Court jury on July 10 for the Aug. 10, 2013, home invasion robbery of Jose "Tony" Torres and wife Elizabeth Varela, at their home in the 3500 block of North Fifth Street, on the edge of Kensington.
Louis Hartdegen may yet be judged for the May 6, 2013 murder of his wife of 52 years but it won't be in Philadelphia Common Pleas Court.
On Tuesday, the same day Judge Rose Marie DeFino-Nastasi set Oct. 27 for Hartdegen's nonjury trial, the 76-year-old Northeast man neighbors once dubbed "the mayor of Castor Avenue" died.
Assistant District Attorney Joanne Pescatore confirmed Hartdegen's death and said his lawyers said he had a heart attack. Hartdegen's attorneys, Thurgood M. Matthews and Catherine Berryman, could not be reached for comment.
We may be beyond the type of vigilante justice where the mob storms the local jail and exacts punishment on a criminal defendant, but the spirit lives on in other ways.
Consider the case of Valerie Williams, the West Philadelphia woman who took in her two young nieces after they were molested by their father and years later welcomed back one of the girls after she dropped out of college.
That girl was Christina Regusters, who is now 21 and on trial in Philadelphia Common Pleas Court for kidnapping and sexually assaulting a 5-year-old girl taken Jan. 14, 2013 from Bryant Elementary School in West Philadelphia. The jury is probably a week away from deliberating the fate of Regusters, who has been held on $4-million bail since she was arrested on Feb. 14, 2014.
The legend of Marty the Bird continues to grow.
Those following the Philadelphia kidnap and sex assault trial of Christina Regusters will recall that one of the clues that led police to Regusters, 21, was a memory of the 5-year-old girl who was taken from her kindergarten classroom the morning of Jan. 15, 2013.
The little girl recalled being taken from her Bryant Elementary School, at 6001 Cedar Ave. by a woman disguised in full Muslim garb. The girl said she was taken to a house, sexually assaulted and then dropped, half-naked at an Upper Darby playground where a passerby rescued her.
William Carrasquillo's life seemed pretty grim when he surrendered to police July 3 and was charged with abuse of corpse for storing the body of his 84-year-old mother, Andrea, in a basement chest freezer for almost a half year.
It hasn't got better.
The lawyer for the 58-year-old Feltonville pizza delivery man went before Philadelphia Municipal Court Judge James M. DeLeon asking for Carrasquillo to be released without bail while awaiting trial on the second-degree misdemeanor.