Archive: August, 2011
Jeff Gelles

, Inquirer Business Columnist

How costly can it be - accidentally or on purpose - to use a checking-account overdraft as the equivalent of a short-term loan? The Consumer Federation of America has done the math for you, in a new survey of overdraft fees at 14 banks, and the results underscore how foolish such a decision or mistake can be.

Citizens Bank led the list for costliest overdraft loans, says the CFA, which has repeatedly shed light on risky "overdraft protection" schemes that do anything but protect. If you're a Citizens customer and write a $100 overdraft check, within two weeks you'll owe an additional $106.90 to the bank - a $37 overdraft fee, plus an extra $6.99 per day in "sustained overdraft" fees for the fourth through the 13th day. Represented as an annualized interest rate, or APR, that's the equivalent of a 2,779 percent loan. (Yes, that's a comma, not a decimal point.) One small saving grace: You'd save a little if it was your first mistake - Citizens' initial fee for that is $22.

Some other banks' fee structures were better, but still costly to anyone who uses overdraft protection to cover cash-flow shortfalls. The best of the bunch was Citibank, which charges a $34 for the initial infraction and no sustained-overdraft fees. But paying $34 for a two-week loan of $100 is still the equivalent of paying 884 percent, CFA says.
Jeff Gelles

, Inquirer Business Columnist

If you're frustrated with a product or service, and can't get satisfaction directly from the business that provided it, what do you do? Today, many consumers are tempted to share their thoughts on the web - perhaps with their friends (or the whole world) on Facebook, or by posting on one of the many websites such as Yelp or TripAdvisor that invite such complaints.

The latest issue of Consumer Reports Money Adviser offers a great overview of the process - and the risks, which include at least some chance of retaliation by the target of your complaint. Truth is a defense is libel cases, but getting sued is a monumental hassle. Above all, it's worth thinking twice before you post something that you may never be able to remove.

You can read the whole report here - it includes thumbnail descriptions of more than 20 sites where consumers can air complaints. You can also sometimes post a gripe on a company's own site, or find creative avenues to get a business' attention. Sometimes you can find a useful email address buried on a company's website. Money Adviser says some companies, including Walmart and General Electric, have proven responsive to consumers who air complaints on their corporate Facebook pages.
Jeff Gelles

, Inquirer Business Columnist

Thanks to Steve Benen, the "Political Animal" blogger at the Washington Monthly, for digging up the Fox Business Channel video (below) that perfectly illustrates the hypocritical Republican reaction to the S&P downgrade of U.S. treasuries.

Benen says the exchange two weeks ago between Neil Cavuto, Fox's vice president of business news, and John Stossel "was startling at the time, but seems even more relevant now." Cavuto tells viewers, "I would welcome a downgrade. I really would. I think it would be the pain from which we have a gain." Stossel adds, "Maybe that would wake people up."

Well, we just got woken up, with whatever consequences follow. You don't have to agree with every aspect of S&P's analysis to realize that the agency has identified a very real - if political - risk of a U.S. default. Leading Republican politicians, egged on by folks like Cavuto and Stossel, showed and said repeatedly that they were willing to risk a default if they couldn't get their way on a budget deal.
Jeff Gelles

, Inquirer Business Columnist

Can a state erect a dike against the flood of online interaction spurred by social-networking websites? Missouri is trying, with enactment of the "Amy Hestir Student Protection Act," named for a woman who testified that she was "manipulated into a sexual relationship with a teacher while in junior high," according to the Kansas City Star.

The new law requires school districts to be more vigilant in reporting allegations of sexual misconduct by teachers and staff. But other provisions of the law, due to take effect next year, are drawing sharp criticism from civil-liberties advocates, social-networking fans, and some teachers because of the way it attempts to constrain interactions that would not be accessible, say, to parents.

ZDNet's Emil Protalinski explains it this way:

pp

Multisource political news, world news, and entertainment news analysis by Newsy.com
Jeff Gelles

, Inquirer Business Columnist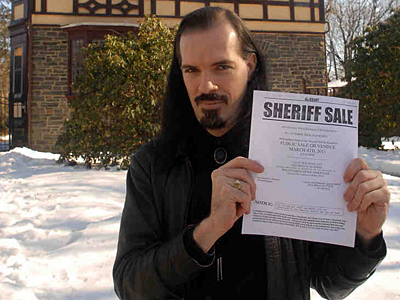 If you were watching Comedy Central's The Colbert Report last week, you might have caught a segment on Philadelphia's own Patrick Rodgers, the Wynnefield Heights man I wrote about last winter when he announced that he had "foreclosed" on Wells Fargo - by getting a sheriff's-sale order against one of its local offices to enforce a judgment he had won against the mighty bank.
Wells Fargo's office furniture was never auctioned off to satisfy the judgment - instead, the embarrassed bank reached a settlement with Rodgers, a music promoter and store owner. But Rodgers, as I rightly predicted in my column breaking the story, had done enough to become a consumer folk hero. He was quickly besieged by television shows and the national press, including the satirical version represented by Colbert.
The Colbert Report decided to make Rodgers one of its "Difference Makers," but then host Stephen Colbert discovered that Rodgers was a little, um, offbeat. You can watch the video embedded below, or click here to see it on the Comedy Central website. (It's worth watching for the Dan Rather snippets alone.)