Archive: August, 2010
Jeff Gelles, Inquirer Business Columnist
I wrote in today's Inquirer about AT&T's big upgrade of its wireless service at Citizens Bank Park. The company says it essentially quadrupled cellular capacity at the 45,000-seat ballpark by adding the equivalent of three new cell towers within the facility. Most of the early reports I've heard from iPhone users, who complained most vocally about the ballpark problems, have been positive.
The story quoted Nielsen anaylst Roger Entner about the 'mobile data tsunami' caused by smartphone owners who actually want to use their phones' fancy new capabilities to visit websites, send and receive pictures and video, and utilize apps such as MLB.com's "At Bat." As some readers point out, many fans would plainly prefer that the people around them keep their phones in their pockets. But baseball is a game with lots of downtime, so it's hardly a surprise that a sold-out ballpark would tax a network like AT&T's.
There are other solutions to the problem than the one AT&T chose. If it had been able to turn the ballpark into a public Wi-Fi hotspot, as it has done at AT&T Park in San Francisco, it would have been able to offload a lot of the data demand onto the broadband network. That same approach is offered by Sprint Nextel, whose 4G system relies on the broadband Clearwire network to offload data traffic. Verizon Wireless is apparently moving in the same direction with its planned 4G network, called LTE.
Jeff Gelles, Inquirer Business Columnist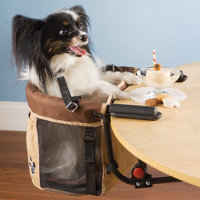 Hammacher Schlemmer's motto is "Offering the best, the only, and the unexpected for 162 years."
I'll give them the unexpected on this one: the Pet High Chair.
Company spokeswoman Bree O'Day says the chair sells well. If you want to know more, click here.
Jeff Gelles, Inquirer Business Columnist
Enterprise Rent-a-Car is still willing to rent recalled-but-unrepaired vehicles, even after a jury ordered it to pay $15 million to the parents of two young women killed in a fiery crash in California that was blamed on a PT Cruiser defect that Enterprise had known about for a month.
Enterprise fought the parents for several years, then reversed itself and accepted 100 percent liability in May - you can read my Inquirer story about the case and its aftermath by clicking here. The jury's role was only to quantify the damages - as if the loss of 20- and 24-year-old daughters can be compensated for in money.
Now the young women's mother is pushing for change at Enterprise, which says that it has tightened its procedures since the 2004 crash and would not have rented the PT Cruiser under today's rules, but says that it still might put other customers into recalled vehicles. In particular, Enterprise suggests it might do so if a manufacturer, in a recall done in consultation with the National Highway Traffic Safety Administration, does not specifically recommend that a vehicle be "grounded" - in other words, that it be repaired immediately without any further use. Click here to read Enterprise's July 7 statement, which a spokeswoman reiterated Monday.
Jeff Gelles, Inquirer Business Columnist
In a scathing, 90-page ruling, a federal district judge in California has ordered Wells Fargo Bank to return $200 million to account-holders he says were unfairly harmed by practices that encouraged the accumulation of $30-plus overdraft fees.
It's unclear how the ruling by U.S. District Judge William Alsup, who held that the practices were "unfair and deceptive" under California law, might affect practices at banks outside California, including Wells' subsidiary Wachovia Bank. Barbara Nate, a Wachovia spokeswoman, sayst the decision was limited to California and that Wells planned to appeal the ruling.
But the decision provided ammunition for consumer advocates, plaintiffs' attorneys in similar class actions, and angry account-holders who have been burned by the practices of Wells and other large banks - in particular by their willingness to approve small debit-card overdrafts, and by the practice of booking debits and checks from largest to smallest rather than in, say, chronological order. Alsup said:
Jeff Gelles, Inquirer Business Columnist
A casual reading of recent headlines about the Toyota unintended-acceleration probe might lead to a premature conclusion: that, aside from the acknowledged problems of misplaced floor mats and sticky gas pedals, the only other cause of these crashes was driver error.
That may be true in some or even all of the cases, but the investigation is still under way, with help from the National Academy of Sciences and NASA. A report to Congress, made public yesterday by the Department of Transportation (click here to read it), is hardly conclusive.
The report described findings from 58 accidents in vehicles equipped with so-called "event data recorders" - devices that are often compared to the "black boxes" crucial to plane-crash inquiries but that in autos are nonstandardized and much more rudimentary.
Jeff Gelles, Inquirer Business Columnist
Google and Verizon finally weighed in yesterday with their long-awaited joint proposal on network neutrality, which I discussed last week in a blog item about leaked reports.
It turns out that some of last week's reports were off-kilter - you can read Google's public-policy blog on the actual proposal here, and see the joint statement here. This was not a commercial deal, and it does not blatantly give way to the concept of tiered pricing and fast lanes. On the other hand, the companies' suggested "legislative framework" opens the door to network owners' devoting a portion of their systems to specially priced "additional services," which fueled protests such as this one from Free Press.
So far, much of the critical reaction has centered on the companies' determination to limit any commitment to neutrality to the wireline broadband Internet, and exempt wireless networks from any such promises. Perhaps Google did evil in going along with that, as some critics content. but it's hardly a shock that Verizon - owner of what's widely considered the nation's best wireless network - is trying to protect its investment.
Jeff Gelles, Inquirer Business Columnist
Forgive me if you've heard this before - say, before the baseball season, back in April, when AT&T first said a fix was imminent at Citizens Bank Park, or in postings here that suggested the company's network was working better at the Bank, or would work better really really soon.
This time - just in time for the Phillies to begin a three-game series Friday night against their arch-rival New York Mets - AT&T says its upgrades at the park are "installed and running," and were being tested during the Phillies' road trip that ended Thursday night in Florida with an improbable, come-from-behind-but-still-almost-blow-it victory.
So go to the game tonight, and cheer on the Fightin' Phils. While you're there, see if AT&T and your iPhone actually work as promised.
Jeff Gelles, Inquirer Business Columnist
The Internet was abuzz today over published reports about negotiations between Verizon and Google that could undermine the push for network neutrality - for which Google was once a staunch advocate.
Then, in midafternoon, came this news: The FCC's chief of staff, Edward Lazarus, said via email that "the recent round of stakeholder discussions" - criticized by net-neutrality advocates as backroom dealing - were now on hold. Lazarus said:
We have called off this round of stakeholder discussions. It has been productive on several fronts, but has not generated a robust framework to preserve the openness and freedom of the Internet – one that drives innovation, investment, free speech, and consumer choice. All options remain on the table as we continue to seek broad input on this vital issue.