Archive: April, 2012
Jeff Gelles

, Inquirer Business Columnist

Two years ago, the Federal Reserve required banks to stop routinely allowing customers to overdraft their checking accounts via declinable ATM withdrawals or debit-card purchases - source of the infamous $40 hoagie, a $5 sandwich served with a $35 overdraft fee. The Fed said banks could do so only if customers had agreed ahead of time to the deal: that a bank would approve point-of-sale or ATM overdrafts in return for collecting such fees.

Consumer advocates had long argued that the fees were in essence short-term, high-cost loans, and that many banks were manipulating their accounting practices to multiply them. A common procedure is to clear checks and debits together from largest to smallest, rather than chronologically, so that a customer who continues to make small purchases while unaware of a negative balance can get socked for hundreds of dollars in fees.

The new Consumer Financial Protection Bureau, which last year took over the Fed's regulatory duties governing consumer financial products, is now taking a closer look at those practices through examinations at nine banks, according to Bloomberg News reporters Carter Dougherty and Margaret Collins. A key focus: how banks have been persuading customers to opt into the programs even when cheaper alternatives are available.
Jeff Gelles

, Inquirer Business Columnist

Wireless bill shock is one of those know-it-when-you-see-it things. It happens when you get socked with charges that are hundreds or even of thousands of dollars higher than your normal monthly bill. See some local cases here ($17,500 to watch a movie in the Dominican Republic) and here (unexpected data roaming charges in Europe).

The FCC says bill shock has happened to about 1 in 6 wireless customers - about 30 million people. The agency defines it as "a sudden and unexpected increase in monthly wireless bills" when consumers don't realize they've blown past plan limits for voice, data and text, or get hit with unexpected international roaming charges.

At least for now, the FCC is taking a voluntary approach to addressing the problem, which coincidentally makes somebody a lot of money - though it's not entirely clear how the U.S. carriers share in proceeds collected on behalf of overseas roaming partners.
Jeff Gelles

, Inquirer Business Columnist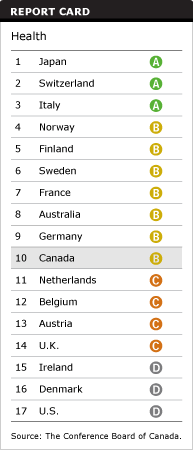 It's always fascinating to see yourself through other people's eyes. Courtesy of Austin Frakt at the Incidental Economist blog, here's a link to the latest report card by the Conference Board of Canada on the health status of our neighbor to the north and 16 of its peer countries, based on data collected by the OECD.
"They score themselves a B," Frakt says of Canada. "Guess which country is at the bottom of the list?"
You can find details here from the report, which tries to address the question of why Canada, which is immensely proud of its health-care system, only gets a B and lands in the middle of the pack on this ranking of wealthy nations. Yes, "wait times for some health care diagnostics and treatments" is cited as one potential source of drag - an acknowledgment sure to cheer diehard opponents of changing the U.S. system, in which the well-insured and affluent can get costly diagnostic tests and treatments more swiftly. On the other hand, the United States leads all nations in what we pay for our health care, and we earn a D, with especially low marks for infant mortality and life expectancy. If only we could remove the poor and uninsured from the data....