Archive: January, 2012
Jeff Gelles

, Inquirer Business Columnist

Because of a Freddie Mac rule, Bonnie and Jay Silverstein of Bucks County say they're in "financial jail" - unable to refinance their home loan and save about $500 a month. And according to a disturbing story by the nonprofit Pro Publica and NPR, Freddie Mac itself profits from keeping them there - because the mortgage giant made a Wall Street-style bet against the likelihood of refinancings.

"Freddie Mac Bets Against American Homeowners" tells a complicated story, and acknowledges that there's no clear coordination between Freddie Mac's refi rules and its ability to profit when homeowners are stymied. But the Silversteins' story is one being played out all across the country, in various forms. And the damage from the housing bubble won't be healed until we deal with consequences such as these:

The Silversteins have a 30-year fixed mortgage with an interest rate of 6.875 percent, much higher than the going rate of less than 4 percent. They have borrowed from family members and are living paycheck to paycheck. If they could refinance, they would save about $500 a month. He says the extra money would help them pay back some of their family members and visit their grandchildren more often.
Jeff Gelles

, Inquirer Business Columnist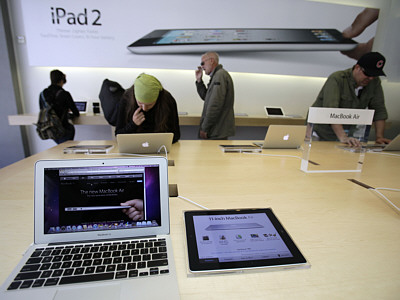 With $13 billion in quarterly profits, largely driven by explosive sales for its iPhones and iPads, Apple has to expect extra scrutiny. But an excellent new report in the New York Times on harsh and risky conditions at Foxconn - a key Chinese supplier to Apple and many of its high-tech brethren - is a window onto a much bigger story.
Today's report, "In China, Human Costs Are Built Into an iPad," is a follow-up to a Sunday story, "How the U.S. Lost Out on iPhone Work," that left me disturbed. As I blogged earlier this week, the description of what one former Apple executive called breathtaking speed and flexibility was reminiscent of forced labor, or of the captive-worker conditions of company towns in America in the 19th century. Without stronger laws or collective-bargaining contracts to protect them, Chinese workers seemed at the mercy of a race to the bottom, one labor economist told me. If they don't like the conditions, there are probably workers elsewhere available to help suppliers make products better, faster and cheaper.
Today's story, which credits Apple with efforts to improve conditions at the plants it deals with, focused on Sunday's missing element, the human cost of the incredible electronics that consumers have come to expect from Apple:
Poll: Chinese workers

(88 votes)
Jeff Gelles

, Inquirer Business Columnist

I love Apple products, and am fascinated by the near-mythical company behind them. So for personal as well as professional reasons, I was eager to read the New York Times' front-page story Sunday by Charles Duhigg and Keith Bradsher: How the U.S. Lost Out on iPhone Work.

A dozen paragraphs in, I was stopped - and astounded - by this:

Apple executives say that going overseas, at this point, is their only option. One former executive described how the company relied upon a Chinese factory to revamp iPhone manufacturing just weeks before the device was due on shelves. Apple had redesigned the iPhone's screen at the last minute, forcing an assembly line overhaul. New screens began arriving at the plant near midnight.
Jeff Gelles

, Inquirer Business Columnist

The Great Internet Blackout worked - for now. In an announcement this morning, two days after an online protest produced this astonishingly loud response, Senate majority leader Harry Reid said he was postponing his plan to bring the Protect Intellectual Property Act to the floor on Tuesday. But he says the legislation can still be fixed:

In light of recent events, I have decided to postpone Tuesday's vote on the PROTECT I.P. Act.

There is no reason that the legitimate issues raised by many about this bill cannot be resolved. Counterfeiting and piracy cost the American economy billions of dollars and thousands of jobs each year, with the movie industry alone supporting over 2.2 million jobs. We must take action to stop these illegal practices. We live in a country where people rightfully expect to be fairly compensated for a day's work, whether that person is a miner in the high desert of Nevada, an independent band in New York City, or a union worker on the back lots of a California movie studio.
Jeff Gelles

, Inquirer Business Columnist

Wikipedia and thousands of other websites went dark Wednesday, or remade their home pages, to protest what they called misguided anti-piracy bills pending in Congress, and Washington blinked. Here are some impressive numbers, assembled by one of the coordinating groups, Fight for the Future, that may help explain why:
4 of top-ten U.S. sites participated
13 of top-100 U.S. sites participated
115,000 small and medium sites participated
50,000 websites blacked out all or part of site
10 million people signed petitions to Congress
3 million sent Congress emails
100,000 called Congress
31 senators, including five former co-sponsors, announced they opposed the Senate's version, the Protect Intellectual Property Act (PIPA)
2.2 million tweets mentioned "SOPA," the House's proposed Stop Online Piracy Act
411,000 tweets mentioning "PIPA"
52,000 tweets mentioning "sopastrike"
159,000 tweets mentioning "stopSOPA"
428,000 Facebook members shared "SOPAstrike.com" or "SOPAstrike.com/strike"
Art Brodsky of Public Knowledge, one of the many open-Internet groups warning against the bills, says the individual responses to the protests elevated them beyond the usual Godzilla-vs.-King-Kong nature of a typical corporate lobbying battle.
"The numbers are staggering," Brodsky says. "Just to make the point again, the protest would not have happened, and certainly would not have been this size, if this were simply a Silicon Valley (a.k.a. Google) vs. Hollywood fight. ... This is much broader and deeper than one company against another, or one industry against another."
Jeff Gelles

, Inquirer Business Columnist

Mitt Romney's line about enjoying the ability to "fire" his insurance company if he doesn't like the service it provides may have been unfairly taken out of context. But it was still a truly thoughtless remark - just not for the reasons most people are saying.

In a well-functioning market, consumers do welcome the ability to "fire" service providers and choose better alternatives. That's one reason they're often angry when they see little or no real alternative to a service provider - it's frustrating to recognize that you're essentially a "captive customer."

But as bloggers Aaron Carroll and Jonathan Cohn have pointed out, the health-insurance market is a prime illustration of why markets sometimes fail consumers - and why market regulation, that bugaboo of true conservatives (and of the post-Romneycare Mitt Romney), is often needed to fix bad incentives.
Jeff Gelles

, Inquirer Business Columnist

Even after its July 2011 launch, the new federal Consumer Financial Protection Bureau couldn't fulfill all its duties without a director in place. Now that it has one - after President Obama's controversial recess-appointment Wednesday of former Ohio attorney general Richard Cordray - the CFPB is wasting no time.

This morning, the new agency announced plans to supervise nonbank financial institutions, such as mortgage brokers and payday lenders, in ways similar to the supervision that banking regulators have long used to supervise traditional banks. In case anyone's forgotten, nonbank financial institutions played a key role in precipitating the 2008 financial crisis.

In a statement, Cordray called the plan "an important step forward for protecting consumers. Holding both banks and nonbanks accountable to consumer financial laws will help create a fairer, more transparent market for consumers. It will create a better environment for the honest businesses that serve them. And it will help the overall economic stability of our country."
Jeff Gelles

, Inquirer Business Columnist

Defying Republican leaders, President Obama has decided he can use the congressional recess to appoint Richard Cordray, the former Ohio attorney general, to head the new Consumer Financial Protection Bureau.

White House communications director Dan Pfeiffer announced the decision this morning in a blog post that said Cordray had one primary duty: to "look out for the best interest of American consumers." According to the Washington Post, the timing of Cordray's appointment means he can serve till the end of 2013.

The announcement followed reports by the Associated Press, the Wall Street Journal and the The New York Times that said White House lawyers had decided they could sidestep efforts by the GOP to block a recess appointment by keeping Congress formally in session. It drew a swift rebuke from the Senate minority leader, Mitch McConnell (R., Ky.), who issued a news release headlined, "Arrogantly Circumventing the American People with an Unprecedented 'Recess Appointment' of an Unaccountable Czar."