U.S., 6 states sue to block US Airways-American merger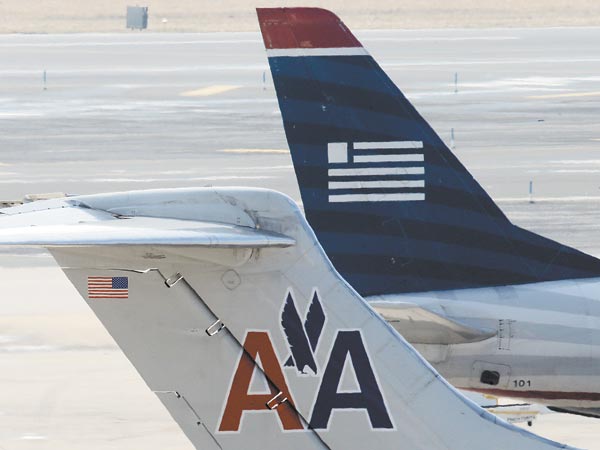 Pennsylvania's attorney general joined the Justice Department's antitrust division in stating what consumer advocates say is obvious: Reduced competition would bring higher prices.
U.S., 6 states sue to block US Airways-American merger

The Justice Department's antitrust division, joined by Pennsylvania and five other states, filed suit in federal court today to block the planned merger between US Airways and American Airlines. The suit states what consumer advocates say is obvious: Reduced competition will mean higher prices for passengers.
If successful, the lawsuit would block the carriers' plan to create the world's largest airline by merging the two companies as American emerges from bankruptcy.
"If this merger goes forward, even a small increase in the price of airline tickets, checked bags or flight change fees would result in hundreds of millions of dollars of harm to American consumers," Bill Baer, the assistant attorney general who runs the antitrust division, said in a statement announcing the lawsuit. "Both airlines have stated they can succeed on a standalone basis and consumers deserve the benefit of that continuing competitive dynamic."
The Justice Department said the merger "would substantially lessen competition for commercial air travel in local markets throughout the United States and result in passengers paying higher airfares and receiving less service." In addition to Pennsylvania, where US Airways maintains a key hub in Philadelphia, states joining the suit include Texas, where American is based; Arizona, where US Airways has headquarters; Florida; Tennessee, and Virginia, as well as the District of Columbia.
Click here to find a Q&A on the lawsuit from Pennsylvania's Attorney General's Office, which says the deal would "negatively impact at least 1 million Pennsylvania travelers." The state says part of the reason it's joining in thIS challenge, after not fighting earlier airline mergers, is that "the claims made by US Airways are identical to the claims the other airlines have made to support their mergers and their claims of consumer benefits have proven untrue."
The Justice Department's announcement said:
American and US Airways compete directly on more than a thousand routes where one or both offer connecting service, representing tens of billions of dollars in annual revenues. They engage in head-to-head competition with nonstop service on routes worth about $2 billion in annual route-wide revenues. Eliminating this head-to-head competition would give the merged airline the incentive and ability to raise airfares, the department said in its complaint.
According to the department's complaint, the vast majority of domestic airline routes are already highly concentrated. The merger would create the largest airline in the world and result in four airlines controlling more than 80 percent of the United States commercial air travel market.
The merger would also entrench the merged airline as the dominant carrier at Washington Reagan National Airport, with control of 69 percent of the take-off and landing slots. The merged airline would have a monopoly on 63 percent of the nonstop routes served out of Reagan National airport. As a result, Washington, D.C., area passengers would likely see higher prices and fewer choices if the merger is allowed, the department said in its complaint. Blocking the merger will preserve current competition and service, including flights that US Airways currently offers from Washington's Reagan National Airport.
The complaint also describes how, in recent years, the major airlines have succeeded in raising prices, imposing new fees and reducing service.
"There is no reason to accept the likely anticompetitive consequences of this merger," the lawsuit says. "Both airlines are confident they can and will compete effectively as standalone companies. A revitalized American is fully capable of emerging from bankruptcy proceedings on its own with a competitive cost structure, profitable existing business, and plans for growth. US Airways today is competing vigorously and earning record profits. Executives of both airlines have repeatedly stated that they do not need this merger to succeed."