Archive: November, 2011
Jeff Gelles, Inquirer Business Columnist
With the fate of the Affordable Care Act awaiting action next year by the U.S. Supreme Court, and the law's benefits being phased in slowly, we almost seem to be on pause regarding the problems still facing tens of millions of Americans who lack adequate health insurance. And it's no surprise when zombie ideas step in to fill such a void.
But the one voiced in this video (below) by Texas Gov. Rick Perry - that "all Americans have access to health care" - is particularly pernicious, and worth debunking. Thanks to Think Progress blogger Igor Volsky for pointing to this video and also to a post earlier this year on one of my favorite health-care blogs, the Incidental Economist, laying out how incredibly wrong this zombie idea is.
Yes, a law signed 25 years ago President Ronald Reagan ensures that no one in America should be turned away from a hospital in a true emergency. If you arrive at an emergency room in labor, or with obvious symptoms of a heart attack, you're supposed to be cared for. (Never mind that another GOP candidate, Ron Paul, won applause in September for suggesting that the 1986 law goes too far.)
Facebook's privacy practices, under scrutiny ever since the huge social-networking site changed its policies to push more member information into public view, will be tightened under a settlement announced this afternoon by the Federal Trade Commission.
The FTC, which accused Facebook of deceiving its hundreds of millions of members, says the deal requires the company "to make sure it lives up to its promises in the future, including giving consumers clear and prominent notice and obtaining consumers' express consent before their information is shared beyond the privacy settings they have established."
The settlement doesn't require Facebook to acknowledge breaking the law - such deals never do - but the FTC says its complaint against Facebook detailed at least eight ways that Facebook deceived members:
In December 2009, Facebook changed its website so certain information that users may have designated as private – such as their Friends List – was made public. They didn't warn users that this change was coming, or get their approval in advance.
Facebook represented that third-party apps that users' installed would have access only to user information that they needed to operate. In fact, the apps could access nearly all of users' personal data – data the apps didn't need.
Facebook told users they could restrict sharing of data to limited audiences – for example with "Friends Only." In fact, selecting "Friends Only" did not prevent their information from being shared with third-party applications their friends used.
Facebook had a "Verified Apps" program & claimed it certified the security of participating apps. It didn't.
Facebook promised users that it would not share their personal information with advertisers. It did.
Facebook claimed that when users deactivated or deleted their accounts, their photos and videos would be inaccessible. But Facebook allowed access to the content, even after users had deactivated or deleted their accounts.
Facebook claimed that it complied with the U.S.- EU Safe Harbor Framework that governs data transfer between the U.S. and the European Union. It didn't.
Jeff Gelles, Inquirer Business Columnist
Still puzzled by electricity deregulation? As my colleague Andy Maykuth reported Sunday, you're hardly alone. Nearly 40 competitive suppliers are now vying for your power dollars, and those who have switched in the last year have been able to save 10 to 20 percent off Peco Energy's default-service prices. But according to a recent survey, only 45 percent of Pennsylvanians say they've shopped for power. Now residential-heating (RH) customers and those with special off-peak meters are facing the phasing out of longstanding discounts, another complication.
If you want to learn more, there's no one more knowledgeable than Irwin A. "Sonny" Popowsky, the state's official consumer advocate, whose office represents ratepayers before the Pennsylvania Public Utility Commission.
Popowsky will speak at Philadelphia's Central Library, 1901 Vine Street, at 7 p.m. Wednesday. The topic is "Save Money, Live Better: Be an Informed Consumer," and Popowsky also deals with issues involving landline phone companies and water and sewer regulation. But power shopping is the topic of the moment, and Popowsky says that will be his primary focus.
Jeff Gelles, Inquirer Business Columnist
In a crackdown timed for "Cyber Monday," federal law-enforcement agencies said they seized 150 web domains accused of hawking counterfeit goods.
An announcement from U.S. Immigration and Customs Enforcement said:
To mark the official beginning of the online holiday shopping season, known as Cyber Monday, U.S. Immigration and Customs Enforcement's (ICE) Homeland Security Investigations (HSI), the National Intellectual Property Rights Coordination Center (IPR Center), the Department of Justice and the FBI Washington Field Office have seized 150 website domain names that were illegally selling and distributing counterfeit merchandise.
Jeff Gelles, Inquirer Business Columnist
A day after FCC Chairman Julius Genachowski called for hearings on AT&T's $39 billion proposal to acquire T-Mobile, the fourth-place U.S. wireless carrier, AT&T quietly withdrew its FCC merger plan and said it would focus on objections raised this summer in an antitrust lawsuit by the Justice Departmen.
While it vowed to continue pursuing the merger - though perhaps on different terms - AT&T also acknowledged that it was preparing to pay a $3 billion cash breakup fee to T-Mobile's parent, Deutsche Telekom.
Genachowski said the merger would hurt consumers and competition while killing jobs, and suggested that it may fail the FCC's broad "pubiic interest" standard for approving license transfers - a conclusion applauded by groups such as Consumers Union, which says T-Mobile is consistently cheaper than the competition in its voice and data plans.
Jeff Gelles, Inquirer Business Columnist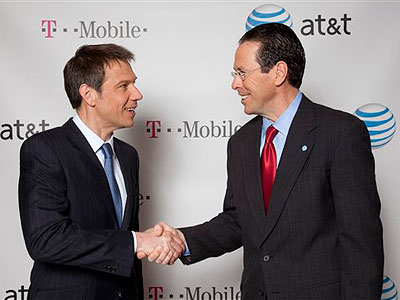 T-Mobile customers who chose the carrier because it's generally the cheapest of the national carriers, and anyone else who care about the future of U.S. wireless competition, should be heartened by the news from the Federal Communications Commission: FCC Chairman Julius Genachowski is calling for hearings on the $39 billion deal, based on the FCC staff's conclusion that the merger would hurt consumers and competition while killing jobs.
The Justice Department is already challenging the merger - as are Pennsylvania and at least six other states - on grounds that it would be anticompetitive. The FCC has a broader responsibility to act in the public interest, and plainly sees the consolidation as harmful.
Is the deal kaput, now that the Justice Department and FCC staff have concluded the obvious - that cutting the number of national carriers from 4 to 3 would hurt competition, and the FCC also sees economic harm?
Jeff Gelles, Inquirer Business Columnist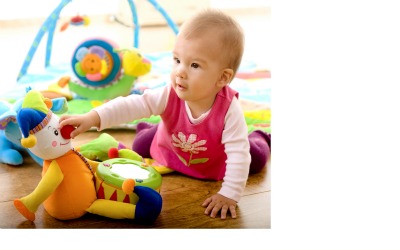 Toys made with lead and phthalates continue to pose needless risks to U.S. children, according to the annual "Trouble in Toyland" report from U.S. PIRG. Its findings are worth keeping in mind this holiday season as you shop or unwrap gifts for your kids - especially for the babies and toddlers most as risk.
You can find the report here. U.S. PIRG says this year's key findings include:
Lead Continues to be a Hazard in Toys
Jeff Gelles, Inquirer Business Columnist
Want a graphic illustration of how banks can manipulate their books to multiply their profits from your mistakes? The Pew Health Group, which has been pushing for more transparency and better consumer protections on checking-account fees, designed this interactive chart (below) to show how a bank can re-order your transactions to maximize overdraft fees.
You can click to see how that happened on a single day to one account-holder at Wells Fargo, Veronica Gutierrez, whose case prompted a federal judge to order the return of $200 million to customers and accuse the bank of "gouging and profiteering." (I wrote about the case here.) She made a single purchase that she had insufficient funds to cover, and the bank turned it into four overdraft fees, quadrupling its return from $22 to $88.
The problem's impact has been lessened somewhat now that banks have to get customers' permission to allow debit-card overdrafts at all. If you decline the option - a sensible choice, because otherwise you're turning a debit card into a credit card - your transaction will simply be refused.
Jeff Gelles, Inquirer Business Columnist
The GOP push to overturn the Federal Communications Commission's modest 2010 network-neutrality rules fell short in the U.S. Senate today. After passing the House this spring, the resolution failed on 52-46 part-line vote - despite the misleading campaign to reverse the rules that I wrote about yesterday.
Parul P. Desai, of Consumers Union, called the vote "a big victory to help keep the Internet open so consumers can freely surf the web. If these rules had been struck down, it would have been a serious blow to the free flow of commerce and ideas online."
Sen. Jay Rockefeller (D., W.Va), chairman of the Senate Commerce Committee, offered similar praise:
Jeff Gelles, Inquirer Business Columnist
On the Senate floor today, and in op-eds such as this one in today's Inquirer, congressional Republicans are trying to reverse last year's modest attempt by the Federal Communications Commission to set basic standards for network neutrality - the principle that Internet network owners such as Verizon, AT&T and Comcast can't favor or disfavor data packets they handle based on factors such as their content or their source.
Sen. GOP leader Mitch McConnell and Sen. Kay Bailey Hutchison (R., Texas), Senate sponsor of a House-passed resolution that would roll back the December 2010 FCC decision, start their op-ed argument with a fundamental fallacy - that net neutrality is a reversal of policies that allowed the Internet to blossom into a huge economic engine. It's a misstatement of history that has been debunked by, among others, Web inventor Tim Berners-Lee.
McConnell and Hutchison write: