Jeff Gelles, Inquirer Business Columnist
My colleague David Hiltbrand traces the history of Flo and the Geico Gecko in an article today about the flood of TV ads for auto insurance over the last decade. As he explains, Geico was a pioneer in bypassing agents and selling directly to consumers. So now we have Progressive's Flo, and Allstate's freaky Mayhem character, and an array of other characters and companies vying for your attention and dollars.
But it's not all just about promoting brand awareness to poach market share. There's another, less-apparent reason for the push: You really may be able to save 15 percent, 20 percent or more - much more - by getting comparison quotes. The trouble is, most of the companies aren't eager to discuss the reason why.
Auto insurance pricing has always been opaque, even when premiums were largely governed by fairly straightforward factors, such as your age, your driving record, and the frequency of claims in the place where you lived.
Jeff Gelles, Inquirer Business Columnist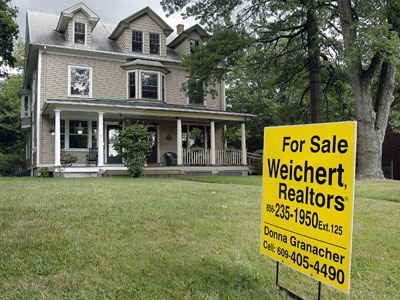 Short sales are crucial to clearing the post-bubble housing market, but banks typically drag their heels. That's because approving a short sale means accepting - and accounting for - the fact that you're never going to collect what you're ostensibly owed.
In what may be another sign of an incipient recovery, Bloomberg reports that some banks are now embracing short sales in a big way: by paying large incentives to sellers to agree.
Bloomberg's Prashant Gopal writes:
Jeff Gelles, Inquirer Business Columnist
Only the wealthiest citizens, by and large, can afford to give $10,000 or more during a single federal political campaign. As I wrote in my column in Sunday's Inquirer, the Sunlight Foundation has documented the large and growing concentration of such donors in the financial sector - what Sunlight calls "the Growth of the Political One Percent of the One Percent."
The numbers suggest an important question: Is there a connection between all that big money and the bipartisan reluctance to regulate the sector's practices?
The pictures below - graphs showing how elite donations from finance, insurance and real-estate businesspeople increasingly dwarf contributions from other influential sectors - speak for themselves:
In presidential-election years, the totals are even larger:
How much goes to each party? Most years, the sector's contributions skew toward the GOP. But not always - and the largess is plainly directed to both sides of the aisle:
The bottom line?
Sure, we have the new Consumer Financial Protection Bureau - a huge step forward, if the GOP doesn't succeed in blocking its efforts. And yes, that agency is evidence that the bipartisan give-the-banks-whatever-they-want coalition isn't impenetrable.
But on a host of other issues - such as a refusal to consider the breakup of too-big-to-fail banks or to reimpose the Glass-Steagall Act's separation of commercial banking from riskier investment banking - the industry has largely gotten its way.
It's true there are risks to any intervention in markets. But as the 2008 financial crisis demonstrated, there are also risks in deregulation, or inaction as markets evolve in dangerous directions. Though economists almost always argue against interest-rate limits, we never really had a public debate over the effective repeal by the Supreme Court of state "usury" limits on consumer lending. We've barely had public discussion about the dramatic changes delivered to the markets by computerized models that allow instant, "risk-based" pricing for major obligations such as home-equity loans and mortgages.
If big money from the financial sector is stifling those debates, we all may pay a pretty big price.
Jeff Gelles, Inquirer Business Columnist
The scheme was ugly, according to papers filed today in federal court by the Federal Trade Commission.
Targeting tens of thousands of consumers who had gone online seeking a short-term payday loan, telemarketers in at least three Philadelphia-area "boiler rooms" got the keys to their bank accounts, pitched bogus credit cards and generated close to $5 million in revenue over the last three years for the people and company behind the scheme, the FTC says.
Some people targeted by the scheme were unwitting victims, but others declined the pitches "and they charged them anyway," according to C. Steven Baker, director of the FTC's Midwest regional office, which led the investigation leading to the civil action.
Jeff Gelles, Inquirer Business Columnist
Because of a Freddie Mac rule, Bonnie and Jay Silverstein of Bucks County say they're in "financial jail" - unable to refinance their home loan and save about $500 a month. And according to a disturbing story by the nonprofit Pro Publica and NPR, Freddie Mac itself profits from keeping them there - because the mortgage giant made a Wall Street-style bet against the likelihood of refinancings.
"Freddie Mac Bets Against American Homeowners" tells a complicated story, and acknowledges that there's no clear coordination between Freddie Mac's refi rules and its ability to profit when homeowners are stymied. But the Silversteins' story is one being played out all across the country, in various forms. And the damage from the housing bubble won't be healed until we deal with consequences such as these:
The Silversteins have a 30-year fixed mortgage with an interest rate of 6.875 percent, much higher than the going rate of less than 4 percent. They have borrowed from family members and are living paycheck to paycheck. If they could refinance, they would save about $500 a month. He says the extra money would help them pay back some of their family members and visit their grandchildren more often.
Jeff Gelles, Inquirer Business Columnist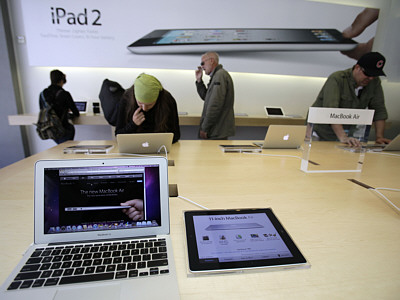 With $13 billion in quarterly profits, largely driven by explosive sales for its iPhones and iPads, Apple has to expect extra scrutiny. But an excellent new report in the New York Times on harsh and risky conditions at Foxconn - a key Chinese supplier to Apple and many of its high-tech brethren - is a window onto a much bigger story.
Today's report, "In China, Human Costs Are Built Into an iPad," is a follow-up to a Sunday story, "How the U.S. Lost Out on iPhone Work," that left me disturbed. As I blogged earlier this week, the description of what one former Apple executive called breathtaking speed and flexibility was reminiscent of forced labor, or of the captive-worker conditions of company towns in America in the 19th century. Without stronger laws or collective-bargaining contracts to protect them, Chinese workers seemed at the mercy of a race to the bottom, one labor economist told me. If they don't like the conditions, there are probably workers elsewhere available to help suppliers make products better, faster and cheaper.
Today's story, which credits Apple with efforts to improve conditions at the plants it deals with, focused on Sunday's missing element, the human cost of the incredible electronics that consumers have come to expect from Apple:
Poll: Chinese workers

(87 votes)
Jeff Gelles, Inquirer Business Columnist
I love Apple products, and am fascinated by the near-mythical company behind them. So for personal as well as professional reasons, I was eager to read the New York Times' front-page story Sunday by Charles Duhigg and Keith Bradsher: How the U.S. Lost Out on iPhone Work.
A dozen paragraphs in, I was stopped - and astounded - by this:
Apple executives say that going overseas, at this point, is their only option. One former executive described how the company relied upon a Chinese factory to revamp iPhone manufacturing just weeks before the device was due on shelves. Apple had redesigned the iPhone's screen at the last minute, forcing an assembly line overhaul. New screens began arriving at the plant near midnight.
Jeff Gelles, Inquirer Business Columnist
The Great Internet Blackout worked - for now. In an announcement this morning, two days after an online protest produced this astonishingly loud response, Senate majority leader Harry Reid said he was postponing his plan to bring the Protect Intellectual Property Act to the floor on Tuesday. But he says the legislation can still be fixed:
In light of recent events, I have decided to postpone Tuesday's vote on the PROTECT I.P. Act.
There is no reason that the legitimate issues raised by many about this bill cannot be resolved. Counterfeiting and piracy cost the American economy billions of dollars and thousands of jobs each year, with the movie industry alone supporting over 2.2 million jobs. We must take action to stop these illegal practices. We live in a country where people rightfully expect to be fairly compensated for a day's work, whether that person is a miner in the high desert of Nevada, an independent band in New York City, or a union worker on the back lots of a California movie studio.