Archive: July, 2011
Chris Brennan
They should teach this in law school: If you hope to be a judge in Philadelphia, you should be careful about whom you grab by the throat at political meetings. Also in today's PhillyClout column: A local FBI agent says public corruption equals job security and a team is forming for the Sept. 10 5K Walk to End Alzheimer's in honor of former City Councilman Ed Schwartz.
Monday is the deadline for third-party and independent candidates to file to get on the Nov. 8 general election ballot. How does that work? Here are some answers.
And the national debate about raising the debt ceiling could have a troubling impact here on the city's underfunded pension plan.
Chris Brennan
City Councilman Bill Green, a frequent critic of Mayor Nutter's administration, took to the pages of the Philadelphia Inquirer today to defend the mayor. Green took exception to a story noting that Sam Katz, the new chairman of the Pennsylvania Intergovernmental Cooperation Authority, was saying the city should look at selling off assets.
Green noted that Nutter last week named former mayoral candidate Tom Knox to head a commission examining city assets to see which if any should be sold off.
Green grabs a little credit for himself too, adding that he has met privately twice in the last year with Nutter to talk about setting up such a commission. You can read his letter after the jump.
Chris Brennan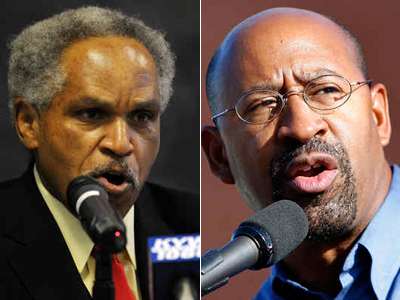 Former Mayor John Street, a primary critic of Mayor Nutter's job performance, says he has decided against running for mayor or City Council at-large as an independent this year. Street had toyed with the idea for months, clearly enjoying the platform it gave him to attack Nutter on issues like property tax increases and a proposed tax on sugar-sweetened beverages.
Street said he encountered "a great deal of very enthusiastic support" for the notion of seeking public office again. But he enjoys the life he is leading after 28 years in local government, teaching at Temple University and traveling around the world.
"I decline to run not because I feel too old or lack the energy," Street said in an e-mail. "Frankly I have never felt better and maintain an intense passion for local government. I intend to stay active and will do so in a very direct and organized way which I will announce shortly."
Catherine Lucey
The Pennsylvania Intergovernmental Cooperation Authority just put out a statement, saying that Board Chairman Sam Katz's remarks yesterday about possible selling a city asset to help the underfunded pension plan were not made on behalf of the board.
Here's the release:
PICA Board Clarification Regarding Sam Katz Statements on City Asset Sales
Chris Brennan
Philadelphians for Ethical Leadership is hosting a "citywide forum on public integrity" at the main branch of the Free Library, 1901 Vine St., tomorrow, starting at 6:30 p.m. You can find out more about the event here.
Guest speakers are FBI Special Agent John Roberts; Patrick Blessington, chief of special investigations for the District Attorney's Office; and Harvey Rice, from the City Controller's Office.
The group will be exploring these three questions: What constitutes public corruption; what the contributing factors to public corruption are (i.e. the political machine, conflicts of interest, etc.); and how public corruption is reported and investigated.
Catherine Lucey
The city's fiscal watchdog today approved the five year financial plan, while noting there are fiscal risks ahead.
The five-member board of the Pennsylvania Intergovernmental Cooperation Authority voted unanimously in favor of the city's plan. Board chairman Sam Katz did stress concerns about the city's underfunded pension plan and the pending switch to actual value real estate tax assessments.
"I'm uncomfortable with the fact that the long term problem of pensions is left largely undiscussed," said Katz.