Archive: June, 2013
This could be awkward: Former Florida Gov. Jeb Bush will award former U.S. Secretary of State Hillary Clinton with the 2013 Liberty Medal at the National Constitution Center on Sept. 10.
Bush, chairman of the National Constitution Center, is a potential contender for the 2016 Republican nomination for president. Clinton is already considered a front-runner for the Democratic nomination in that race.
"Former Secretary Clinton has dedicated her life to serving and engaging people across the world in democracy," Bush said in a news release just issued by the National Constitution Center. "These efforts as a citizen, an activist, and a leader have earned Secretary Clinton this year's Liberty Medal."
Jan Ransom
The city's building trades' experts told a Council Investigatory Committee, established to look into the deadly Center City building collapse, that more needs to be done to ensure construction sites are safe.
"We do not have any kind of protocol for demolition," said Pat Gillespie, business manager for the Philadelphia Building Trades. "We have a lot of license requirements, but no one enforces things."
Before a four-story building that was being demolished collapsed onto a neighboring thrift store on 22nd Street near Market earlier this month leaving six people dead and 13 injured, the city had no regulations in place for private demolitions. That has since changed. (See earlier coverage here for more on those changes.)
Sean Collins Walsh // 215-854-4172
Over the next few years, Philadelphia should be able to collect about $155 million of the $515.4 million owed to the city by delinquent property taxpayers, according to a new study by the Pew Charitable Trusts.
The study looked at 36 U.S. cities and found that Philly has the fifth-highest delinquency rate. Compared to cities with similar poverty rates, however, Philly has had similar rates over the last few years.
Cities with high collection rates, the study found, adhere to strict timetables about when and how to go after delinquents, whereas Philly has been inconsistent.
Jan Ransom
A state Senate committee approved a package of bills today including one that would allow the city to enact a new $2 per pack tax on cigarettes to help fund the Philadelphia School District.
The cigarette tax, proposed locally by Mayor Nutter and recently approved by City Council requires state enabling legislation. Council concluded its budget season last week leaving the school's budget crisis in Harrisburg's hands. The budget approved by Council included $45 million in new revenue from the cigarette tax and a promise from Nutter to increase tax collections by $28 million.
Concerns were raised about Council ending the budget season with funding for Philly schools that is not guaranteed since the cigarette tax is dependent on state authorization and the proposal had received some pushback from state lawmakers.
Chris Brennan
Former President Bill Clinton, speaking this afternoon at a State Budget Crisis Task Force forum at the National Constitution Center, said "we all have a stake in the passage" of immigration reform legislation currently being debated in the U.S. Senate. One big selling factor, Clinton said, is that the push will keep America's population younger than other countries.
"I think it will increase the number of taxpayers and the rate of economic growth in virtually every state in the country," Clinton said. "I say that because its a budget externality that we don't think about a lot. But if you look all over the world, demographics is destiny. And, having lost it, I can tell you that youth matters."
Clinton, 66, let the crowd chuckle at his joke but then noted that the U.S. population is younger than Europe and Japan and will be younger in 20 years than China if that country does not shift it's "one-child" birth regulation and immigration policy.
Sean Collins Walsh // 215-854-4172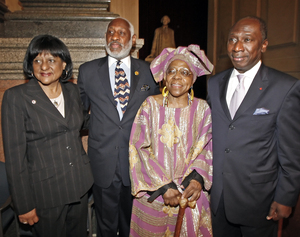 Stanley Straughter, who until recently was chairman of the Philadelphia Commission on African and Caribbean Immigrant Affairs, has pleaded guilty in federal court to accepting repayments for political donations in a scheme to circumvent campaign-contribution limits.
Straughter, 71, is the third person to plead guilty in relation to the case of Jeffrey Thompson, a Washington political operative who allegedly orchestrated a web of donors whom he would direct to make campaign contributions and repay. Thompson was not named in court documents but has been identified as the target of the broader probe by numerous D.C. media outlets.
Straughter admitted to knowingly violating the law for accepting at least $132,600 in repayments, court documents show. The donations for which Straughter plead guilty were for the campaigns of U.S. Sen. Arlen Specter of Pennsylvania and U.S. House Delegate Eleanor Holmes Norton of Washington.
Chris Brennan
Nine defendants accused in a massive ticket-fixing scheme in Philadelphia Traffic Court asked a federal judge this morning to dismiss the charges, claiming the alleged practice is not a crime.
Henry Hockeimer Jr., attorney for former Traffic Court Administrative Judge Michael Sullivan, told U.S. District Judge Robert Kelly the federal case is built on the prospect of money the city might have collected if traffic ticket holders were found guilty by the judges. But no fine exists until that guilty verdict, he said.
"It can't be speculative," Hockeimer said. "In this case, stuff has to happen. There has to be a hearing. There has to be an adjudication by a judge."
Jan Ransom
Mayor Nutter who was delinquent on his gas bill and satisfied a lien last week told reporters today he made a mistake and simply "just missed it."
"I made a mistake," Nutter said at a City Hall news conference this afternoon. "I was not putting it off. I made a human error."
Nutter said he didn't know the bill was outstanding. He said he did not recall notices warning that a lien could be placed on his property for an outstanding bill and noted that he and his family are fairly busy. He said he thought he paid the bill.