Archive: June, 2011
Chris Brennan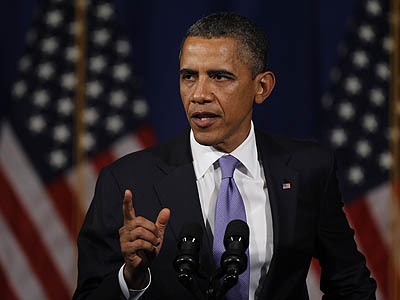 President Barack Obama touted his economic policies at home and draw down of wars in Iraq and Afghanistan during a fundraiser at the Hyatt at the Belleveue this afternoon.
Before a crowd of about 800 people, Obama criticized Republicans for pushing tax breaks for the wealthy.
"It's time to start rebuilding here at home, time for some nation-building right here," he said.
Jan Ransom
Despite Mayor Nutter's decision to veto the controversial paid sick leave bill this week, some City Council members will not let the issue die.
Nutter rejected a bill introduced by Councilmen Bill Greenlee and Darrell Clarke that would require most city employers to provide earned paid sick leave. The Council members, who got the legislation passed 9-8, said they would see if they could rally 12 votes for a veto override when Council returns for their next session Sept. 8.
But today Councilman Wilson Goode Jr. put forth another option to deal with the issue. Goode sent out a notice that he would introduce another version of paid sick leave on Sept. 8, as an amendment to the Philadelphia 21st century minimum wage and benefits standard.
Catherine Lucey and Jan Ransom
UPDATED, 5:04 p.m.:
Ok, we've got an update on how City Council will deal with a 1.9 percent cost of living raise set to start today.
In today's paper we reported that eight Council members had declined the raise, four would take it and two would donate it to charity. (Click here for the breakdown). Three more members – Curtis Jones Jr., Jack Kelly and Joan Krajewski had not notified the Council President's office of their plans by 5 p.m. last night.
Catherine Lucey
PhillyClout birthday wishes go out to Mayor Nutter, who turns 54 today. He's spending the day in Chicago for a meeting held by the Clinton Global Initiative.
Jan Ransom
Mayor Nutter today announced that Peter Longstreth, president of the Philadelphia Industrial Development Corporation will retire in September.
After a 10-year run, Longstreth will return to working in the private sector and Executive Vice President John Grady will take his place. The PIDC is a private, not-for-profit Pennsylvania corporation established to promote economic development in the city.
Grady, 43, has more than 20 years experience executing public-private development initiatives. He has played a leading role in continuing redevelopment of the Navy Yard.
Catherine Lucey
As expected, Mayor Nutter will veto sick leave legislation that passed City Council almost two weeks ago.
You can read his letter to Council here. And check out video from the event below: