Archive: May, 2013
Jan Ransom
City Councilman Wilson Goode Jr. decided last week to hold up two bills sponsored by the Nutter administration including one that would have transferred $6 million to several departments to cover raises for the city's nonunion workers.
Another bill would have shifted $5.4 million to the First Judicial District for various revenue sharing agreements, but Goode said that did not include $450,000 FJD wanted to increase the pay for probation officers, which include members of District Council 47. (District Councils 33 and 47 have been without a contract since 2009.)
Council could have voted on both bills last week, but for now Goode said those measures will sit until the administration agrees to set aside some cash to cover raises for probation officers. Goode also wants an explanation as to why raises were granted to nonunion workers without the money to pay for it.
Jan Ransom
A City Council Committee approved today one of two bills proposed by the Nutter administration that would help raise money for the cash-strapped school district by adding a $2 tax per pack of cigarettes.
That bill which would raise $45 million for schools was one of six budget-related bills to advance. Another bill that would raise $22 million through an increase to the liquor-by-the-drink tax by 5 percent did not move out of Council committee. Council president Darrell Clarke hopes to revisit that bill and others next week.
"There's significant support for tobacco," said Clarke, adding that members have concerns about the collections rate of the liquor-by-the-drink tax.
Chris Brennan
Former U.S. Rep. Marjorie Margolies plans to file Thursday to be a candidate in the 2014 Democratic primary election for the 13th District of the U.S. House, a source close to Margolies said this afternoon.
Margolies, a former television reporter who teaches at the Fels Institute of Government at the University of Pennsylvania, held that seat for one term, from 1993 to 1995. Through a spokesman, she declined to comment today.
Word of her interest in the seat became public in early April, as U.S. Rep. Allyson Schwartz was gearing up to run in the 2014 Democratic primary election for governor. That prompted former Philadelphia City Controller Jonathan Saidel to drop his brief bid for the 13th District seat.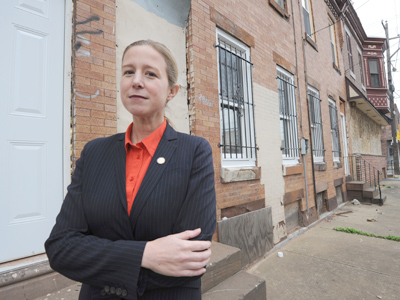 Fran Burns will resign as executive director of the Pennsylvania Intergovernmetnal Cooperation Authority next month to become chief operating officer of the School District, acccording to a press release from PICA Chairman Sam Katz.
Burns, who previously ran the city's Licenses and Inspections department, will make the transition June 28. She was appointed about a year ago, making hers a short tenure at the city's fiscal watchdog.
She did not immediately respond to a request for comment.
Jan Ransom
Shortly after the city released data related to the Actual Value Initiative questions began to swirl about the accuracy of the new assessments.
And City Council has not been pleased with the answers it has received from the Office of Property Assessment (OPA) --the department that was charged with reassessing properties --about the methodology it used.
So today Councilmen Bobby Henon, David Oh and Council president Darrell Clarke introduced a bill today that would allow Council to hire an independent auditor that would audit OPA. The bill would also require OPA to release information related to its assessment process and demonstrate that its meets industry standards. OPA would also be required to maintain their records for seven years and that information must be open to the public.
Jan Ransom
A week after Mayor Nutter announced his plans to raise money for the cash-poor School District, the administration submitted two bills that were introduced in City Council today that would increase the liquor-by-the-drink tax and create a new tax on cigarettes.
But Council president Darrell Clarke stressed that Council cannot move forward with the proposals until lawmakers in Harrisburg approve enabling legislation. The clock is ticking though for Council --the legislative body must approve a budget no later than June 30.
And Council is making a tweak to Nutter's plan. Nutter wants to raise $22 million by increasing the liquor-by-the-drink tax by 5 percent and $45 million by adding a $2 tax per pack of cigarettes. He also wants a small portion of the money raised from the cigarette tax to go toward the Philadelphia Health Department's anti-smoking program.
Jan Ransom
What's your take on the city's new zoning code so far?
The Planning Commission and the Citizens Planning Institute want to hear what you have to say about the latest zoning code. A series of feedback sessions will kick off in June and all are invited.
The sessions will be held at One Parkway Building located at 1515 Arch St., the 18th floor, room 18029 and here are a list of dates and times:
Chris Brennan
Philadelphia Magazine has taken an unusual step in the political prognostication for the next mayor -- they posted an ad yesterday -- election day -- on Craigslist seeking volunteers. It said:
Large Eastern city with problems (but potential!) seeks bold, dynamic leader to run for mayor in 2015. Ideal candidate will have vision, independence, and the courage to take on entrenched interests. Large personal bank account helpful, but not required. Hacks, empty suits and defenders of the status quo need not apply. For more details, see phillymag.com/articles/desperately-seeking-leadership-philadelphia's-mayor
The ad lists the compensation at $186,000 (not too shabby) and says the job is located at City Hall but tele-commuting is OK (for politicians who like to govern in their PJs.) But remember, the city's Home Rule Charter says a candidate for mayor must have lived in Philadelphia for at least three years before the election and be at least 25 years old.