Archive: March, 2011
Catherine Lucey
Here's their release:
SEVENTY COMBATS DROP IN COMMONWEALTH COURT
PHILADELPHIA – March 31, 2011 – The Committee of Seventy today filed a "friend of the court" brief in support of lawsuits aimed at removing from the May 17 ballot candidates for City Council and city commissioner who are enrolled in the controversial Deferred Retirement Option Plan (DROP).
Catherine Lucey
City Council just gave final passage to legislation that would block most employers from asking about job applicants' criminal histories until after an initial job interview.
Known as the "ban the box" bill, the measure was sponsored by Councilwoman Donna Reed Miller in the hopes that it would help increase employment opportunities for ex-offenders. Similar legislation has been passed in a number of cities and states, including Chicago, Atlanta and Boston.
"People with criminal records are discriminated against in many ways," Miller said before the 13-4 vote in favor of the bill. "This legislation will promote the capacity of ex-offenders and allow them to take care of themselves and their families."
Catherine Lucey
For the past few weeks, City Council chambers have been packed every week with residents to testify for and against a controversial proposal to require Philadelphia employers to provide paid sick leave.
But it looks like Council has found away to silence those voices starting next week.
Since December, Council has been required to provide an opportunity for public testimony at their weekly sessions, after the state Supreme Court ruled that they must open up the meetings. While Council has complied, they have restricted the comments to pending legislation.
Chris Brennan
Tough times have arrived and appear to be getting worse at the Philadelphia School District. Ronnie Polaneczky calls it "Every Child Left Behind."
Police Commissioner Charles Ramsey has a chat with the new mayor of Chicago about the top cop job in the Windy City.
This is going to be fun: Sam Katz, the new chairman of the Pennsylvania Intergovernmental Cooperation Authority has some questions about the budget put forth by the guy he considered challenging in the race for mayor this year.
Chris Brennan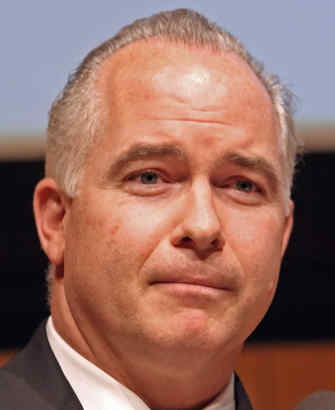 Dan McCaffery, a candidate for District Attorney in 2009, plans to run next year for state Attorney General. And McCaffery has an important ally, U.S. Rep. Bob Brady, already pulling for him.
That came as news yesterday to former District Attorney Lynne Abraham, who is also considering a run for the post. Abraham is due to meet with Brady soon to talk about the race.
McCaffery last week sent a letter to Democratic Party chairmen in every Pennsylvania county, announcing his intentions.
Catherine Lucey
The city's fiscal watchdog, the Pennsylvania Intergovernmental Cooperation Authority, has issued a letter to Mayor Nutter, questioning the property tax assumptions in the budget.
As reported by the Inquirer, the current five-year plan doesn't sunset the two-year temporary tax increase enacted by Nutter and Council last year. Critics are calling it a backdoor tax hike, while the administration has framed this as simply a way to show an increase in property values.
You can read PICA's letter here.
Catherine Lucey
Here's their release:
DATES AND VENUES ANNOUNCED FOR COMMITTEE OF SEVENTY/LEAGUE OF WOMEN VOTERS
CITY COUNCIL CANDIDATE FORUMS
Chris Brennan

Gov. Corbett has been in office for just 10 weeks now and like many who inherit a financial mess, he likes to blame the man he replaced, former Gov. Ed Rendell. It's fair game: Rendell was the top guy in the state for eight years, while the deficit grew to troubling proportions. But Corbett this morning took what looks like a cheap shot -- $66,462 in savings! -- when you consider the state's proposed budget is $27.3 billion.
Corbett's staff emailed reporters to announce that the "defunct tour bus," formerly known as "Commonwealth One" when Rendell was governor, will be auctioned off. Corbett derided the 20-year-old bus as a "white elephant" that has cost the state $66,462 to maintain since 2003 while only being driven 25,937 miles. Corbett added that his state budget priorities do not "include maintaining a 41-foot motor coach that has largely sat in the garage."
To be fair, Commonwealth One did have a troubled start in state service in 2003. Rendell hoped to put it on Pennsylvania's highways and byways as he traveled around pitching his first budget, dubbed the "Plan for a New Pennsylvania." But the bus was late on arrival and rumors swirled in Harrisburg that it had already broken down.