Archive: October, 2012
Chris Brennan
The campaigns of President Obama and Republican nominee Mitt Romney were careful with their politics Wednesday as the president toured the New Jersey coast ravaged by Hurricane Sandy. David Axelrod, senior campaign adviser to Obama, told reporters he was "hesitant" to gauge what impact the tour with New Jersey Gov. Chris Christie would have on the campaign.
"This is a disaster of huge proportions," Axelrod said during a conference call with reporters. "The president is doing what his responsibilities require. That includes touring New Jersey to offer the support of the people of this country, to tour the area, to speak first-hand with the first responders and the elected officials on the scene."
A White House pool report filed by Politico.com cited Christie, a Republican and regular campaign surrogate for Romney, heaping praise on Obama during a tour of Brigantine Wednesday afternoon.
Catherine Lucey
Good government group the Committee of Seventy just sent a letter to the City Commissioners, attacking them for delaying this weeks meeting due to Hurricane Sandy.
We've pasted the letter below:
October 31, 2012
Chris Brennan
Americans for Prosperity, the conservative group linked to billionaire brothers David and Charles Koch, on Wednesday became the third political action committee to start running campaign commercials in the last week of the presidential campaign. AFP's ads attacking President Obama's record follow ad buys this week by Restore our Future and Americans for Job Security, two groups that support Republican presidential nominee Mitt Romney.
AFP canceled its television ads in Pennsylvania on Aug. 27, the first day of the Republican National Convention, but suggested a return to the state's airwaves could happen. AFP on Wednesday said it is spending $1.5 million to air an ad that has been seen in other states, with people who claim they voted for Obama in 2008 and now regret it.
A Daily News/Franklin & Marshall College Poll released Wednesday shows Obama leading Romney 49-45 percent among likely voters. Romney's campaign started airing ads this week. Obama's campaign followed suit. Romney's campaign says it is taking advantage of a narrowing race here. Obama's campaign says Romney is scrambling because his chances are diminishing in battleground states like Ohio.
Chris Brennan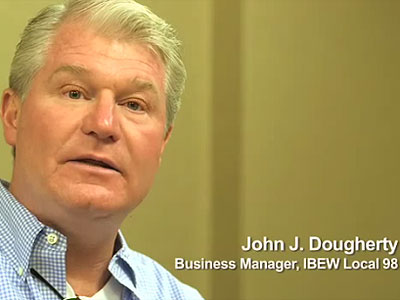 Local 98 of the International Brotherhood of Electrical Workers is sending this video to its 4,000 members this week, urging them to vote for President Obama in Tuesday's general election. The video includes clips of Republican presidential nominee Mitt Romney pledging to the Associated Builders & Contractors trade group in a February speech to repeal the Davis-Bacon Act on "day one" if elected.
That act, passed in 1931, requires contractors to pay employees the local prevailing wage on federally-funded construction projects. Romney favors "right-to-work" policies that allow employers to set such wages as they see fit.
Despite Local 98's long history of supporting Democratic candidates, the video makes clear the union anticipates that some members or their relatives might be leaning toward Romney. Local 98 has backed Republicans in the past, including former U.S. Sen. Rick Santorum and Gov. Corbett.
Chris Brennan
GOP presidential candidate Mitt Romney is going up with campaign commercials in Pennsylvania, calling the state a "unique opportunity," according to a memo just emailed to reporters.
The memo cites comments former Pennsylvania Gov. Ed Rendell made last week, when he said a "startling upset" for Romney in Pennsylvania is possible. The memo does not mention that Rendell said such an upset would happen if Democratic voter "turnout collapses" in this state.
Rendell, in a statement released Tuesday by the Obama campaign, called the Romney advertising buy in Pennsylvania a sign of "desperation."
Catherine Lucey
Mayor Nutter, who spent the morning touring storm damaged sites in Philadelphia, said the city's mission the day after Hurricane Sandy is "assessment, cleanup and restoration."
As he checked on sites like the once-flooded Delaware Avenue and a massive downed tree in Roxborough, Nutter said the city was coping well. Roughly 297 trees have come down so far and 380 people spent the night in shelters, according to city officials. But there are no reports of fatalities or major injuries.
"It could have been worse, but we came through it pretty well," Nutter said, stressing that rain is still falling and that there could be more damage before this is all over.
Catherine Lucey
Much of the city's public transit network will be back up and running by noon today, says SEPTA General Manager Joseph Casey.
Casey said the city's subways and trolleys would be back, as well as about 80 percent of the city's buses. But there will be less available in the suburbs. Casey said about 60 percent of suburban buses will be running, but none of the regional rail will be back today.
Casey said he expects to have some regional rail service back tomorrow.