Archive: January, 2013
Sean Collins Walsh
A 20-foot-tall inflatable rat and a few hundred union protesters made their presence felt on Mayor's Nutter's block in Wynnefield on Thursday evening.
The mayor likely wasn't there, spokesman Mark McDonald said, but District Council 33 got its point across anyway. The union, which represents 11,000 blue-collar municipal workers, has been working without a contract since 2009 and without wage increases, and they aren't happy about it.
"Workers got to stand up. You can't just keep taking this," shouted DC 33 President Pete Matthews. "Labor is the new civil rights issue."
Jan Ransom
At the moment, sources say City Council has no intention of dropping Councilwoman Blondell Reynolds Brown from her leadership post just several days after a report released by the Ethics Board detailed a series of campaign finance violations.
PhillyClout posed the question earlier this week and still today sources say members are supportive of Reynolds Brown maintaining her leadership post, for now. Reynolds Brown an at-large Democratic Councilwoman was selected by her colleagues to serve in leadership as majority whip, with a salary of $126,366.
"At this point I think its way too premature to discuss anything related to Councilwoman Brown's tenure as leadership," said Council president Darrell Clarke. "Councilmember Brown has continued to carry-on her duties as a Council person as a majority whip. I don't know at what point we need to have that level of discussion, but at this point I don't think it's time for that."
Chris Brennan
The politically-connected newspaper publisher had three reasons for two calls to the president judge of Philadelphia Traffic Court in the summer of 2011.
Jimmy Tayoun, publisher of the Philadelphia Public Record, wanted an interview with Judge Michael Sullivan about his new leadership post, to take his picture and to seek help for an "associate" who was in danger of losing his license due to a traffic ticket.
Sullivan was one of nine judges indicted Thursday on corruption charges for alleged ticket-fixing.
Jan Ransom
Philadelphia will have a bike race this year and it'll include the Wall in Manayunk.
The new 2013 race dubbed the Philly Cycling Classic will be organized by a team of sports event professionals with experience hosting cycling races, cycling advocates and local business and community leaders, Congressman Bob Brady announced today.
"The Mayor has called for a premier cycling event and the team we have pulled together intends to deliver nothing less for the City of Philadelphia in 2013," Brady said in a statement. "As long as there is a Wall in Manayunk there will be a world class cycling event in Philadelphia."
Chris Brennan
A federal grand jury has charged six Philadelphia Traffic Court judges, the former court director of operations and two businessmen in a ticket-fixing case unsealed Thursday morning. Three more Traffic Court judges were also charged in separate documents. Those indicted are:
Former administrative Judge Michael Sullivan, who was removed from his leadership post by the state Supreme Court in December 2011 but was still hearing cases.
Judge Michael Lowry, the son of a ward leader, who admitted to an investigations firm hired by the Supreme Court that ticket fixing happened in Traffic Court.
Judge Robert Mulgrew, who was suspended by the Supreme Court in September after being indicted on unrelated charges.
Former President Judge Thomasine Tynes, who retired in July.
Former Administrative Judge Fortunato Perri Sr., who is retired.
Bucks County District Judge H. Warren Hogeland, who hears cases in Traffic Court.
Delaware County District Judge Kenneth Miller, who heard cases in Traffic Court until 2008.
Chester County District Judge Mark Bruno, who heard cases in Philadelphia's Traffic Court.
William Hird, the director of operations, who retired in November 2011, two months after FBI and IRS agents raided his home, office and a bar he runs in South Philly.
Henry "Eddy" Alfano, a tow truck company operator who also operates two strip clubs.
Robert Moy, a translation company owner who provides services in Traffic Court.
The eight defendants are charged with conspiracy to commit wire and mail fraud, wire fraud, mail fraud and aiding and abetting a crime. Tynes, Lowry and Mulgrew were also charged with perjury, accused of lying to a grand jury. Singletary and Hird face charges of making false statements to the FBI.
Perri, Miller and Hogeland were charged through "information" documents, which means they waived their rights to have their cases presented to the grand jury, a sign that they are expected to take a plea deal.
Chris Brennan & David Gambacorta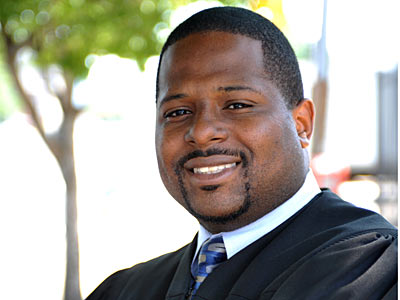 Update: Defense attorney William Brennan said he reviewed the indictment against his client, former Traffic Court Judge Willie Singletary, and was struck by the fact that "it does not allege that my client took one thin dime."
"Apprently the allegations set forth the government's perception of a scheme that defrauds the state out of potential fines," Brennan said. "I'll read it again, but it seems to me it's like speculating on pork belly futures."
Brennan said that as he read the 79-page indictment, he "kept waiting to get to the part where money changed hands, but I haven't seen it. My understanding is that my client's conviction rates were fairly high."
Sean Collins Walsh
The day has arrived.
But don't get too excited.
Mayor Nutter two weeks ago gave AFSCME's D.C. 33 a "final offer" to resolve the stalemate over replacing the union's contract that expired in 2009. He said his administration will take some unspecified action if the union, which represents blue-collar municipal workers, doesn't agree to his terms or come to the table in a serious way by today.