Nutter
Catherine Lucey
Councilman Frank Rizzo has sent Mayor Nutter a letter, essentially asking the mayor to make sure he has cut all the fat from the budget before he make cuts to the Fire Department or shuts down pools. Rizzo argues that even departments that the city can't touch -- like the Department of Human Services -- should be reviewed for efficiencies.

You can read the letter here.

Rizzo also writes that a five-year shortfall of $1 billion in a city with a $4 billion annual budget amounts to 5 percent in cuts across the board. But Nutter, in his budget address last week, noted that more than half the city's budget costs are locked in and can't be touched. So the non-fixed costs must take a bigger hit than 5 percent.
Chris Brennan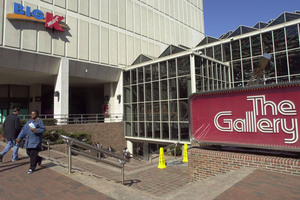 Mayor Nutter greeted in City Hall this afternoon a group of community activists protesting a proposed move of the Foxwoods casino to the Gallery at 11th and Market streets. Nutter personally accepted a foot-tall stack of 23,514 petitions from people who oppose the move.
Harry Leong of the Chinese Christian Church & Center said activists were still gathering signatures, which were coming in at a rate of 5,000 per day. The protesters are concerned because City Council is expected tomorrow to give final approval to zoning legislation that would allow for a casino at the Gallery if Foxwoods gets a plan of development approved by the City Planning Commission and City Council.
Like other protesters, John Chin of the Philadelphia Chinatown Development Corp. said the casino approval "process is moving way too fast." They called on Council to delay tomorrow's vote. They also asked Nutter, who favors the Gallery for Foxwoods over a state-approved site on the Delaware River in South Philly, to not sign into law the legislation if Council approves it.
Catherine Lucey
Mayor Nutter just announced plans to aggressively target tax delinquents, posting a list of the top business tax deadbeats on the city website.

"We will use every legal tool at our disposal," Nutter said. The list owes a combined $27 million, but the city is hoping to recover $4 million annually under an amped up collection program.

In addition to publicizing deadbeats, Nutter said the city will work more closely with the Sheriff's department to seize assets from delinquents.
Catherine Lucey
Brett Mandel, of the tax policy advocacy group Philadelphia Forward, just sent out a memo questioning Mayor Nutter's decision to freeze planned wage and business tax cuts due to the current fiscal crisis. Mandel also notes the lack of transparency in the budget process.

Here's an excerpt:

Thus, in second guessing the Mayor's decisions, many are wondering whether he could have cut spending that does not directly affect service delivery or increase other city revenues without affecting the city's planned schedule of tax reductions. Unfortunately, because the Mayor chose to craft his budget-adjustment plan behind closed doors, we have no idea which other options he rejected, which ideas he never considered, and which assumptions he made to guide his decision-making process.

The elimination of transparency and the reduction of openness is the unkindest cut of all from Mayor Nutter.
Catherine Lucey
Councilman Frank Rizzo sent a letter to Mayor Nutter Friday, offering to forgo funding he had been promised for a prison education program.

In the letter, Rizzo said he had been pledged $500,000 over the next five years for the "Worker Inmate Program," a combined effort of the Prison System and the Fairmount Park Commission which would help provide inmates with job training.

Rizzo wrote that "in the interest of the public good, you use that $500,000 to keep other vital programs operating as we work together to close the budget gap."
Chris Brennan
City Councilman Frank DiCicco is calling on Mayor Nutter to hire an independent consultant to study plans to trim the Philadelphia Fire Department's budget by eliminating equipment at some stations. DiCicco, in a letter to Nutter on Friday, noted that this is not the first time he's made such a request. He asked then-Mayor Street's administration to hire a consultant in 2004 when Fire Department cuts were being considered.
"I believed then as I do now that it would be irresponsible for me to simply accept the word of any Administration that their plan maintained the health and welfare of my constituents," DiCicco wrote, adding that he knows the city is facing a dire financial crisis. "I do not and will not question the need for serious service reductions."
Read DiCicco's letter here.
Chris Brennan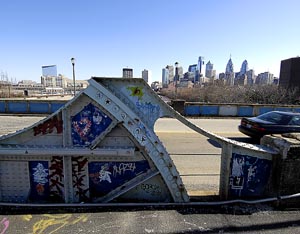 Mayor Nutter just announced plans to replace the 85-year-old South Street bridge, which connects Center City and Grays Ferry to University City. Nutter said a $67 million contract has been awarded to the Driscoll Construction Company. This city is paying 5 percent of the cost while the state and federal governments are paying the rest.
The bridge will be closed in early December for the project to start. Traffic will be detoured to the bridges over the Schuylkill River at Walnut Street and Chestnut Street. The project is expected to take up to 24 months. Nutter said the bridge design has been re-worked to make it more pedestrian friendly.
UPDATE: The City's Streets Department has placed information on the project online here.
Catherine Lucey
As we reported earlier, supporters of the Fishtown Library -- which is slated to be shut down as part of Mayor Nutter's budget cuts -- will rally tonight to keep the institution open.

While they demonstrate, Mayor Nutter will receive an award for his commitment to improving literacy in Philadelphia. He's slated to appear at the Center for Literacy award ceremony at the Suzanne Roberts Theater tonight.