Archive: September, 2011
David Gambacorta
Will Bunch looks at the ever-worsening income divide between blacks and whites.
Julie Shaws finds that the number people in Philly living below the poverty line is on the rise.
City Council to look at a bill today that would mean steeper fines for parents of kids who violate their curfew.
Jan Ransom
Councilwoman Blondell Reynolds Brown will introduce a bill Thursday on behalf of the Administration that will reduce the curfew during the school year citywide.
Minors 13 and younger would have to be off the streets by 8 p.m., youths aged 14 and 15 would have a 9 p.m. curfew and teens 16 and older a 10 p.m. curfew.
Parents would also be held accountable and subject to a fine. After a minor is caught violating curfew, a parent will be contacted and fined $75 within ten days. The penalties for violating the proposed curfew law will not exceed $500.
Chris Brennan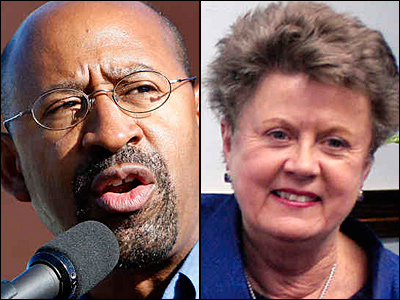 Mayor Nutter's administration ran afoul of the First Judicial District recently, trying to prevent the courts from spending $4.5 million on new electronic monitoring bracelets for released city prison inmates. But Common Pleas Court President Judge Pamela Pryor Dembe waved a pretty hefty fiscal stick in the direction of Nutter's staff -- a threat to withhold the money collected by the city's Prothonotary's Office.
And now everybody is playing nice together.
"I can't have the city threatening to withhold allocated monies," Dembe said of the money City Council approved this year. "We are not a city agency. We are not subject to their control. So any time we get in those kinds of situations, you can expect me to be fairly tough about that."
Jan Ransom
A redistricting map introduced by Councilmen Frank DiCicco and Jim Kenney is likely to pass Thursday over Council's working group map.
The Pennsylvania Intergovernmental Cooperation Authority says they will research and consult with experts about the city's underfunded pension fund.
City officials held a public forum on zoning.
Catherine Lucey
We just got this release:
FORMER CITY CONTROLLER JONATHAN A. SAIDEL TO ENDORSE AL TAUBENBERGER FOR CITY COUNCIL AT-LARGE
PHILADELPHIA September 21, 2011—Former Philadelphia City Controller Jonathan A. Saidel will endorse Republican business leader Al Taubenberger for Philadelphia City Council at-large on Thursday, September 22, 2011, 2 p.m., at The Dining Car, 8826 Frankford Ave.
Chris Brennan

City Councilman Frank DiCicco has a little more than three months to go before his fourth and final term in office comes to an end. But don't look for DiCicco to cash his Deferred Retirement Option Plan check and then quietly retire. The South Philly politician is already handing out business cards for his next gig: Lobbyist and political consultant for Philadelphia Strategies Group LLC.
Never heard of it? That's because DiCicco registered the new company in late July after deciding in March to drop his bid for a fifth term. DiCicco had been dogged on the campaign trail about his decision to enroll in the DROP program, which became a flash-point of controversy after the city Law Department said it was legal for elected officials to take a DROP payment, retire for one day and return to the city payroll.
DiCicco noted today that he had a consulting business on the side during his first term in office but dropped it because he became too busy with City Hall work. Now DiCicco will have the time to focus on lobbying and political consulting.
Jan Ransom
Redistricting negotiations are winding down and it seems the map produced by Councilmen Frank DiCicco and Jim Kenney will likely pass Thursday with one minor tweak.
Meanwhile, the other map produced by a working group of Council members including Brian O'Neill, Anna Verna, Maria Quinones-Sanchez, Marian Tasco and Darrell Clarke that Council gave committee-level approval to last week is apparently losing steam.
"As of right now it seems as if my map is the one that's going to pass with that one amendment in the 11th ward," DiCicco said.
Catherine Lucey
Here's the release:
MAYOR NUTTER NAMES NEW MEMBER TO SCHOOL REFORM COMMISSION
Philadelphia, September 20, 2011- Mayor Michael A. Nutter has appointed Dr. Wendell E. Pritchett, Chancellor of Rutgers University-Camden, a respected scholar in urban history and an experienced government policy-maker, to the School Reform Commission.