Archive: September, 2010
Chris Brennan
The C-Span Digital Bus visited Philadelphia this morning, where PhillyClout stopped by to talk about the polls and recent campaign advertisements in the races for the U.S. Senate and for governor. You can see the video and a transcript of the conversation here.
Catherine Lucey
Check out this ad from Kevin Boyle, a Democrat who's trying to unseat Republican state Rep. John Perzel in the 172nd legislative district in the Northeast. According to Boyle's campaign, it's running on cable in the Northeast.
Perzel - a 30-year veteran -- is considered vulnerable after being charged with the misuse of state funds. Boyle, a former aide to Councilman Bill Greenlee, is campaigning hard for the seat.
To view the video click here.
Catherine Lucey & Chris Brennan
Former Mayor Street has been kicking up a lot of dust lately, questioning Mayor Nutter's job performance and encouraging Sam Katz and Tom Knox – who have both run for mayor in the past -- to take on Nutter next year.
In today's PhillyClout column, Street loudly drops the race card, saying the African-American community does not see Nutter as a black mayor.
Street does seem to be gleefully piling onto Nutter ­– who has faced criticism for unpopular budget cuts and strained relationships with City Council and municipal unions. But we thought it might be good to go back and look at how popular Street was when he ran City Hall. And so we turned to the last Franklin and Marshall/Daily News poll done before Street left office, back in October 2007.
Chris Brennan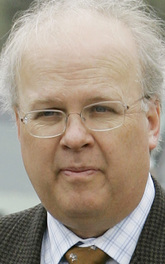 Karl Rove is coming to the National Constitution Center Monday evening to talk about the mid-term elections. Reporters are allowed to attend but Rove, though his contract, says they can only record the introductory first five minutes of his speech. We're guessing he won't get to the Christine O'Donnell part of his speech until after the tape recorders are all turned off.
The NCC says "Rove will address the political landscape, providing expert insight into polling, candidates, and the immediate and long-term implications of the November vote from the Republican Party perspective."
It was exactly that kind of talk about O'Donnell, the Republican nominee for the U.S. Senate in Delaware, on Fox News that landed Rove in all sorts of trouble with his fellow conservative pundits. They didn't appreciate that Rove spoke openly about the "nutty things" O'Donnell has said on television, her troubled personal finances or that he thought her primary election victory earlier this month would make it easier for Democrats to win that seat and keep control of the Senate.
Chris Brennan
Meghan McCain, daughter of U.S. Sen. John McCain, R-AZ and author of "Dirty Sexy Politics," is taking a beating in the blogosphere for skipping a planned book event at Juniata College last night. The college put out notice on Monday that McCain could not attend the event due to "several unforeseen professional responsibilities."
On Twitter, McCain spent most of yesterday telling the world what a fabulous time she was having in Las Vegas after griping about the service at one casino and praising another. She was quickly busted by media outlets from the Washington Post to the Huffington Post.
PhillyClout ruling: Anyone who Tweets from Vegas is asking for trouble. That town has a well-known motto for a reason.
Chris Brennan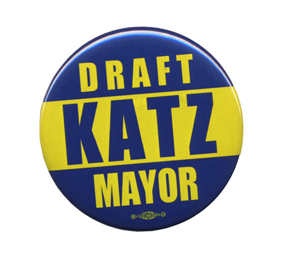 From today's PhillyClout column: Sam Katz is out stumping for funding to complete a multimedia documentary series on the history of the city, dubbed "Philadelphia, The Great Experiment." He screened the first episode at the Friends of Independence annual meeting last week at Franklin Court's Underground Museum.
And some curious political trinkets were passed around. One was later dropped off at PhillyClout world headquarters. The blue-and-yellow button - same colors as the city's flag - says "Draft Katz Mayor."
Katz, who ran for mayor three times as a Republican but now is registered as a Democrat, told us he saw the buttons but had nothing to do with them.