Archive: September, 2008
Catherine Lucey
We spoke today with Kate Michelman, the former president of the abortion rights group NARAL, who did several campaign stops in the suburbs for Barack Obama as part of a push for women voters.

Pundits are calling female voters a key demographic in this election. (Check out this MSNBC report or this story from the Chicago Sun Times.) And by selecting Alaska Gov. Sarah Palin as his running mate, John McCain is clearly hoping to get more female support.


But Michelman – who supported John Edwards before endorsing Obama earlier this year -- said that women should not be swayed by just a woman on the ballot.

"I do think that Sarah Palin has grabbed the attention of women, absolutely. In many ways she's remarkable. But once you get beyond the remarkable, remarkable and you look at her views and her values, it speaks loudly to how John McCain sees issues and sees women," she said. "I think Sen Obama and Sen. Biden are right on the issues for women."

Michelman also said that economic downturn hits women hard.
Chris Brennan
Fox29 has posted video on its web site of its confrontations outside of City Council chambers today with Councilman W. Wilson Good Jr. and his chief legislative aide, Latrice Bryant.
Bryant can be seen here, entering Council in wrap-around shades and shoving the lens of a Fox29 camera when reporter Jeff Cole tries to interview her. Goode's contentious conversation with Cole can be seen here.
Catherine Lucey
A City Hall press conference, featuring Mayor Nutter and the Philly Phanatic, was held today to launch the U.S. Sports Film Festival, a three day event which will be held in town next month.

The new film festival will be held in Philly from Oct 23 - 26 and will feature a range of sports films, as well as appearances by many of the actors or athletes in the films. So far nine of the planned films have been announced -- a number of documentaries as well as recent dramas "Miracle" and "Invincible."

But we noticed something as we reviewed the films. Not a single movie announced so far features female athletes. Can you say Title IX? While we know there are less films about women in sports, they do exist. Think of "Million Dollar Baby," "A League of Their Own," "Bend it Like Beckham," or "Girlfight." Or a personal favorite -- "Gregory's Girl."
Chris Brennan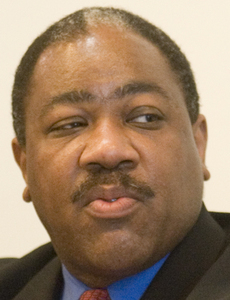 City Councilman W. Wilson Goode Jr. came to work today with an attention-grabbing piece of legislation that could change the way some of his colleagues get elected. But he quickly was overshadowed in Council's chambers by his chief legislative aide, Latrice Bryant, who held up a series of handmade signs that said "Fox29 in racist" and "K.K.K."
Fox29 reporter Jeff Cole has been following Goode and Bryant, filming their comings and goings. And Bryant is not at all happy about it. Cole confronted Goode after Council's session wrapped up, asking if he thought Fox29's reporting was racist. Goode didn't break stride as reporters rushed after him.
Cole's questions involved videotape he says Fox29 has of Bryant, while listed as working in City Hall: a) working out in the gym and b) walking with Goode into his house with a case of beer and c) leaving Goode's house looking as if she had spent the night there.
Catherine Lucey
Mayor Nutter visited City Council this morning on its first meeting day after a three-month vacation. He brought gifts -- the same city seal lapel pins he wears every day.

Council members, keenly aware that ethic legislation regarding gifts and other issues is due to be introduced today, wanted to know whether they would have to report the gifts to the proper authorities.

"It's a gift from me to you," Nutter said, chuckling. "It's a gift from you to the city."
Chris Brennan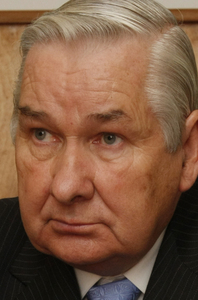 City Councilman Jack Kelly, speaking through a staffer this evening, ripped Zack Stalberg and the Committee of 70 for the press release below. Stalberg, in the release earlier today, referenced a Daily News story about Kelly's request last week for a $25,000 annual city contract to pay political operative Frank Keel to serve as a media consultant for his office.
"Mr. Stalberg's statements about Councilman Kelly were reckless, irresponsible and intentional, outlandish lies," Kelly's acting chief of staff, John Cerrone, said. "Councilman Kelly is disappointed that someone such as Zack Stalberg, who is supposed to take the ethical high road, would deliberately distort the situation and defame the councilman."
Cerrone added that Kelly is now "exploring a legal course of action" against Stalberg and the Committee of 70. Asked to point out which of Stalberg's comments Kelly found to be reckless, irresponsible, distortions or defamatory, Cerrone said: "I'm not going to say any more."
Catherine Lucey
The Committee of Seventy just put out a press release calling for a "top to bottom" look at City Council's operations and structure. The watchdog group said they were prompted, in part, by today's Daily News report that Councilman Jack Kelly wanted $25,000 in city money to pay for a media aide.
"It is appalling that Councilman Kelly would even think about asking the taxpayers to foot the bill for a consultant to handle media questions related to the federal criminal indictment of his former Chief of Staff Chris Wright," said Zack Stalberg, Seventy's President and CEO, in the release.
COMMITTEE OF SEVENTY URGES FULL REVIEW OF COUNCIL'S STRUCTURE AND OPERATIONS