Archive: September, 2008
Chris Brennan
The Committee of 70, the city's elections watchdog, responded to Mayor Nutter's announcement of a new task force yesterday with a mix of enthusiasm and disappointment. Nutter has selected a group of people, including Committee of 70 CEO Zack Stalberg, to appoint the task force, which will examine the city's existing and proposed regulations and laws on campaign finance and ethics.
Here's the full Committee of 70 response:
September 24, 2008
–
The Committee of Seventy today commended Mayor Michael Nutter for fulfilling a pledge first made in response to Seventy's Ethics Agenda in January 2007 to appoint an independent panel to undertake a top-to-bottom review of the City's campaign finance ordinance.
However, Seventy's President and CEO Zack Stalberg expressed his disappointment that the mandate of the Advisory Task Force on Ethics and Campaign Finance Reform, which was established by Executive Order today, includes exploring potential ethics reforms in addition to campaign finance.
"There are several important ethics bills sitting in Council now that could move forward with the Mayor's support," said Stalberg. "By assigning ethics measures to the Task Force, the Mayor could very well be giving Council an excuse not to act."
Those bills – introduced last week by Councilman Frank Rizzo – include controls on nepotism, the acceptance of gifts by City employees, moonlighting by Council members and other City employees, and a requirement that lobbyists must register.
"Despite my concerns, I credit the Mayor for campaigning as a reformer and taking a gamble by sticking to the City's campaign finance ordinance when his primary election opponents tried hard to throw it out," said Stalberg, who was invited to appoint one of the Task Force's nine members. "I hope he will choose to testify before the Task Force."
Stalberg called the first test of the City's campaign finance law in 2007 "overwhelmingly positive in reducing the opportunity for pay-to-play." However, he observed that "since there will always be people trying to game the system, it is important for the Task Force to focus on ways to make the law more difficult to circumvent." Stalberg cited several issues needing review, including:
·
Continuing uncertainty about when someone becomes a "candidate," and subject to the contributions limits.
·
Constitutional questions surrounding the "millionaire's exception" following the U.S. Supreme Court's ruling as unconstitutional a provision in the federal campaign finance law that allowed opponents of a candidate donating $250,000 in personal dollars, but not the self-funded candidate, to receive "doubled contributions."
·
Clarification of the application of contribution limits to campaign debt.
·
Consideration of whether limits on campaign contributions should be tallied by "election cycle" or by "specific election," rather than by calendar year.
Stalberg also urged the Task Force to look at how other cities regulate campaign finance, including the pros and cons of Philadelphia adopting a voluntary public financing option as is already in place in Portland (Oregon), Albuquerque, Los Angeles and New York City.
Stalberg said that setting a February 1, 2009 deadline for the Task Force to report its findings and recommendations makes it virtually impossible to strengthen the campaign finance ordinance for the 2009 District Attorney and City Controller elections.
Chris Brennan
Gov. Rendell kicked off a massive rally for U.S. Sen. Barack Obama in southwest Philly this afternoon that featured the Democratic nominee's wife, Michelle Obama.

PhillyClout's Catherine Lucey reports that Rendell asked the crowd at Francis Myers Recreation Center if they had seen the Emmy Awards, noting that actress Laura Linney had spoken about the power of community organizers when she accepted an award for the HBO miniseries John Adams.

Republican vice presidential candidate Sarah Palin negatively referenced community organizers during her speech at the Republican Convention.
Chris Brennan
As the Daily News predicted last week, Mayor Nutter today announced a new task force to examine city rules and laws on ethics and campaign finance. Nutter and eight other government and civic leaders will pick the task force's members.
Here is the full text of Nutter's press release on the subject:
Mayor Michael A. Nutter signed an Executive Order today establishing the Mayor's Advisory Task Force on Ethics and Campaign Finance Reform. The Task Force will perform a comprehensive review of the City's campaign finance ordinance (including provisions related to no-bid contracts); public campaign financing laws in other jurisdictions; City Solicitor and Ethics Board opinions; and additional ethics reforms for City Government with a particular focus on nepotism, outside employment, gifts and lobbying.
"I campaigned on a promise to clean-up city government and to restore citizens' faith in City Hall - this is one more fulfillment of that promise," said Mayor Nutter. "This Task Force will conduct a thoughtful and comprehensive review of ethics and campaign finance regulations and will recommend changes to further instill honesty, transparency and accountability throughout city government."
The Task Force shall consist of nine members, with one member appointed by each of the following:
§
Mayor Michael A. Nutter
§
City Council President Anna C. Verna
§
Pat Eiding – President, Philadelphia Council, AFL-CIO
§
Michael Fitts – Dean, Law School of the University of Pennsylvania
§
Kelly Green – President League of Women Voters of Philadelphia
§
J. Whyatt Mondesire - President, Philadelphia Branch, NAACP
§
Michael Pratt – Chancellor, Philadelphia Bar Association Board of Governors
§
Mark Schweiker - President and CEO, Greater Philadelphia Chamber of Commerce
§
Zack Stalberg – President and CEO, Committee of Seventy
The individuals listed above will submit their appointees to the Mayor within fourteen days. Members may not be an elected official or a current City, State or Federal employee. The Task Force shall hold at least one public hearing to gather information and recommendations from the public and will report to the Mayor and the Council President no later than February 1, 2009. (The Mayor may extend the deadline for submission, upon request of the Task Force, as necessary).
The Task Force is being established at an opportune time. The City of Philadelphia's 2003 campaign finance ordinance has now been in effect for a full municipal election cycle, the Board of Ethics was created in Spring 2006, and the City's extensive new requirements on no-bid contracting have been in effect since February 2006. While the ethics climate in City Government has improved significantly as a result of these measures and others, further progress can always be made and it is the job of this Task Force to provide recommendations in areas where improvements can be made to restore and solidify the public's faith and confidence in its government.
Catherine Lucey
We just got a copy of an invite to a "Girlfriends" fundraiser for state Sen. Vincent Hughes, hosted by his wife actress Sheryl Lee Ralph and other female supporters. It's at NY Loft at 23rd and Chestnut streets tonight at 6 p.m.

The very pink invitation (the "fun" in fundraiser is highlighted in hot pink) promises mini makeovers and salsa dance instructions. It doesn't say anything about putting on silk jammies and having a pillow fight, but maybe that's the late night plan.

The invite also reads "Which Girlfriend are You?" and then lists different donation amounts. For $10,000 you'll be a "glam goddess." But $250 means you're just a "fly girl." And we thought money couldn't buy class...
Chris Brennan
A proposal by City Councilman W. Wilson Goode Jr. to expand a program that gives companies breaks on their city business privilege taxes if they support community development corporations is on hold because Mayor Nutter is worried about the city budget. Goode, chairman of Council's Committee on Commerce & Economic Development, held a hearing on the issue this morning but decided to not move forward for at least another week.
Revenue Commissioner Keith Richardson testified that Nutter supported the program, started with 10 companies in 2001, when he served on Council. But Nutter is concerned about expanding the program at a time when the city's tax receipts are falling and a $450 million gap has opened in the city's five-year financial plan. "In this challenging environment, Mayor Nutter wants to have the opportunity to further discuss this program in the full context of our financial climate before any action is taken to expand it," Richardson said.
Committee members are willing to have that discussion. But they made it clear to Richardson that they expect the city's Commerce Department to come prepared to discuss what economic impact the program has had on neighborhoods served by CDCs supported by local companies. The program, which was expanded to 15 companies in 2002 and then 25 companies in 2004, gives them an annual $100,000 break on their BPT bills for 10 years if they donate $100,000 a year for 10 years to their local CDCs.
Chris Brennan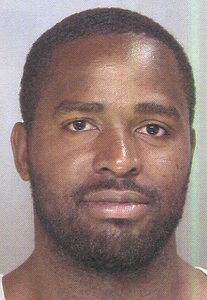 Mayor Nutter, speaking at City Hall this morning, said anyone helping criminals like the gunman who killed a Philadelphia Police officer yesterday needs to know the city will now come after them. Nutter confirmed that investigators are questioning a woman who was driving the car yesterday stopped by Officer Patrick McDonald, who was then shot to death by her passenger. That passenger, Daniel Giddings, had outstanding criminal warrants. Giddings was killed in a gun battle with another officer, Richard Bowes, who was wounded in the leg.
"This person, who was determined not to be caught, we see what the end result was," Nutter said of Giddings. "We have to change the culture that folks think that it is somehow OK to shoot Philadelphia Police officers."
This doesn't end with the death of Giddings, Nutter added. Anyone knowingly helping a criminal is committing a crime, he said.
Chris Brennan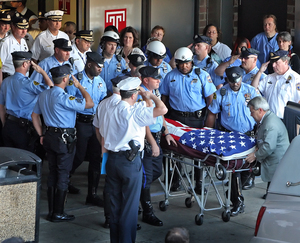 The Philadelphia Police Department loses another officer to violence. His neighbors react.
PhillyClout's Catherine Lucey takes a look at Obama's attendance record here in Philly as his wife comes to town.
Mayor Nutter's administration cracks down on the use of city cars and where they are parked.
Chris Brennan
After nearly a week of heat and hype, Fox 29 News last night aired its report on Latrice Bryant, City Councilman's W. Wilson Goode Jr.'s chief legislative aide. You may remember that Bryant, unhappy that Fox 29 had followed her around secretly for 10 days during the summer to see if she was attending to personal business while logged in as working at her City Hall office, flashed a few signs in City Council last week calling the station a bunch of racists.
No surprise: The Committee of 70 says Goode should do a better job monitoring the work hours of his employees. Bit of a surprise: Councilman Frank Rizzo went on the record to criticize Goode about Bryant.
Here's the report, aired last night on the Fox 29 News at 10 p.m.