Archive: August, 2012
Catherine Lucey
The city's fiscal watchdog today delayed a vote on Mayor Nutter's five-year-plan, after the administration provided the board with a list of cuts they would make to pay for a fire arbitration award currently under dispute.
Members of the Pennsylvania Intergovernmental Cooperation Authority had indicated their discomfort with approving Nutter's original five-year-plan, which didn't include any details on how the city would pay for retroactive raises and benefit increases in a recent fire arbitration award. The Nutter administration had originally not included the costs because they have appealed the award.
But today the administration gave PICA an addendum that listed a series of severe cuts they would make to pay for the award, which the city estimates will cost $200 million over five years. The cuts include eliminating positions in departments across the city, reducing hours at libraries and deactivating fire companies. Finance Director Rob Dubow said the city hopes to avoid making the cuts through a successful appeal.
Jan Ransom
City Councilman Bill Greenlee had hoped to beat New York City to the punch in getting a bill passed in Philadelphia that would require most city employers to provide paid sick leave.
But chances of that happening are unclear. Since six new members joined City Council this year, Greenlee has been working hard to garner support for the bill Mayor Nutter smacked down more than a year ago.
"Our target is to get this done in the fall. We certainly have not given-up," said Greenlee, who along with City Council president Darrell Clarke introduced the bill in 2008. "The average person works 260 days and we're saying they should have seven paid sick days off… I don't see anything terribly wrong about that."
Chris Brennan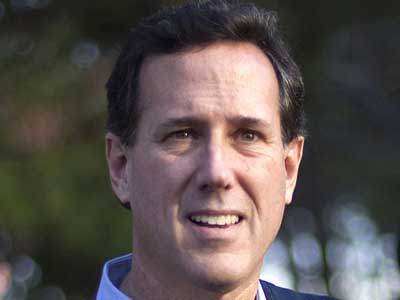 Former U.S. Sen. Rick Santorum, a campaign surrogate for presumptive Republican presidential nominee Mitt Romney, just accused President Obama of an "absolute contempt for the law and the Constitution" for allowing the federal Health and Human Services Department to offer waivers to the 1996 welfare reform law.
Santorum spoke on a conference call with reporters that wrapped up before we could ask the obvious question: Does a Republican governor who seeks such a waiver also show contempt for the law and the Constitution? We wondered because two Republican governors, Brian Sandoval of Nevada and Gary Herbert of Utah, have expressed interest in the waivers. And Romney, as governor of Massachusetts, was one of 29 Republican governors who signed a letter to the U.S. Senate majority leader in 2005, asking for similar waivers.
This all stems from a new Romney campaign ad this week that accuses Obama of trying to "gut welfare reform by dropping work requirements" and "just send you your welfare check."
David Gambacorta
Jan Ransom looks at the first local example of a national trend: neighborhoods hiring their own private patrolmen. (http://bit.ly/TjyoSe)
Frank Rizzo's daughter has been charged with being part of a multimillion dollar sports-betting operation. (http://bit.ly/TjyMAc)
Is PICA preparing to reject the city's five-year budget plan? (http://bit.ly/P1Lsus)
Catherine Lucey
Here's the press release:
Butkovitz Calls on PICA to Reject City's Five Year Plan
Controller issues adverse opinion based on unreasonable assumptions by City
Chris Brennan
John Dougherty, head of Local 98 of the International Brotherhood of Electrical Workers, used the Philly.com comments section today to chide WPHT-AM radio host Dom Giordano for a column in today's Daily News that accuses City Councilman Jim Kenney of "pathetic pandering and grandstanding" on the Chick-fil-A controversy.
Dougherty, who acknowledges that he and Kenney have not always seen eye-to-eye, took several pokes at Giordano in the 183-word comment. They include:
"Only hope Dom comes home one night to find his son holding hands on the sofa with a male companion while watching "Brokeback Mountain.""
"Only hope Dom finds his daughter in a lip-lock with another girl while they're watching "The L Word.""
"Wonder if the embroidered "D.G." initials on Dom's custom-tailored shirts actually stand for "Demi-God"?"
Kenney entered the Chick-Fil-A fray two weeks ago after company president Dan Cathy spoke out against gay marriage, opening up a new deep-fried front in the culture wars. Kenney vowed to submit to City Council a resolution condemning the company. Kenney also said he would not interfere with the city's negotiations with Chick-fil-A to renew an expired lease for a restaurant at Philadelphia International Airport.