Archive: August, 2011
Jan Ransom
Yesterday's earthquake had the city all shook up. Got quake questions get your answers here. And what if Philly were the epicenter?
The South Philly legend Joey Vento, best known for his cheesesteaks died Tuesday of a massive heart attack. He was 71.
Check out more on City Council Candidate David Oh and his political woes. The local Fraternal Order of Police lodge voted Tuesday to rescind its endorsement after news that he fudged his military resume.
Catherine Lucey and Jan Ransom
Mayor Nutter just told reporters that today's earthquake will not delay or cancel tonight's Phillies' game.
"We look forward as usual to kicking the Mets' butt," Nutter said.
Deputy Mayor for Transportation and Utilities Rina Cutler said she hoped SEPTA's Broad Street line would be running in time for the game. Currently, the line is stopping at the Walnut/Locust station, with shuttle buses continuing south to Pattison Ave.
Catherine Lucey
In a press briefing outside City Hall a short time ago, Mayor Nutter said that there had been no major problems reported as a result of the earthquake and that city workers should get back to work.
"It's ok for everyone to go back to your work locations. Virtually every city building is fine. Folks should go back to work," Nutter said.
Nutter said no major injuries or problems had been reported. He said the city was reaching out to private building owners to check for any issues. And he said that if anyone smelled gas fumes, they should call 3-1-1 or the Philadelphia Gas Works.
Catherine Lucey
This afternoon's minor earthquake pushed city workers and elected officials out into the streets surrounding City Hall and the Municipal Services building.
"I thought it was a little quakelet," said Deputy Mayor for Transportation and Utilities Rina Cutler, who said the books came off the shelves in her office in the Municipal Services Building. Noting that she had been in San Francisco for the massive 1989 quake, Cutler said: "this would have been defined by that standard as a quakelet."
Public Property Commissioner Joan Schlotterbeck said she was in her office on the 7th floor of City Hall.
Catherine Lucey

Looks like the political fallout is beginning over the controversy surrounding City Council candidate David Oh's military record.
Fraternal Order of Police President John McNesby tells PhillyClout that he has put a motion before the union's board of directors to withdraw their endorsement of Republican at-large City Council candidate Oh, who has spent the past several days struggling with a Daily News report that he overstated his military credentials.
McNesby said in the email that he expects the motion will be approved. In Friday's paper, PhillyClout reported that Oh, who is a frontrunner to win a GOP at-large Council seat, was not a Special Forces officer and/or a Green Beret, which he has claimed in campaign materials going back to 2003.
Chris Brennan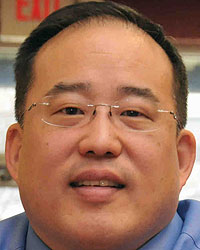 David Oh, a Republican front-runner for a seat on City Council, yesterday accepted an invitation from members of the U.S. Army Special Forces to explain on socnet.com why he has called himself a Special Forces officer and/or a Green Beret in his last three political campaigns. He offered his second apology in two days for those claims and vowed to make public the truth.
It was a difficult conversation with the fiercely inquisitive and ultimately unforgiving soldiers who accused Oh of using lawyerly language to dodge accuracy. Oh opened with this mea culpa:
"First of all, I truly am very sorry for my offenses. There probably have been more than I am aware of but I did not appreciate the lines I was crossing. In retrospect, I thank you for your patience in not pounding me sooner or more severely. I am NOT a Green Beret (SF Tab). I apologize for any actions or statements that may have misled people. I did not respect that matter enough despite my utmost esteem for you gentlemen."
Chris Brennan
David Oh, a Republican front-runner for a seat on City Council, still takes issue with Friday's PhillyClout column on his claims of being a Special Forces officer but has apologized to those members of the military for violating "certain rules and traditions."
Philadelphia School District Superintendent Arlene Ackerman is out the door but questions linger. Her deputy, Leroy Nunery, is now in charge of the troubled district. Just one thing is clear: The controversy will continue.
And half-time at a Kingsessing basketball game with a big audience is riddled with gun fire.
Jan Ransom
The Committee of Seventy, a political watchdog group sent out a press release today urging the School Reform Commission to reveal the names of the anonymous private donors who have contributed $405,000 toward Schools Superintendent Arlene Ackerman's contract buy-out.
Check out the press release below:
PHILADELPHIA – August 22, 2011 – The Committee of Seventy today urged the School Reform Commission to make public the anonymous private donors who are reportedly financing around $400,000 of outgoing School District Superintendent Arlene Ackerman's $905,000 contract buy‐out.