Archive: August, 2010
Catherine Lucey
Note: This post has been updated to reflect that Bell's title will be Communications Director, not Press Secretary. The administration is still looking for a replacement for Press Secretary Doug Oliver, who is leaving his post next month.
Here's the release:
MAYOR NUTTER ANNOUNCES DESIREE PETERKIN BELL AS DIRECTOR OF
COMMUNICATIONS AND STRATEGIC PARTNERSHIPS
Catherine Lucey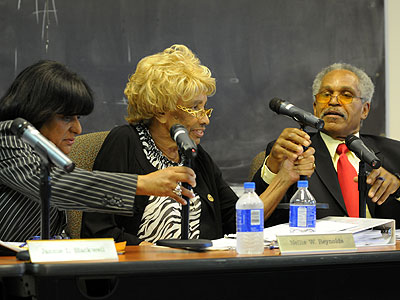 The Philadelphia Housing Authority board of commissioners has unanimously voted to place Executive Director Carl R. Greene on paid leave, pending the results of an internal investigation, PhillyClout has learned.
Greene has been under fire since news broke two weeks ago that his condo was in foreclosure. Since then, details have emerged about four sexual harassment claims filed against Greene and questions have been raised about the agency's fiscal management. Three of the sexual harassment claims have been settled for a combined $648,000, and PHA's insurer agreed last week to a $250,000 payment in the fourth.
"We're not going to conduct a witch hunt here and we're not going to engage in a cover-up here," said former Mayor John F. Street, who serves as chairman of the five-member board. "There is no member of this authority who would tolerate sexual harassment."
Catherine Lucey
The U.S. Department of Housing and Urban Development today notified the Philadelphia Housing Authority Board that they would be conducting an audit of PHA's financial and management operations.
Check out HUD's letter to PHA Board Chairman John Street here. According to the letter, HUD will be sending a team to PHA immediately with plans to report back in 60 days. HUD asked PHA not to make any changes to senior management during the audit.
"We are very concerned about the appropriate use of taxpayer dollars and so will be paying close attention to the team's findings," states the letter from deputy HUD Secretary Ron Sims, which was also sent to the rest of the board, the mayor and city controller.
Catherine Lucey
In the midst of the scandal surrounding Philadelphia Housing Authority Executive Director Carl R. Greene, Mayor Nutter has stressed repeatedly that he has no direct oversight over the PHA Board and that he did not appoint any of the current commissioners. But it looks like he could have made a change to the board by now, if he had wanted to.
The PHA board has five appointees -- two from the mayor, two from the city controller and one tenant appointed by the other board members. The two mayoral appointments -- former Mayor John F. Street and City Councilwoman Jannie Blackwell -- were made before Nutter took office.
But it turns out that Blackwell's term has expired and Nutter has made no move to either reappoint or replace her. Exactly when the term expired -- and how much Nutter actually knew about it -- was a point of confusion yesterday. The Nutter administration said they had received conflicting information on whether it was in 2008 or 2009. A PHA spokeswoman did not respond to a request for comment.
Catherine Lucey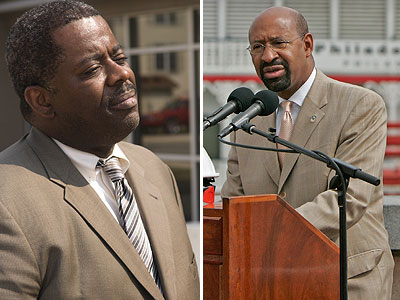 Mayor Nutter today sent a letter to the Philadelphia Housing Authority Board chairman John F. Street, saying that if the sexual harassment claims against executive director Carl R. Greene are true, then he should be fired.
"If the reports of sexual harassment of PHA staff, the resulting settlements and Mr. Greene's failure to disclose these actions are accurate, then his employment with PHA must be terminated," Nutter wrote in the letter, which was also sent to the other PHA board members in advance of tomorrow's executive board meeting.
Read a PDF of the letter here.
Catherine Lucey
Here's the release:
CARL GREENE MUST RESIGN
PHILADELPHIA – August 25, 2010 – Zachary Stalberg, President and CEO of the non‐partisan Committee of
Seventy, urged Carl R. Greene to resign as Executive Director of the Philadelphia Housing Authority before
tomorrow's meeting of the PHA Board of Directors.
"Greene's ability to continue to lead PHA is thoroughly compromised," Stalberg said, citing in particular four
claims of sexual harassment involving employees and his failure to report either the complaints or the cash
settlements, which include payment of a $150,000 deductible from PHA's public dollars, to the agency's Board.
Chris Brennan
Allegheny County Executive Dan Onorato, the Democratic nominee for governor says his Republican opponent, state Attorney General Tom Corbett is flip-flopping on his high-profile pledge to not raise taxes if elected. Corbett told a Pittsburgh radio station in March that his pledge includes state fees. A Corbett spokesman told Capitolwire.com yesterday that the pledge does not include fees.
Onorato, in a conference call with reporters this morning, called that "just the latest example of Tom flip-flopping every time the pressure builds." Onorato, who called no-tax pledges "political gimmicks," insisted he would try to balance the state's budget without raising income taxes, sales taxes or fees.
"I've made it very clear that Pennsylvania families are hurting," Onorato said. "This is no time to be talking about new taxes or fees."