Archive: August, 2009
Chris Brennan
The Pennsylvania Intergovernmental Cooperation Authority just issued a report on the city's tax revenue for July. It doesn't read like good news, starting with this sentence: "City General Fund tax collections in July 2009 suggested that the recession continues to exert downward pressure on three economic variables that drive City tax revenues: earned income, retail sales, and the aggregate value of real estate transactions."
PICA includes a couple of caveats, saying due to the timing of tax collections, it can be difficult to draw conclusions about trends based on just one month. The numbers in the report are unadjusted and likely to change.
Chris Brennan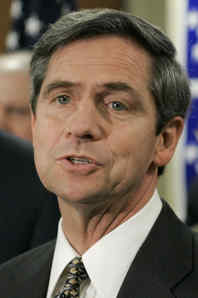 U.S. Rep. Joe Sestak plans to wade into the controversial issue of health care reform at a town hall meeting at a Center City church Wednesday evening. What are the chances that protesters show up for a shouting match? And could that be a very good thing for Sestak?
U.S. Sen. Arlen Specter made national news last week when he came to town with Kathleen Sebelius, President Obama's secretary for Health & Human Services, to discuss health care reform. Protesters shouted down the duo as they tried to discuss plans being considered by the U.S. Congress. Video of the confrontations at the National Constitution Center played for days on all the national news networks.
Sestak is mounting a 2010 primary election challenge for Specter, who crossed over to the Democrats this year after concluding he could not survive a Republican primary. We've copied Sestak's news release about the town hall meeting below.
Chris Brennan
John Baer discovers to his dismay that the Philadelphia region is "the center of the birther universe" while interviewing an attorney who filed a lawsuit claiming unsuccessfully that President Obama wasn't born in America.
Dave Davies follows up his story about a police officer accused of misconduct after his son was involved in a fender-bender. The Philadelphia Police Department, it turns out, has no policy preventing cops from getting involved in matters involving their families.
That crash over the Hudson River Saturday claimed the lives of three locals, two brothers and a son.
Chris Brennan
Former U.S. Attorney Pat Meehan decided today against running for governor as a Republican, throwing his support instead to state Attorney General Tom Corbett. Meehan is now considering a run for the U.S. Congress 7th district seat being vacated by U.S. Rep. Joe Sestak to challenge U.S. Sen. Arlen Specter next year's Democratic primary.
Meehan's spokeswoman, Virginia Davis, just put out this statement for him:
"Pat received a warm reception from people of all walks of life as he explored a run for governor. And during this past year, he has become uniquely attuned to the concerns of Pennsylvania citizens in these tough economic times. Pat is more committed than ever to helping return Pennsylvania to a path of prosperity, and he is now seriously considering a run for congress in the Seventh Congressional District to fulfill that commitment. Pat Meehan will be encouraging Attorney General Tom Corbett in his expected run for governor and looks forward to working with his supporters."
Chris Brennan
City Controller Alan Butkovitz dusted off today a list of suggestions he has previously made on how the city can rake in some badly-needed cash during the current budget crisis. Here's the news release he sent out:
Butkovitz Responds to PICA's $25 Million Requirement
City Controller outlines $277 million in revenue ideas for City's five-year plan
PHILADELPHIA – Responding to the Pennsylvania Intergovernmental Cooperation Authority's (PICA) requirement that the City find an additional $25 million in revenue, City Controller Alan Butkovitz today outlined a number of potential earnings and savings opportunities worth $277 million.

"These are unrealized opportunities that have been presented to the City through departmental and performance audits conducted by my Office," said Butkovitz. "Recurring savings would allow the City to avoid the annual headache of searching for new ideas to close budget deficits."
Chris Brennan
The word "hostage" is being thrown around a lot to describe the city's budget, caught in the middle of a state spending feud between Gov. Rendell and Senate Majority Leader Dominic Pileggi, a Delaware County Republican. Pileggi has the power to act on legislation allowing the city to increase its sales tax by a penny on the dollar and change the way the city replenishes its pension fund. Those two measures, worth $700 million in the next five years, would help the city avoid 3,000 layoffs, including hundreds of cops and firefighters. But Pileggi won't budge until he and Rendell can settle the state budget, now 38 days overdue. Rendell wants more revenue. Pileggi wants massive cuts. And Philadelphia waits, with an Aug. 15 deadline to start implementing a doomsday budget.
Enter Sean Dorn, a self-described "obsessively prolific blogger" who posts on YoungPhillyPolitics.com and the former PhillyBlog.com. Dorn has launched a petition drive, calling on the Delaware River Port Authority and Rendell to stop all payments for a soccer stadium being built in Pileggi's district for the fledgling Philadelphia Union until the city's budget issues advance in the Senate, apart from the state budget negotiations. Dorn is also posting on the issue at YPP.
There seems to be no signs of anyone backing down anywhere in this mess. At some point, will former President Bill Clinton jet into Harrisburg to negotiate for the release of the city's budget? Stay tuned.
Chris Brennan
PhillyClout hears former state Sen. Vince Fumo is planning a party before heading off to prison at the end of the month.
A grand jury has cleared cops videotaped punching and beating a group of men during a car stop after a shooting. That raises some questions about the relationship between the District Attorney's Office and the Police Department.
And an attorney for Chris Wright, city Councilman Jack Kelly's former chief of staff, argues that he shouldn't go to jail after his conviction in February on federal corruption charges. Wright is due to be sentenced Monday.
Catherine Lucey
Here's the press release:
MAYOR NUTTER ANNOUNCES NEW CHAIRMAN FOR THE DELAWARE RIVER WATERFRONT CORPORATION (DRWC)
Philadelphia, August 6 - Mayor Michael A. Nutter has announced his appointment of Donn Scott as the Chairman of the Board of the Delaware River Waterfront Corporation (DRWC). Mr. Scott leads Government Banking for the Pennsylvania, Delaware and Maryland Region for Wachovia Bank, a Wells Fargo Company. Mr. Scott has appointed Jay Goldstein, founder of Valley Green Bank, to serve as DRWC's Vice Chairman.