Archive: August, 2009
Chris Brennan
John Baer takes note that the Philadelphia delegation to the state General Assembly has spent the six-week budget impasse issuing press releases that nobody seems to be reading.
A bunch of pro football players, a State Police firing range and an arsenal of illegal weapons -- What could go wrong?
City workers responding to the collapse yesterday of two vacant rowhouses in North Philly were handy to have around when a church nearby also started to fall.
Chris Brennan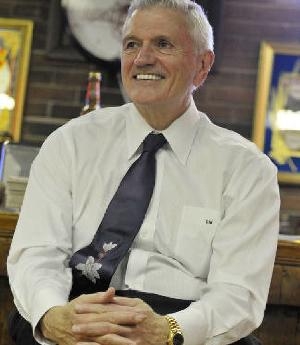 Tom Knox, the millionaire businessman who finished second behind Michael Nutter in the 2007 Democratic primary election for mayor, is now in the hunt for the Democratic gubernatorial primary election for next year. And Knox, who is staking positions while other potential candidates are poking around, is campaigning hard to expand casinos in the state to include table games. Consider this opinion piece he had published in yesterday's Morning Call of Allentown.
The state General Assembly approved in July 2004 Gov. Rendell's call for legalized slot machines at 14 casinos across the state. Rendell has resisted efforts since then to add table games, saying he wants all the casinos up and operating before any changes are made to gambling laws. Two casinos approved in December 2006 for Philadelphia are nowhere near ready to open. SugarHouse hopes to open in Fishtown by mid-2010. Foxwoods, which plans to relocate from South Philly to Center City, can't get its act together.
Knox says the state shouldn't wait -- that table games will provide jobs and taxes for the state. "The simple act of legalizing table games at each licensed casino will create, literally overnight, the demand for thousands of new employees," Knox wrote in the Morning Call piece.
Chris Brennan

Here's a bit of follow-up documentation for today's story about two key issues for the city budget, now awaiting action in the state Senate. Senate Majority Leader Dominic Pileggi, a Delaware County Republican, yesterday sent a letter to the Pennsylvania Intergovernmental Cooperation Authority, asking its chairman to extend by one month its deadline for the General Assembly to approve the city's budget measures.
The city has asked the General Assembly to approve a 1-cent increase in the local sales tax and changes in how the pension plan is replenished. Without those measures, worth $700 million in the five-year financial plan, the city will eliminate 3,000 jobs, including the posts for hundreds of cops and firefighters. PICA wants them approved by Saturday or the city will be required to submit its fallback budget by Aug. 31. Pileggi, who is calling several other bills up for votes this week, says it "is not feasible" that the city's legislation will be approved by Saturday and wants the deadline pushed back until Sept. 15.
Pileggi's office also sent out a news release yesterday, saying the first of two public hearings on the city's legislation would be held tomorrow, with a follow-up next week. That means the legislation could be called up for a full vote by the Senate by Aug. 26. And that means the city might not be forced to put the fallback budget in play by Aug. 31.
Chris Brennan
City Managing Director Camille Barnett doesn't have a hazmat suit. We take a look at how Barnett takes a different approach to her job than previous managing directors.
Here's more on Chris Wright, City Councilman Jack Kelly's former chief of staff, being sentenced to four years in federal prison for his February conviction on corruption charges, along with two political supporters of his boss.
Local NAACP head J. Whyatt Mondesire, who has sparred many times with District Attorney Lynne Abraham in the past, complains about a grand jury's decision to not indict police officers videotaped beating three men suspected -- but later cleared -- of being involved in a shooting.
Chris Brennan
Mayor Nutter turned today to his campaign e-mail list to drum up support for two measures -- a 1-cent sales tax increase for Philadelphia and pension plan changes -- needed to avoid laying off 3,000 city employees. An e-mail sent out this afternoon asks supporters to urge state senators to move on legislation to make that happen. The e-mail contained links to Nutter's campaign web site, where a form-letter is ready to be sent to senators with a click of a button. You can read Nutter's email after the jump.
Dear Friend,
I need your help today to encourage the Pennsylvania State Senate to take action now on House Bill 1828, legislation that will help our city fund vital services and will ensure that our city will not have to make massive, drastic budget cuts beginning next week. All Philadelphia State Senators support this legislation.
Chris Brennan
State Senate Democrats took aim this afternoon at their GOP counterparts, accusing them of "taking hostage" legislation needed to approve Philadelphia's budget and, as a potential consequence, putting the lives of city police officers in danger. Senate Minority Leader Bob Mellow warned that Senate Majority Leader Dominic Pileggi plans to call for public hearings on the legislation, which will extend the delay with "devastating" results.
The Senators gathered in the Capitol, hoping to pressure Pileggi to call up for a vote this week legislation that would allow the city to increase its sales tax by 1 cent on the dollar and make pension plan changes. Those two issues are worth $700 million in the city's five year plan. Without them, Mayor Nutter has said, the city will be forced to eliminate 3,000 jobs, including hundreds of cops and firefighters.
The Democrats hammered away at two points: The GOP is holding Philadelphia's budget hostage as political leverage in the larger state budget battle with Gov. Rendell and any cuts in public safety funding would imperil the lives of a Police Department that has already been rocked in recent years with deaths on duty.
Chris Brennan
City Councilman Jack Kelly has been reluctant to speak about the federal investigation of his former chief of staff since the story broke in January of 2008. Today, as Wright is sentenced to four years in federal prison, is no different. Kelly declined our request for an interview. Instead, he issued this statement through John Cerrone, who took Wright's job as chief of staff:
"This case has successfully moved its way through the judicial system — as I always believed it would, and today it has reached its conclusion. I am certain that [U.S. District Justice Eduardo] Robreno systematically examined all aspects involved in the case, and made a good faith effort while rendering a sentence. However, given other recent federal decisions in somewhat similar instances, I am a bit disappointed in the harshness of the judge's assessment. I wish Chris well in whatever lies ahead for him, and hope that once his sentence is completed, he can rebuild his life."
That reference to recent federal decisions looks like a comparison to former state Sen. Vince Fumo, who is due to surrender at the end of the month to start serving a 55-month prison sentence.
Chris Brennan & Michael Hinkelman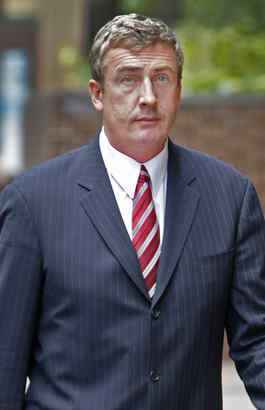 Chris Wright, the former chief of staff for City Councilman Jack Kelly, was sentenced this afternoon to four years in federal prison after his conviction in February on bribery and other corruption charges. U.S. District Justice Eduardo Robreno handed down the sentence after a hearing that took up most of the morning.
Wright received less time than prosecutors wanted but much more than his defense attorney hoped for. His potential prison term was a moving target. Robreno concluded today that federal guidelines for the prison term should be 51-63 months, more than he eventually got. Prosecutors were seeking 78 months -- six and a half years -- in prison for Wright. His attorney, Lisa Mathewson, argued today that Wright should receive home confinement or, at the most, one year and one day in prison. A probation officer had recommended 27-33 months in prison for Wright.
Former state Sen. Vince Fumo's recent controversial sentence of 55 months entered into the fray last week when prosecutors called his 55 month prison sentence, handed down by a different federal judge, a "travesty" that should not be repeated in the Wright case. They later dialed back the language in an amended filing but still used Fumo as an example of how not to deal with Wright.