Archive: August, 2008
Chris Brennan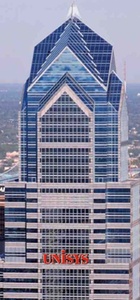 The Zoning Board of Adjustment spent more than two hours last month and another four and a half hours today listening to the case for and against allowing Unisys to hang two large corporate logos on 37th and 38th floor of Two Liberty Place. And guess what! It wasn't enough. As the public hearing wrapped up early this afternoon there were still at least 10 people who wanted to testify or make statements, all opposing the signs. So the ZBA will schedule at least one more hearing, probably during the next two weeks, when the board members were supposed to be on vacation.
Today's hearing gave the opponents a change to make their case, since Unisys made its pitch last month. Architect Scott Pratt, who worked on the building, equated the signs to vandalism to the design. "The intent was that the building would serve as its own sign." Salvatore Mancini, who works for the developer that retrofitted the tower's upper floors as high-end condos, said new residents have a reason to oppose the sign. "They really don't want to live in a building that's branded as the Unisys building."
Unisys, which is relocating 225 employees from Blue Bell to its new Center City headquarters, has repeatedly said it would have to "re-evaluate" that decision if its request for signs is denied. But the company has a signed lease for more than a decade that isn't contingent on sign approval. Jim Kerr, a Unisys spokesman, said he could not speculate on whether the company would try to break that lease.
Catherine Lucey
Get your TiVo ready!

In addition to Sen. Bob Casey, Gov. Ed Rendell will also speak at the Democratic Convention later this month. Sen. Barack Obama's campaign said both will speak on Tuesday night about the economy. Sen. Hillary Clinton is the primetime headline speaker and will close out the evening.
Catherine Lucey
Mayor Nutter today said the reports of police brutality in today's Daily News are under investigation, but stressed that police officers do a difficult job under tough circumstances.

"Naturally this entire incident is under investigation," Nutter said. "It's my understanding that the police were engaged in chasing someone engaged in illegal activity."

According to today's paper, narcotics officers stormed an outdoor baby shower in North Philadelphia over the weekend injuring at least six people, including two children. Two of the officers involved in the melee -- Thomas Schaffling and Sean Bascom -- were linked to a May 5 police beating of three shooting suspects captured by Fox 29 cameras.
Chris Brennan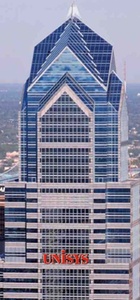 Here's a PhillyClout zoning pop quiz: What Center City skyscraper issue is so contentious that former Democratic mayoral candidate Tom Knox, Greater Philadelphia Film Office Sharon Pinkenson and Bon Jovi band-mate Richie Sambora have all written to the city Zoning Board of Adjustment to object?
Answer: It's the Unisys corporate logo dispute, of course. The Blue Bell-based technology firm has a lease to relocate its headquarters to Two Liberty Place and wants the ZBA to approve a request to hang two 16-foot-tall illuminated red signs from the 37th and 38th floors declaring its name to the skyline.
The ZBA held a hearing on July 24 but had to continue it because there were too many people there to testify and too many facts to consider. ZBA chairwoman Susan Jaffe told the crowd the hearing would continue in September. But attorneys representing people opposed to the sign, in letters to the ZBA, said the agency started pushing for a faster schedule. The new hearing date is tomorrow at 9 a.m.
Catherine Lucey
Sen. Bob Casey, one of the few Pennsylvania Democrats to endorse Barack Obama for president, will get a speaking role at the convention later this month.

The Associated Press reports that Casey will be a featured speaker on the Tuesday night of the convention. His father, the late Pennsylvania Gov. Bob Casey was famously barred from speaking at the 1992 convention due to his anti-abortion stance. Sen. Casey is also anti-abortion.
Chris Brennan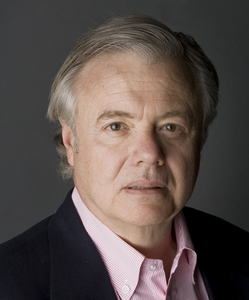 State Sen. Vince Fumo and a Republican colleague, Sen. Jane Orie, today announced that they will submit legislation to "make several important amendments" to the 2004 state law that allowed slot machines in 14 venues across the state, including two controversial casinos planned for the Delaware Riverfront. Fumo, the primary architect of the original slots law, and Orie suggest eliminating a provision that sends all casino disputes directly to the state Supreme Court.
"Intended to expedite appeals that may have delayed the opening of the casinos, it has has the effect of eliminating the important appellate record that is typically created at the Commonwealth Court level," Fumo and Orie said in a joint press release today.
There has been another result: The Supreme Court has so far ruled for casinos in every case sent there. Foxwoods, a riverfront casino proposed for South Philly, is now asking the court to appoint a "special master" to force the city to obey its ruling from an April decision. SugarHouse, proposed for Fishtown, is waiting for the court to rule on whether a license granted by then-Mayor Street's administration last year to build on state-owned riverfront land is valid.