Archive: August, 2008
Chris Brennan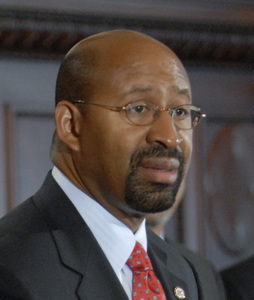 Mayor Nutter, calling PhillyClout this afternoon from the Democratic National Convention in Denver, praised the Zoning Board of Adjustment for making "independent decisions based on the merits of the case" in denying Unisys a variance this morning to hang two huge corporate logos from the 37th and 38th floors of Two Liberty Place.
Nutter had backed the Unisys plan and got in touch with company officials after the unanimous ZBA vote. The mayor said he hoped the Fortune 500 company's decision to relocate its world headquarters to Philadelphia from Blue Bell, Montgomery County, would not be based on the signs alone. "The city is bigger than that and Unisys is bigger than that," Nutter said. "They're still very positive about Philadelphia. We still have more than a great shot at having Unisys in Philadelphia."
Unisys signed a 10-year lease with Two Liberty Place that starts in January 2009 but the company today suggested at the ZBA hearing that it might abandon the move and find a new tenant to take over that lease.
Chris Brennan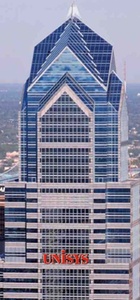 The city's Zoning Board of Adjustment this morning rejected two huge corporate logos proposed to be hung from the 37th and 38th floors of Two Liberty Place to herald the arrival of Unisys, a Fortune 500 technology company planning to relocate its world headquarters there from Blue Bell, Montgomery County. Mayor Nutter, who appointed the ZBA board, supported the Unisys plan.
The ZBA found that Unisys failed to prove that not having the signs would present a "hardship" for the building. The company will rent only 7 percent of the building and admitted it could still use those offices if its attempt to make Two Liberty Place part of its "branding campaign" failed. The company also suggested it might cancel its relocation plans and try to find a new tenant to take over its 10-year lease if the signs were not allowed.
Susan Jaffe, the ZBA chairwoman, read a statement this morning after concluding more than 10 hours of testimony during three days of hearings. "We recognize and support the efforts to grow, develop and attract business to our city. Although there are currently efforts underway to amend the zoning code, the role of the board is to enforce the current zoning code. Accordingly, we unanimously find that the applicant, to the extent that it had a right to seek a variance, has failed to meet its burden."
Catherine Lucey
Gov. Rendell was interviewed on NPR's "All Things Considered" yesterday where he spoke about the primary battle between Sen. Clinton and Sen. Obama and the general election challenges in Pennsylvania. Check out a transcript here. (Hat tip to Philadelphia Will Do where we first saw this.)

Rendell also talked about the speech he's slated to make tonight. Here's what he had to say to disgruntled Clintonites:

"You know, I'm speaking Tuesday night, and I'm speaking about renewable energy. But I almost feel like going off-prompter and saying, "You know, I was supposed to talk about renewable energy, guys, but I want to give a message to the Clinton forces. If you're out there and you're thinking about not voting or voting for Senator McCain, come on. It's over."
Catherine Lucey
Mayor Nutter is furious over a civil lawsuit filed against the Department of Human Services.

Sen. Bob Casey gets a prime time speaking slot at the Democratic Convention tonight. Recalling the rift between Gov. Bob Casey and the Dems in 1992, John Baer calls it a "second chance" for the Casey family.

Michelle Obama emphasized family values in her speech last night. And convention protesters aren't happy about being restricted to a demonstration area.
Catherine Lucey
If any of the Phillyites in Denver are feeling homesick this week, John Baer has found them a hangout -- Pat's Philly Steaks and Subs, which offers "authentic" Philly cheesesteaks. There's one located at 16th and Market streets in downtown Denver. And Baer reports that inside there's a banner that reads "you're in Eagles country."

According to Baer, the Rocky Mountain operation is not related to Pat's in South Philadelphia. If anyone goes there, let us know how it matches up to the real Philly deal.
Chris Brennan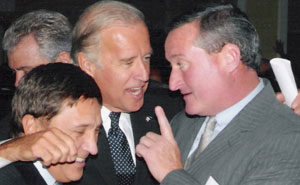 It was the fall of 1974. President Ford had just pardoned Nixon for any crimes committed in the Watergate scandal. A young attorney from Delaware, Joe Biden, was in his first term as U.S. Senator. And 15-year-old Jimmy Kenney had a paper due. A sophomore at St. Joseph's Preparatory High School, the future at-large city councilman called Biden's office and explained that he needed to interview a public official. Kenney, who admired the new senator, was surprised at how quickly staffers set up the sit-down. The young man was instructed to take the train to Washington, DC to meet Biden on the station platform. Together, they boarded the northbound train to Wilmington, with Kenney asking his questions during the trip.
"I forget what I asked him," Kenney recalled today. "I was just so surprised that he would do it."
Kenney also doesn't recall the grade he earned for the paper -- "An A or a B-plus, I think." But he does remember the lesson. Now when a student contacts his office for a school project, Kenney makes time to help out. "It just always inspired me that a person at that level would make time for me," Kenney said.
Chris Brennan
State Sen. Vince Fumo and a group of other local legislators today criticized last week's ruling by the state Supreme Court to allow SugarHouse to build its casino on state-owned "riparian land" along the banks of the Delaware River in Fishtown. Fumo and his fellow legislators said they will take their case to federal court.
Stephen Cozen, the attorney who argued the case for SugarHouse, praised four of the court justices for a "meticulous legal and factual analysis." Two of the court's justices dissented and a third did not participate in the case. "Our clients are anxious to work with their neighbors, put thousands of people to work, and start generating the funds which the current administration already has in their future budgets," Cozen said in a statement circulated by SugarHouse. "We anticipate that the city will abide by this decision and follow its legal obligations to facilitate our project."
Mayor Nutter in January revoked a riparian license issued last year to SugarHouse by then-Mayor Street's administration. The court's ruling on Friday restores the riparian license. Terry Gillen, Nutter's senior adviser on casino matters, said the city Law Department is studying the ruling.
Catherine Lucey
John Baer ran into Mayor Nutter last night at the Democratic Convention festivities. Nutter -- who has taken some heat for using city funds to bring his entourage to the convention -- was carrying a bottle of water and quickly said: "I want you to know I paid for this."