Archive: July, 2012
Jan Ransom
Philadelphia's fiscal watchdog will have to wait until next week to get the city's five-year financial plan in part because of the recent firefighters' arbitration award.
On Tuesday Finance Director Rob Dubow told the Pennsylvania Intergovernmental Cooperation Authority that the city would submit the plan to them today, but Dubow said there are a couple of things that need to be combed out first.
"There are a couple of little issues that came up that we have to iron out before we submit it," he said, speaking of the firefighters' arbitration award which includes raises. "We'll get [the plan] to them next week."
Chris Brennan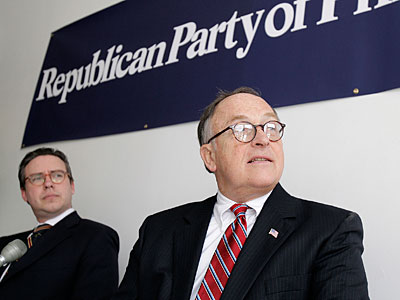 Al Schmidt, the lone Republican on the Philadelphia City Commission, made two things clear on Tuesday when he released a report detailing what he called voting irregularities and fraud in local elections -- His investigation was not done to justify state legislation requiring voters to show identification at the polls and the effort was not about politics.
But that didn't stop the Pennsylvania Republican Party from quickly using Schmidt's 24-page report as a political fund-raising tool while touting the Voter ID legislation.
Here's what Schmidt had to say Tuesday: "This is not a partisan political document. It's a document created by our office, funded by taxpayer dollars to determine something that I think is of public interest."
David Gambacorta
Barbara Laker looks at some of the lives that have been ruined by Robert Coyle Sr.
The creep who allegedly tried to abduct a 10-year-old in South Philly is behind bars.
Did gang members in Olney and Logan threaten retaliation violence against police?
Chris Brennan
The Republican National Committee touts on its web site fact-checking work by the Washington Post when the conclusions favor Mitt Romney's campaign for president. But RNC Chairman Reince Priebus today dismissed Post fact-checking Wednesday that gave the Romney campaign's latest hit on Obama a score of "four Pinocchios."
At issue is Fisker Automotive, a company that applied for a $529 million in federal loans during President Bush's second term. The money was approved after Obama took office. In phase one, Fisker would use $169 million to build electric cars in Finland with parts made in America. The phase two, Fisker would use $359 million to build electric cars in America.
Priebus, visiting Philadelphia today, repeatedly said Obama's administration had given more than $500 million to build cars in another country. And he repeatedly tried to link the money to Obama's federal stimulus program, not the program started under Bush. Both claims are inaccurate.
Catherine Lucey
For Mayor Nutter the shift from non-partisan policy advocate to Democratic mouthpiece can happen fast.
Nutter this morning appeared in his new role as president of the non-partisan U.S. Conference of Mayors, holding a press conference in a ballroom at the Ritz Carlton to call on the federal government to invest in cities. Then he walked into the hallway and did a political event slamming presumptive GOP presidential candidate Mitt Romney for not releasing more tax returns.
Nutter said his political work shouldn't have a negative impact on the Conference's non-partisan efforts.
Catherine Lucey
There's some scary budget news coming out of Detroit. Facing fiscal collapse, Mayor Dave Bing yesterday announced he was imposing pay cuts and work rule changes for city workers and sent out hundreds of layoff notices.
From the Detroit Free Press:
On the same day that Detroit Mayor Dave Bing announced he was immediately imposing new contracts -- which include a 10% wage cut and work rule changes for city employees -- union leaders were delivered layoff notifications for hundreds of workers.
Catherine Lucey
Mayor Nutter is joining the chorus of Democrats demanding that presumptive GOP presidential candidate Mitt Romeny release more tax returns.
Nutter and a long list of mayors -- many of whom are in Philly for a leadership meeting of the U.S. Conference of Mayors -- sent a strongly worded letter to Romney today. The full text is below:
Dear Governor Romney,